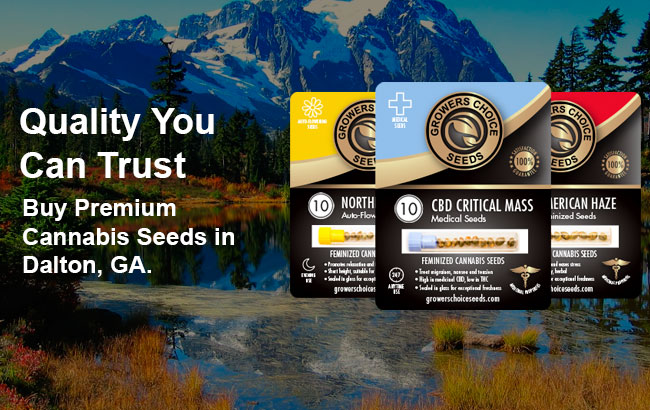 Cannabis seeds for sale in Dalton, Georgia
Dalton residents are legally allowed to use medical cannabis strains higher in CBD to treat a number of qualifying conditions, and in 2017 the state expanded their list.
Worried that your seeds might not make it from our growing facility in Canada to your US home address? We offer a stealth shipping option that ensures your packages will arrive every time.
Buy cannabis seeds in Dalton, Georgia
When it's time to start your therapeutic garden, you'll want nothing but the best Dalton cannabis seeds. Growers Choice Cannabis Seeds has you covered. On our website you'll find a selection of world-class cannabis strains, all hand-picked by our in-house team of experts for the potency and efficacy. We believe so strongly in our product that each purchase comes backed by our 90% germination guarantee – if your seeds don't germinate, we'll send you a new pack, no charge!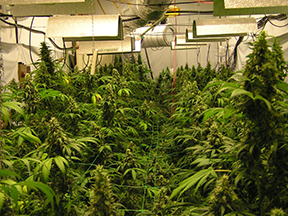 Why should I buy feminized cannabis seeds?
As cannabis gardening continues to grow in popularity, it is inevitable that individuals with little to no growing experience or the proverbial "black thumb" are going to find themselves interested in jumping on the bandwagon as well. Depending on where you shop, growing cannabis can be a crap shoot. Are all of your plants going to grow up to develop beautiful, resin-covered buds? When you don't know the gender of your seeds that's a question you can't answer. Unless you're planning on doing some serious growing, you don't want male seeds, which only flower in order to pollinate female plants (which, in turn, will produce more seeds). When you want to ensure that you're therapeutic garden is only going to be full of female plants, purchase a pack of feminized cannabis seeds, like those for sale on the Growers Choice Cannabis Seeds website.
Can I get medical feminized pot seeds too?
Yes, you can! Feminized seeds can be strains that are higher in CBD, like our CBD Blueberry and CBD Moby Dick. These strains feature relatively high levels of CBD, 7% and 5% respectively. They also contain THC, but it's important to note that CBD will actually inhibit the uptake of THC in the body, effectively cancelling out the psychoactive effect associated with THC consumption.
Fun things to do in Dalton, Georiga
For a small city in northwest Georgia, there's lots to do in Dalton. Located just off I75 in the foothills of the Blue Ridge Mountain, in Dalton you can visit spots like the Chief Vann House Historic Site or the Tunnel Hill Heritage Center. Native American sites like the "Trail of Tears" draw visitors yearly. Get active at the Raisin Woods Mountain Bike Park, or simply try a local brew at the Dalton Distillery.
Customers in Dalton have great things to say about us!
I really like that they kept me updated on the process, you can't say that for every online seed shop. They have a good selection, and my beans arrived in less than a week after payment was received. I will be ordering again soon, I like to be prepared!
 Our Most Popular Cannabis Strains