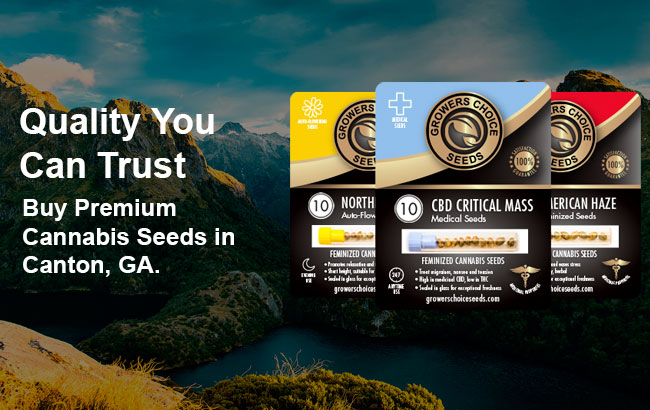 What's the legal status of medical cannabis in Canton?
Back in 2015, the state of Georgia passed a CBD-specific medical cannabis law, meaning that patients with qualifying conditions could benefit from the healing properties of cannabis strains like CBD Critical Mass and CBD Moby Dick, since these strains are higher in the non-psychoactive cannabinoid, which is less controversial and considered safer. In 2017, the state amended the law to expand eligibility to patients with conditions and illnesses such as autism, Tourette's syndrome, epidermolysis bullosa, and peripheral neuropathy.
Cannabis seeds for sale in Canton
You've done the research, you're confident in your ability, and now it's time to purchase your Canton cannabis seeds. For a reliable shop with excellent selection and competitive prices, make sure you visit Growers Choice Cannabis Seeds. Peruse our selection of world-class indica and sativa seeds, all cultivated by our team of expert cannabis gardeners. We hand-pick each seed before sealing your order in a glass vial and shipping it from our offices in Canada across the border to your US address.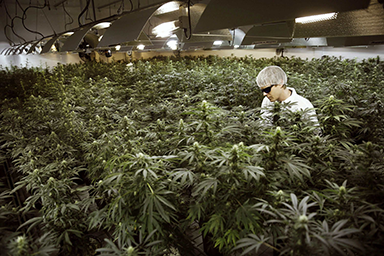 Buy cannabis seeds in Canton
We're so confident in the quality of our seeds we back every purchase with our 90% germination guarantee. If your seeds don't germinate, we'll gladly replace them! And for those customers concerned about customs confiscating your order, we'll gladly provide discreet packaging upon request. Simply speak with one of our friendly support staff for more information.
What's the benefit of growing my own medical pot at home?
Perhaps it has something to do with the widespread availability of information, or perhaps it's a drive away from consuming chemicals and synthetic products. Whatever the reason, across the continent, American's are warming up to the idea of using all-natural cannabis as a treatment for a variety of conditions and illnesses. Research continues to delve deeper into the healing properties provided by this potent plant, exploring the myriad compounds and how they positively react with the human body. We now know that cannabis is much more than the party drug of choice for stoners, it's a powerful medical alternative and you can cultivate it in your own home from high quality cannabis seeds, like those available for sale on the Growers Choice Cannabis Seeds website.
Why should you grow your own medical weed? Maintaining your own therapeutic garden means you'll always have easy access to necessary and potent medicine. You'll know where it's coming from, which means you can trust these plants haven't been treated with harmful chemicals and pesticides. Additionally, this medicine is close at hand, saving you money and time. Need we say more?
Metro meets the mountains in Canton, Georgia
Canton, Georgia is a small town that moves at a big-city pace. Once home to the Cherokee, the area is bustling with activity. From the Funk Heritage Center to the Southeastern Indian Interpretive Center in nearby Waleska, there's lots to do! Find something interesting at Cagle's Diary, hike and bike at Reinhardt College, or simply visit the 10-cre Wild West Town full of miniature farm animals.
Fulfilling our mission and keeping customers happy
Purchased some medical seeds from Growers Choice, they were priced pretty good. I got them a few days after I placed my order, was definitely happy about that because I've had some bad experiences in the past with less-than-reputable shops. All the seeds germinated and I just finished harvesting. Curing now, can't wait to try it out. Smells fantastic, though.
 Our Most Popular Cannabis Strains