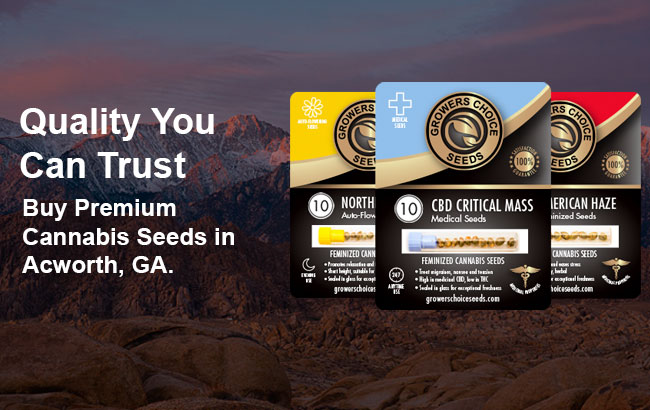 Cannabis seeds for sale in Acworth, Georgia
Residents of Acworth have legally been allowed to use medical cannabis since the state of Georgia passed their CBD-specific laws back in 2015. If you're looking for high quality Acworth cannabis seeds like Blueberry or Tangerine Dream, come on over to Growers Choice Cannabis Seeds and peruse our selection of world-class strains, ideal for recreational and medical use.
Buy cannabis seeds in Acworth
Growing your own cannabis means you'll be in control of the source, and knowing where your plants come from and how their cared for means your kitchen creations will always be made with the highest quality, cleanest, freshest cannabis available.
Every purchase of seeds comes backed by our limited 90% germination guarantee, and our discreet packaging option is perfect for customers worried their seeds might not make it in transit.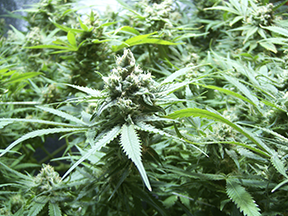 Is it possible to drink cannabis?
When it comes to your available methods of consuming cannabis, we all know you can smoke it, but eating cannabis to benefit from it's medical properties is gaining in popularity, as more and more users emerge who don't want to inhale the harmful toxins and carcinogens associated with burning cannabis plant material. Cookies, brownies, even candies – there are many kinds of cannabis edibles, but you can also drink cannabis, either raw in a smoothie or steep a delicious cannabis tea. Get high quality cannabis seeds for your medical garden online when you shop with Growers Choice Cannabis Seeds.
How do you make weed tea?
Making cannabis-infused tea is a tasty and easy way to get your daily dose of vitamin "C". For a really potent tea, you'll want to start with cannabutter, since THC needs a fat to adhere to, but for a less intoxicating, easy-to-make and relaxing tea, try this recipe:
You'll need:
1/2 gram marijuana buds
1 cup water
Tea bag (any flavor)
Using the dried and cured bud you harvested from your Growers Choice cannabis seeds, separate out any stems and grind the buds until they're finely chopped, but not completely powder. Empty a tea bag or fill a metal infuser with the crushed up flower. If using a tea bag, make sure to fold the top over a few times to secure it and keep the leaves from spilling out. Put your tea bag/infuser in a mug or teapot. At this point you can also add a second tea bag of your choice to change up the flavor. Pour boiling water over the tea and let it steep for three to give minutes. The longer you leave it, the strong the flavor. Remove the bag, add milk, sugar or honey to taste, and enjoy
What to do in Acworth, Georgia
Acworth, Georgia has become one of Atlanta's trendiest areas, offering a variety of cuisines, shopping, and live music. The city is home to two magnificent lakes – lakes Acworth and Allatoona – ideal for outdoor lovers. The historical downtown area of this city is picturesque and quaint, the perfect family getaway.
We love to inspire your healthy living and healthy cooking!
Since I discovered you can cook with cannabis, it's the only way I'll use it. I like growing my own at home, I like to have control over the quality and I know the plants haven't been treated with some kind of pesticide. Growers Choice seeds have yielded me some of the highest quality bud I've come across. Beautiful plants, sometimes it's almost a shame to harvest! But the potency and the flavor is always there. Great work, GC. Keep it up!
 Our Most Popular Cannabis Strains