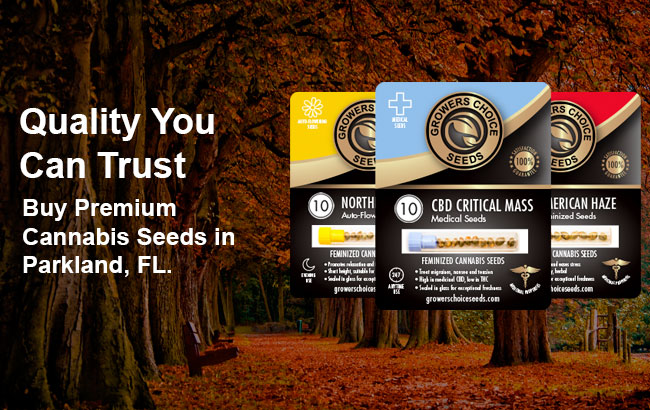 Cannabis seeds for sale in Parkland, Florida
Looking to jump into your own cannabis garden? Start your journey with world-class Parkland cannabis seeds from Growers Choice. Are seeds are all hand-picked and inspected by our expert team of gardeners and carefully packaged before being shipped from our headquarters in Canada to your US home address, with our 90% germination guarantee.
Buy cannabis seeds in Parkland
Florida locals have benefited from the state's CBD medical cannabis laws, which were put in place in 2015 for patients with cancer, muscle spasms, and seizures. They also made an allowance for patients with a terminal illness to use THC-rich cannabis strains as long as they have received a prescription from their doctor. Worried your cannabis seeds might get confiscated on their way to your house? We offer discreet packaging options for just these occasions.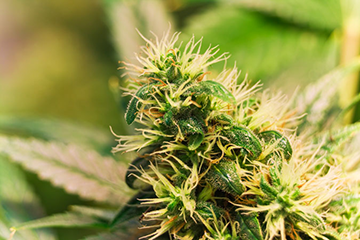 How do feminized cannabis seeds differ from regular cannabis seeds?
Cannabis plants are either male or female. Male plants produce flowers but only to pollinate female plants. When you want to grow cannabis at home, female plants are the gender you're after. It's the female plants that produce the beautiful resin-covered colas that can be used for their medical potential. When you purchase feminized cannabis seeds, this ensures that you will be able to harvest a full crop of medical cannabis (like CBD Blueberry and CBD Critical Mass, both available at Growers Choice Cannabis Seeds), rather than having a male plant or two popping up unexpectedly.
Do female weed plants have CBD?
CBD is the cannabinoid that has analgesic, antioxidant, anticonvulsant, and antiemetic properties, without the psychoactive side effects, making it an extremely attractive option as an alternative treatment.
Female cannabis plants can contain either THC or CBD, or, in some cases, both. Feminized seeds take some of the guess work out of the cannabis growing process, especially for indoor growers who are limited in space but want a full and healthy harvest.
A few things to see in Parkland, Florida
There's much to do in and around Parkland, a city in Broward County, Florida, where zoning laws have been designed to protect the "parklike" character of the city. When you're around, visit Butterfly World, Betti Stradling Park, or Burt Aaronson South County Regional Park for gardens and golf.
Customers in Parkland are getting good results with Growers Choice
All the seeds I ordered are growing well, they germinated really fast. I got auto-flowering because I'm not really sure about the light situation. Delivery was about five days for both orders. On pins and needles waiting to see how these buds turn out.
Most Popular Cannabis Seeds