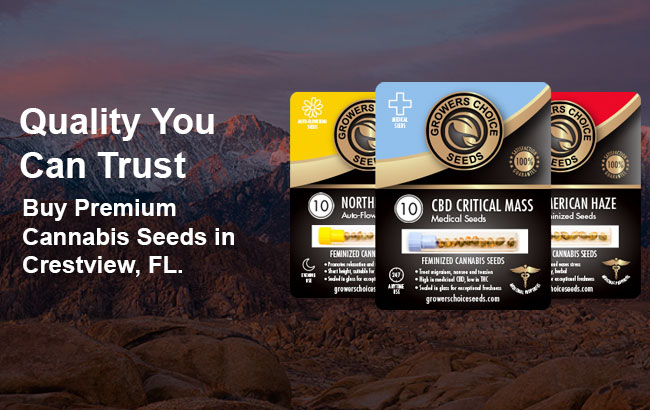 Cannabis seeds for sale in Crestview, Florida
Are you thinking about jumping on the cannabis juice bandwagon? We always recommend you start with cannabis you can trust, like the kind you have grown in the comfort of your own home. And you should start your cannabis garden with the best quality Crestview cannabis seeds bought online from a reputable shop like Growers Choice Cannabis Seeds.
Buy cannabis seeds in Crestview
Choose from an array of popular world-class cannabis strains, including Northern Lights and Jack Herer. Each seed is carefully inspected before being packaged and shipped from our office in Canada to your US home address, backed by our 90% germination guarantee.
Using medical cannabis in Florida has been legal since 2015 when the state passed their CBD specific medical cannabis laws. It's not uncommon for customers to express concern that their cannabis seeds may not make it through customs, but we offer a stealth shipping option, which we hope will bring you peace of mind.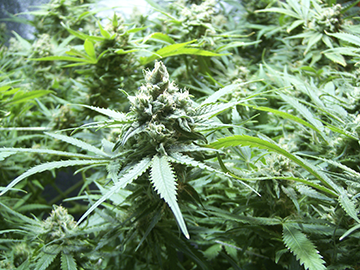 Why is everyone talking about CBDa?
For awhile now, the scientific community has focused their research efforts on the cannabinoids that occur in cannabis, THC and CBD. These two commonly occurring cannabinoids, found in cannabis strains like Afghan and CBD Blueberry are so popular because they work on the human body's existing endocannabinoid system.
CBDa, on the other hand, is an acid that is found in raw cannabis plants and is actually being hailed as more potent than CBD. The only way to reap the benefits of CBDa, however, is to consume cannabis in its raw form, as you would in a juice or smoothie.
Why can't I get CBDa when I smoke cannabis?
During any process in which cannabis is exposed to heat, which you would need to do in order to smoke and vape it or turn it into cannabis oil, a reaction called decarboxylation occurs, which converts CBDa and THCa into CBD and THC.
To take advantage of CBDa's healing properties, you will have to break out the blender or juicer and pop your MJ buds in raw. We hear it's a hard juice to enjoy, so feel free to experiment with flavors!
What to do in Crestview, Florida
Crestview, a city in Okaloosa County, Florida, has an elevation of 235 feet above sea level, making it one of the highest points in the state. The town, once known as "the icebox of Florida" due to its cold winters, now goes by the more popular nickname as the "Hub City" of Northwest Florida. What to do here? A small community, the best way to spend time in Crestview is to visit the Emerald Coast Wildlife Refuge or local parks like Twin Hills, with walking trails and playground.
How do customers in Crestview feel about our pot seeds?
I like ordering from Growers Choice, they have a great delivery program, it gets to you pretty quickly, about 5 days for each order. They have great seeds, they answer your questions in a reasonable amount of time. What more can you ask for, really?
Most Popular Cannabis Seeds