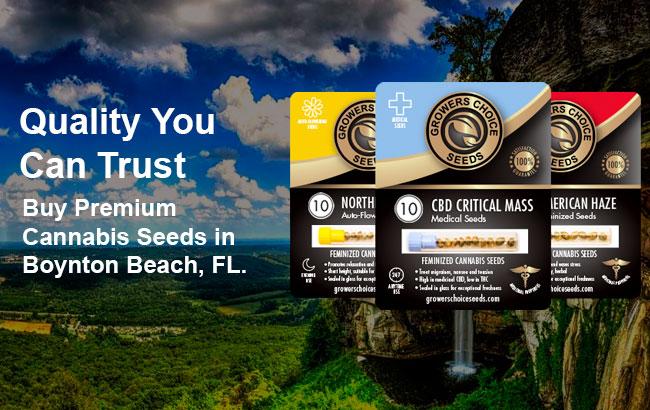 Boynton Beach is a sunny, bikini-clad city in the state of Florida, offering all to tourists and locals except for legal recreational weed. Medical marijuana is thankfully legal, and patients can purchase medical cannabis products with their doctor's approval. In this article, we discuss Boynton Beach, where the locals are purchasing seeds, and which types of seeds and strains might be your best bet!
Boynton Beach, Florida, and Cannabis
It's a shame that marijuana is illegal in Florida since the state experiences some of the best weather for growing quality cannabis! Below we deeper into the marijuana laws, as well as the gorgeous city of Boynton Beach, which we'd venture to say has a glorious cannabis community already.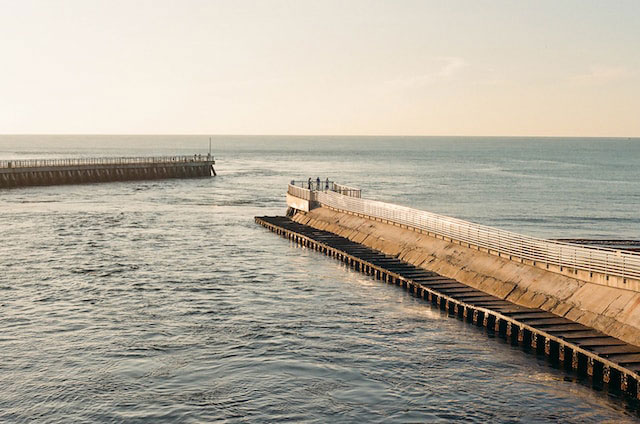 Boynton Beach and Marijuana Laws
Boynton Beach is named after Major Nathan Smith Boynton, who was a Civil War veteran who settled in the area in the late 19th century. Major Boynton was a key figure in the formation of the Florida East Coast Railway, and the name "Boynton Beach" was officially adopted in 1898.
Over the decades, Boynton Beach has evolved from a meager farming and agricultural community into a thriving city with a strong focus on tourism. The city's attraction to tourists is largely due to its location on the Atlantic Ocean, offering a welcoming coastal vibe to travelers. Boynton Beach has also fostered a sense of community and has attracted residents from all over the world, now fostering a population of approximately 80,000 residents.
The climate in the city is similar to most of South Florida, with a tropical rainforest climate that is characterized by warm temperatures throughout the year and a distinct wet season from May to October. While the city does not have the traditional four seasons seen in many other parts of the United States, it enjoys a mild and pleasant winter season, making it a top choice for snowbirds and digital nomads who are seeking respite from chilly climates.
Marijuana Laws in Florida
Recreational weed is unfortunately still illegal in Florida, but medical marijuana has been legalized for qualified patients under state law. This allows individuals with specific medical conditions to access medical marijuana products as prescribed by licensed physicians. Medical cards can be obtained by medical marijuana patients after their condition has qualified, and patients can purchase products from medical cannabis dispensaries.
Some cities in Florida, including Boynton Beach, have decriminalized the possession of small amounts of marijuana, and instead of facing criminal charges, individuals found with small quantities of marijuana might receive fines instead. However, these fines can be sizable, so it's still best not to get caught. Growing marijuana, whether for medical or recreational purposes, remains illegal in Florida. If caught growing marijuana, cultivators could be charged with possession and given a hefty fine.
Types of Seeds and Strains
Although it is illegal to cultivate marijuana in the state of Florida, it doesn't hurt to learn about the different seed types and strains available to cultivators.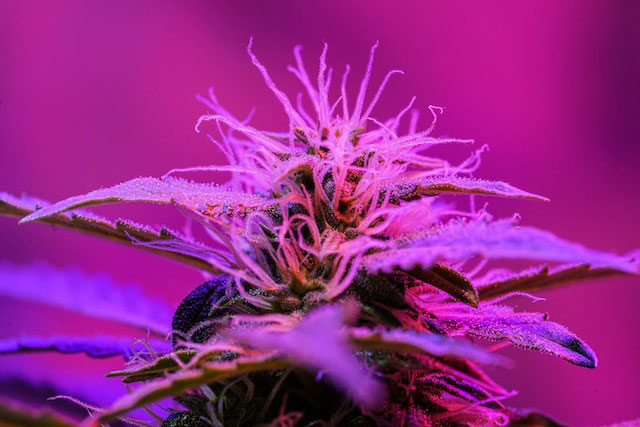 Feminized Cannabis Seeds
Feminized seeds have become immensely popular over the years, primarily because they provide a consistent and predictable crop that can be achieved with less effort than when cultivating regular seeds. Feminized seeds are bred to produce only female cannabis plants, which is ideal for the majority of growers who are growing cannabis for buds that are charged with cannabinoids.
Regular seeds have a roughly equal chance of producing male or female plants, while feminized seeds are designed to remove the male plants from the equation entirely. This ensures a higher yield of potent, THC and CBD-rich, buds. Feminized seeds can be an excellent choice for growers in Boynton Beach, and most everywhere else, as they provide control over the gender of the plants, maximizing the potential for a harvest bursting with healthy buds.
Auto-Flowering Seeds
Auto-flowering weed seeds are feminized seeds but with an added zing. These seeds can automatically transition from the vegetative stage to the flowering stage due to the addition of Ruderalis cannabis to their genetics. Auto seeds flip to the flowering stage based on age, and not based on changes in light cycles like traditional cannabis plants. Because of this, auto seeds typically have a shorter life cycle and can be grown year-round in regions with inviting climates. Their ability to adapt to changing seasons and light conditions makes them a great choice for cultivators, especially growers who are newer to cannabis cultivation. They are hardy and resilient, and they offer cultivators the ability to grow multiple crops in a single season.
Indica, Sativa, and Hybrid Strains
Indicas and sativas are two primary subspecies of the Cannabis sativa plant, each offering something to the consumer. Indicas and sativas are characterized by the following traits:
Indicas: These are known for their calming effects on users, often causing mild to stronger sedation in users, depending on the amount consumed. They generally have broad leaves, a small stature, and are quite bushy. Indicas are typically associated with body highs and potential therapeutic benefits, making them popular for pain relief and relaxation.

Sativas: These are known for their ability to energize and uplift their users, sometimes igniting inspiration, sociability, and creativity. Sativa plants have narrow leaves, a tall stature, and a less bushy growth pattern. Sativas are often chosen for their cerebral and invigorating, making them a popular choice for daytime use.
In Boynton Beach's climate, both indica and sativa strains can be cultivated successfully, thanks to the region's warm and sunny weather. The choice between an indica, sativa, or hybrid strain ultimately depends on the grower's preferences and the desired effects of the harvested cannabis. In our opinion, you can't go wrong, but it's a good idea to read product descriptions to be aware of all that the strains require and have to offer.
Here are four classic strains that could thrive in Boynton Beach's climate:
Cultivating Cannabis in Boynton Beach, Florida
Cultivating cannabis in Boynton Beach will most likely be a breeze, but it's still good to be aware of the climate and optimal growing conditions for your specific strains. We'll also give you the down low on where to purchase your seeds discreetly.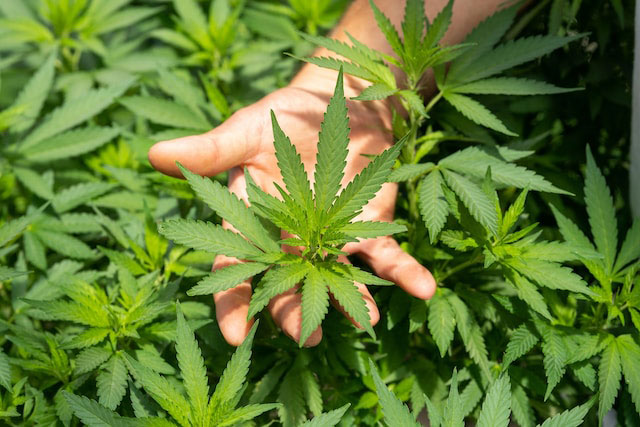 Grow Tips
Here are some tips for growers looking to cultivate cannabis in this region:
Climate Awareness: Be aware of when the heat and humidity are going to roll in, so you can deflect any mold and mildew that might want to sprout. Proper ventilation and humidity control are essential for keeping your plants healthy and disease-free.

Year-Round Cultivation: Given the mild winters in Boynton Beach, it's possible to cultivate cannabis year-round. Using outdoor and indoor growing techniques might work in your favor when attempting to maximize your yield.

Strain Selection: Choose strains that flourish in warm climates and have resistance to common Florida pests and diseases.

Water Management: Develop a watering schedule to ensure your plants receive the right amount of moisture without… make sure not to drown them!
Seeds For Sale From Online Seed Banks
Online seed banks offer the ideal, if not only, option for individuals in states where marijuana cultivation is illegal. They provide a discreet and efficient way to access a wide variety of premium cannabis seeds in the safest way possible. Growers Choice Seeds is one of the most reputable cannabis businesses in the industry, known for its quality marijuana seeds and excellent customer service. They stand out for several reasons, including their:
Germination Guarantee: Growers Choice Seeds offers an exceptional germination guarantee, which speaks to the quality of their cannabis products. They promise customers that 90% of their seeds will germinate as long as cultivators follow the provided germination guide on their website.

Discreet Shipping: The company ensures discreet packaging and delivery, protecting the privacy and safety of customers who order their cannabis seeds.

Extensive Strain Selection: Growers Choice Seeds offers a wide range of cannabis strains, each with detailed descriptions, making it easy for growers to choose the right seeds for their needs. Their seeds are cultivated with the utmost attention and do not include any unwanted chemicals in the growth process.

Deals and Wholesale: The company occasionally offers deals and discounts, and purchasing seeds in bulk or wholesale quantities can save growers a significant amount of money. Customers can pay directly on their site, via many different payment options, including credit card payments.

Customer Service: Growers Choice Seeds is known for its responsive and thoughtful service, providing friendly assistance and pro tips to customers throughout their cannabis journey.
Customers in Boynton Beach have great things to say about Growers Choice cannabis seeds
After hours and hours of research, I ended up going with Growers Choice and I couldn't be happier. It took 5 days for my seeds to get to me, they were expertly packaged. The customer service was on the ball, and my plants are doing great. I would definitely recommend these guys to anyone.
Popular Cannabis Seeds in Boynton Beach