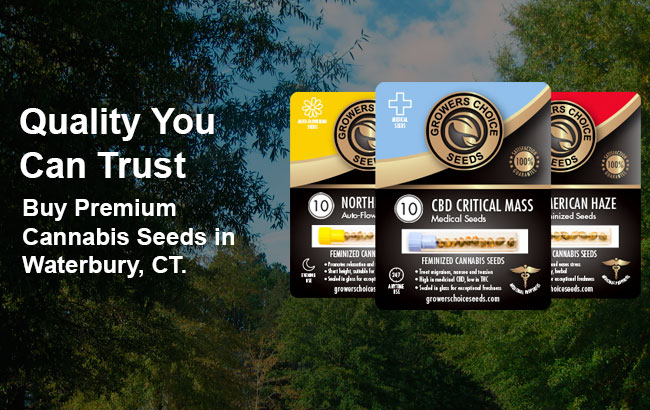 Are cannabis and cannabis seeds legal in Waterbury?
Since legislation was passed in 2012, residents of Connecticut have the right to use medical cannabis to treat many illnesses and symptoms. Under Public Act 12-55, patients who suffer from one of the qualifying conditions are allowed to keep a one-month's supply of medical cannabis with which to treat pain and other symptoms.
Where can I get cannabis seeds in Waterbury?
Cannabis dispensaries in Connecticut are available to individuals registered with a qualifying medical condition, but anyone can order cannabis seeds online from Growers Choice Cannabis Seeds. Our premium seeds are hand-selected and packaged in medical-grade glass vials, which ensure lasting viability and safety. We deliver all across North America, and your products will arrive at your door in discreet packaging.
Visit Waterbury, Connecticut
Perched on the Naugatuck River just 90 minutes from the bustling metropolis of New York, Waterbury, Connecticut is called The Brass City due to its place as the leading brass manufacturer in the country during the early 20th century. Young Residents of Waterbury have their pick of fine post-secondary institutions including Post University and Naugatuck Valley Community College, and there are plenty of local activities to occupy residents young and old. The Naugatuck State Forest is nearby, and there's always a show at the Palace Theater, or an exciting exhibit at the Mattatuck Museum.
Growers Choice Cannabis Seeds comes highly recommended in Waterbury
I received my first order as fast, if not faster, than some of the bigger seed banks. Growers Choice has a great selection, and their stealth packaging was unique and subtle. I will shop here again, and I recommend them to anyone.
Most Popular Cannabis Seeds