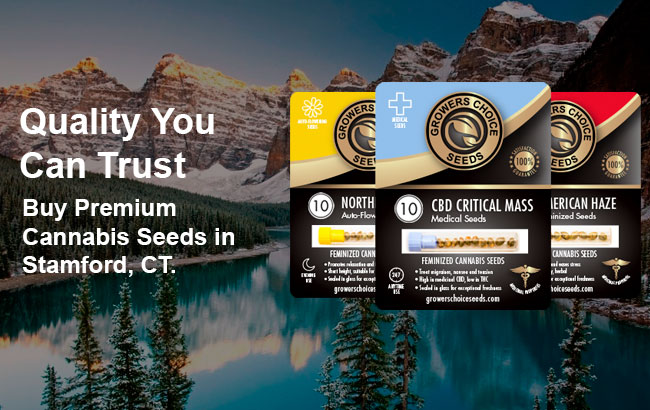 How can I get cannabis seeds delivered to Stamford?
With Growers Choice Cannabis Seeds, it's never been easier to get the strains you want, shipped straight to your door. At Growers Choice, we provide so much more than premium cannabis seed strains in auto-flowering, regular feminized, and high-CBD varieties: we also offer superior medical-grade glass packaging, discreet delivery with flat rates, and a whole host of informative articles on using medical cannabis to treat a wide range of ailments.
Visit Stamford, Connecticut
Named for Stamford in Lincolnshire, England, Stamford, Connecticut is a small, stylish city which houses regional branches of the University of Connecticut, the University of Bridgeport, and Sacred Heart University. Stamford is also home to one of the largest libraries in the state, Ferguson Library, and many enjoyable outdoor cultural vistas including Cove Island Park and the Stamford Museum and Nature Center.
What are cannabis seeds?
Cannabis seeds are the un-germinated stage of the cannabis life cycle. It is perfectly legal in the United States to purchase and own cannabis seeds, because they are viewed as adult novelty souvenirs. If you would like to order cannabis seeds, Growers Choice is a safe and reliable option. We offer flat shipping rates and discreet delivery straight to your door.
Growers Choice cannabis seeds are growing on Stamford customers
This was my first time ordering from Growers Choice, and I think they were super. Delivery was 5 days from order, and everything was there. Good service.
Most Popular Cannabis Seeds