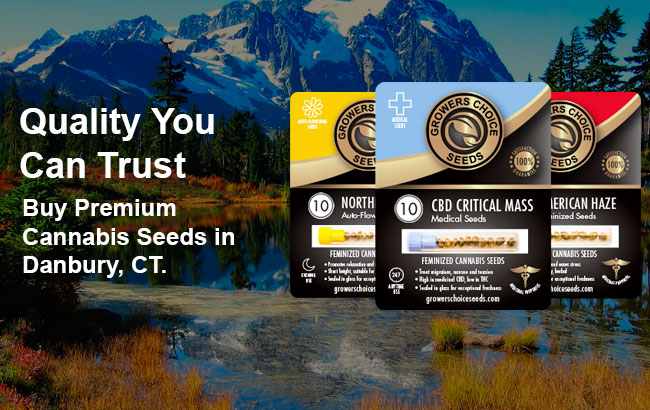 What's the legal status of cannabis in Danbury?
Danbury, CT residents benefit from the state's relatively liberal medical cannabis laws, which were instituted in 2012, and encompass a pretty long list of qualifying conditions. There's a little work involved in obtaining your medical cannabis card in Connecticut, including getting your hands on legitimate medical records or documentation from your primary doctor that describes your diagnosis, having your physician sign a Physician's Statement, and have one of the 23 conditions listed by the law.
Buy cannabis seeds in Danbury
While patients and recreational weed lovers wait the day Connecticut lawmakers take the necessary steps to legalize cannabis in this state, there's time to stock up on your favorite Danbury cannabis seeds, available for sale online with Growers Choice Cannabis Seeds. From Afghan to White Widow, all of our strains are carefully cultivated, our seeds hand picked, and every order purchased is packed in medical-grade glass vials to ensure freshness and viability on delivery.
We're hitting all the right notes in Danbury, CT
Ordering and delivery from Growers Choice is such a smooth process. Everything got to my place okay, didn't look like customs decided to inspect my package, which is always one of my main concerns. I'll be shopping with this company from now on, they're trustworthy and reliable, exactly what you want when dealing with online shopping.
Most Popular Cannabis Seeds