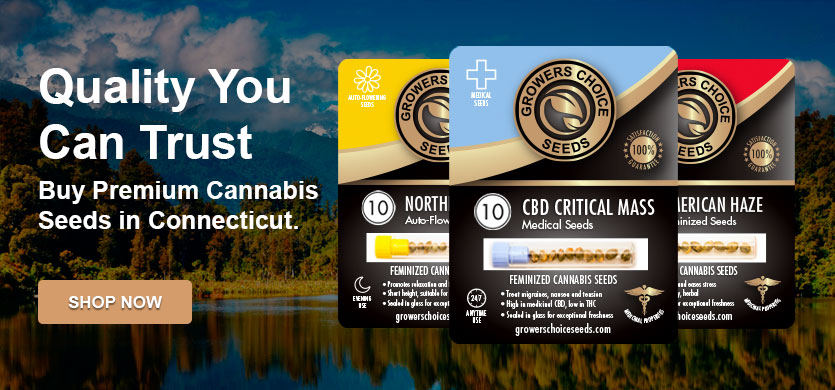 Whether you're a new or long-term resident of Connecticut, it never hurts to check out your local cannabis scene. Growers Choice is an online weed seed bank that specializes in the delivery of premium weed seeds from coast to coast (so, yes, we deliver to Connecticut, of course)!
Connecticut and Cannabis
On June 1, 2012, HB 5389 was signed into law by then-Governor Malloy, effectively making Connecticut the 17th state in the U.S. to legalize medical marijuana, and in 2013 the state's medical marijuana programs were established. Over the course of the next few years, various pieces of legislation were passed to expand the state's medical marijuana program so that minors who met certain types of medical conditions could become medical marijuana patients.
Then, on 22 June 2021, Governor Lamont signed SB 1201 into law, which made Connecticut the 19th state in the country to make adult-recreational cannabis use fully legal to those 21 and older, and about 1.5 years later, adult-use cannabis sales for recreational purposes were launched on 10 January 2023.
As such, with medical and recreational marijuana now being fully legal to purchase, possess, use, and cultivate in Connecticut, more and more of the state's residents are investing in procuring cannabis seed strains from trustworthy online seed banks like Pacific Seed Bank (PSB) and Growers Choice Seeds (GCS) so that they can easily and conveniently to grow their own crops of marijuana plants at home.
Connecticut Cannabis Possession and Cultivation Laws
Now would be a good time to provide you with the basics of Connecticut's laws regarding medical and recreational cannabis and the growing of it before talking about the different categories of marijuana seeds and why so many growers prefer getting their cannabis seeds from seed banks etc.
Laws for Medical Cannabis Patients
To become registered with Connecticut's medical cannabis program, you must be 18 or older, or if you are a minor, then you must have an adult primary caregiver who is either your parent or legal guardian.
As a card-carrying medical patient, you are allowed to purchase and possess up to 5 ounces of cannabis flower.
Out-of-state medical marijuana cards are not recognized at Connecticut medical marijuana dispensaries, but since recreational cannabis is legal for those 21 and older, this shouldn't be too prohibitive for medical users who are visiting the Nutmeg State.
Registered patients 18+ are legally permitted to grow 3 mature and 3 immature cannabis plants at home, with a maximum of 12 plants per household regardless of how many medical marijuana cardholders reside in the same abode.
Weed plants cannot be visible from the street and they must be cultivated indoors in a space that is inaccessible to unauthorized individuals.
Recreational Marijuana Laws
Adult users are defined as individuals who are 21 years of age or older.
Adult users are allowed to purchase up to 1/4 of an ounce (7 grams) of cannabis flower or marijuana products in concentrate form from state-licensed dispensaries at a time. In addition, they can possess a total of 1.5 ounces of marijuana or cannabis products.
You must be 21+ in order to legally cultivate your own cannabis at home, with the same limits as medical users of 3 mature and 3 immature cannabis plants, and a maximum of 12 plants per household regardless of how many adults live in the same residence.
Also, just as is the case for medical cannabis patients, recreational cannabis growers must cultivate their weed plants indoors in an area that no one under the age of 21 can access, and the plants cannot be seen from the street.
While it may seem like a huge bummer that outdoor growing is currently illegal in Connecticut, the reality is that with frost potentially lasting until May in some parts of the state and starting as soon as early- or mid-October, you'd still be cultivating your cannabis crops in an indoor grow setup for the majority of the year. Plus, there are several advantages to being able to grow cannabis indoors anyhow.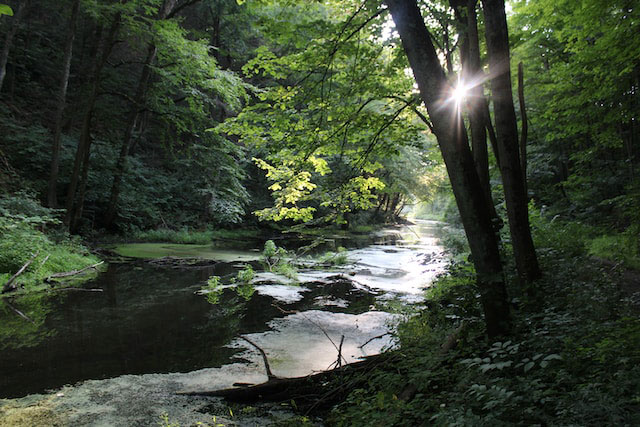 Advantages for Indoor Growers in Connecticut
Beyond the obvious fact that you can grow cannabis indoors year-round regardless of what the weather is like, there are several other reasons why cultivating your marijuana plants inside has its perks.
You can create, adjust, control, and maintain the climate conditions for your cannabis crops to meet their specific environmental needs, which is a huge plus especially when you live in a location like Connecticut that can see plenty of snow and freezing temperatures in the winter and has relatively mild summers that don't usually see temps higher than the 80s, but have such high humidity levels and frequent thunderstorms that can be akin to tropical storms in the South, growing your cannabis plants outdoors could be a pain as many strains are susceptible to molds and mildew or simply require low to medium humidity levels.
Due to the realities of climate change, summers everywhere are becoming intensely hotter, and so, it's not at all going to be out of the norm for Connecticut to see more and more sudden heat waves that can end up "frying" their outdoor cannabis crops.
Some strains are notoriously odoriferous growers, and there is little you can do to control this outside. However, by growing these strains indoors, you can use things like carbon filters and fans to help subdue their pungent fumes and thereby not attract any unwanted attention from those who might be inclined to help themselves to your outdoor crops.
If you're growing indicas or auto-flowering strains, they tend to be smaller in size, which makes them especially well-suited for indoor growing as they won't take up much space.
You can easily control the lighting schedule for your photoperiod feminized strains via the use of artificial lights, which is a huge benefit as feminized cannabis strains cannot automatically flip to their flowering stage without having their light/dark schedule changed like auto-flowering seed strains can.
Why Buy Weed Seeds from an Online Seed Bank
You may be wondering why it is that reliable seed banks like GCS and PSB are so popular amongst medical and recreational cannabis growers, when you could potentially just buy some from your neighborhood dispensary and help support small, local businesses.
Some of the main reasons that so many prefer to buy their pot seeds from an online seed bank are as listed below:
Seed banks like GCS and PSB work with numerous cannabis breeders, which means that they are able to provide prospective customers with a significantly larger inventory of marijuana seed strains than a local dispensary can.
GCS and PSB only sell feminized seed strains, and its auto seeds and landrace strains are also feminized. This is because regular seeds, which are very useful to breeders and expert cultivators, can produce both male, which is used to pollinate, and female plants; whereas, feminized seeds have a 99% chance of ending up with bud-producing female plants. In addition, both GCS and PSB provide a germination guarantee that 90% of your seeds will germinate provided you follow their easy-to-follow germination guides step by step.
Seed banks often have wholesale cannabis seeds for sale, which is great for either those who have large indoor weed gardens or who prefer buying in bulk, as ungerminated recreational and medical marijuana seeds can last for up to five years when properly stored.
Oftentimes there are strains that are traditionally more difficult to track down except as clone-only strains, but seed banks like GCS and PSB are able to make them available in seed form. Plus, GCS and PSB often tend to have limited edition seed strains available, whereas a dispensary that is set up for medical and/or recreational sales in Connecticut is less likely to have such seeds for sale.
Autoflower Seeds vs. Feminized Seeds
Feminized Seeds
As already discussed, feminized seeds be they autos or photoperiod strains have an almost 100% chance of maturing into female plants.
Generally speaking, feminized strains, which need to be manually switched from an 18/6 light and dark cycle during their vegetative growth stage to a 12/12 one in order for them to start to flower, do require at least some very basic cannabis cultivation knowledge about lighting cycles, etc. That said, there are plenty of feminized strains that are low-maintenance growers that a less experienced medical or recreational grower can easily cultivate in an indoor cannabis garden in Connecticut.
Although feminized sativa strains usually grow to be tall, Connecticut indoor growers can learn how to use different types of training methods, as well as applying topping and trimming to control their height.
While all auto-flowering cannabis strains are feminized, not all feminized strains are autos, and the reality is that there are many more feminized cannabis seeds available than those with auto-flowering genetics.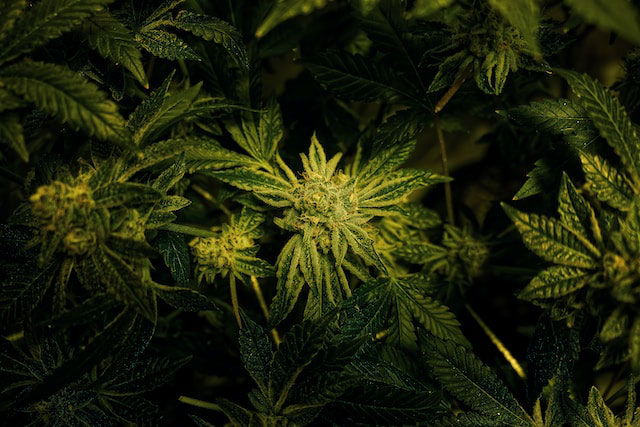 Feminized Auto Seeds
The autoflowering version of a feminized strain is usually much easier for first-time growers to successfully cultivate because they can automatically flip to flower without your having to switch them to a specific light/dark cycle at a certain time. In addition, they are ideal for indoor growing in a place like Connecticut, which does not permit outdoor cannabis cultivation.
Of the reasons that autos make for a great indoor option, some of their biggest advantages for indoor growers are that tend to enter their flowering stage in just 6-8 weeks, although some can take 10-12, and they produce smaller and hardier plants. This means that even if you only have a small grow tent inside that you can only fit a couple of plants in at a time, you will be able to get several crop cycles year-round without having to worry about space issues, etc.
The reason that auto-flowering cannabis strains can transition into their flowering stage on their own, and tend to be smaller and sturdier than feminized strains is because they contain ruderalis genetics.
About Ruderalis:
Ruderalis is a landrace strain that originally comes from the northern parts of Central Asia in the regions of Russia and Mongolia that historically feature incredibly harsh winters and short summers. Due to this fact, ruderalis were able to adapt and evolve over time so that they not only flower on their own but are more resistant to sudden changes in temperature. In addition, they tend to only grow to be 1-3 feet tall. This means that even an autoflowering sativa-dominant hybrid strain most likely wouldn't require you to keep a constant eye on its growth rate in terms of your having to top and trim it in order for it to fit in your indoor marijuana garden in Connecticut.
Learn more about cannabis in cities from Connecticut:
Learn About the Top Cannabis Strains in Connecticut
Buy Popular Cannabis Seeds