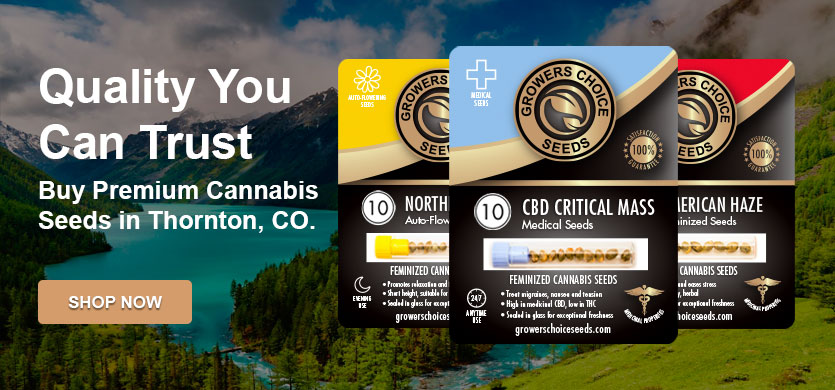 Recreational cannabis consumption is legal in Colorado, and therefore, Thornton. Established in 1954, this vibrant city is home to various cannabis connoisseurs and home gardeners. Below, you'll find information on local cannabis laws, growing recommendations, and more.
Overview of Thornton Cannabis Seeds
The easternmost city in the north part of Denver, Thornton is home to various attractions, such as 1,000 acres of developed parks, a symphony orchestra, and three annual festivals with car shows, carnival rides, and more. Thornton also boasts a developing cannabis culture filled with both seasoned growers and those just dipping a toe into the discipline of cannabis cultivation. Local recreational dispensaries provide access to a variety of quality products, while established online seed banks carry the most extensive selection of cannabis strains.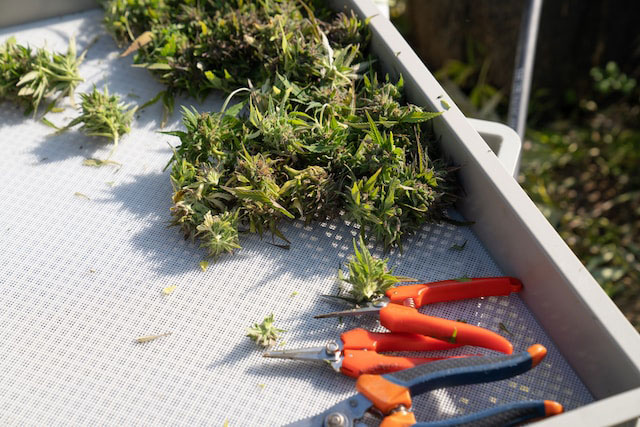 Cannabis Seeds in Thorton
Recreational cannabis use is legal for adults age 21 and above in Colorado, and therefore, Thornton. Additionally, adults are also permitted to grow cannabis in their homes for personal use. They may have six cannabis plants or fewer at one time, with up to three flowering. More information can be found here.
Wchether you're entirely new to the world of cannabis or an expert grower, a successful growing experience first depends on obtaining high-quality seeds. Many popular strains can be purchased at reputable online seed banks like Growers Choice Seeds. The following cannabis strains are especially popular in Thornton:
It's no surprise this sativa-dominant hybrid is considered a classic: World-famous for its distinct pine and pepper scent, Jack Herer Feminized cannabis seeds are known to produce a pleasant mixture of both sativa and indica effects. If you're seeking both cerebral clarity and physical relaxation, this strain may be for you. What's more, its moderate THC level of 18 percent will produce a heady buzz without any overpowering psychoactive effects. Jack Herer feminized seeds will typically produce yields of 400-500 grams per square meter indoors, and 600-800 grams per plant outdoors.
Blueberry Kush Feminized Seeds
This 90% indica tends to lull consumers into a peaceful sleep. As such, it is ideal for the evening, or for those who simply need to get some shuteye. Additionally, it boasts a decadent berry taste and its relaxing effects are accompanied by a refreshing, sweet scent. With appropriate care, Blueberry Kush seeds will yield 450-550 grams per square meter indoors and 500-600 grams per plant outdoors.
This strain is beloved for both its effects and scent: Kush strains are known to relax and soothe, and this variety is no exception thanks to its indica-leaning genetics. Suitable for nighttime use, you can expect an enjoyable sense of sleepiness accompanied by a woody, forest-like aroma. Bubba Kush feminized seeds will produce yields of up to 400-500 grams per square meter indoors and 600-700 grams per plant outdoors.
This high-indica strain is known for its ability to relax while simultaneously brightening the mood. A moderate level of THC provides both physical and mental sensations, making this strain ideal for relaxing in the evening or throughout a lazy, peaceful day. Mazar feminized seeds will produce yields of 450-550 grams per square meter indoors and 550-650 grams per plant outdoors.
Boasting an 80 percent sativa content, this strain is excellent for enhancing energy and sharpening the mind. As such, this strain is ideal for those seeking potent cerebral effects. An excellent wake and bake, it tends to provide pep in the step while its modest THC levels prevent its effects from being overwhelming. Mexican Haze seeds will produce yields of 400-500 grams per square meter indoors and 600-700 grams per plant outdoors.
Germination Guarantee
Growers Choice offers the highest germination guarantee rate in the industry.
When ordering from Grower's Choice, you will receive high-quality seeds that have been tested to ensure a germination rate of 90% (two seed minimum). As such, we promise that your seeds will germinate so long as the following germination method is followed; if they don't, we will replace them free of charge.
Advantages of the Germination Guarantee
While there are many steps to proper gardening, first and foremost, everything hinges on obtaining viable seeds. By purchasing from a reputable online seed bank, growers are provided the peace of mind that comes with knowing that their seeds are of the highest quality.
Germination Guide
Once your seeds arrive, we recommend following the below advice to help ensure success during the gardening process.
Step-by-Step Instructions for Planting and Growing Cannabis Seeds
The Water Glass/Paper Towel Germination Method:
Place your cannabis seeds into a glass of pure water (distilled, rain, or spring). After your seeds have soaked for 14-18 hours, pour the water and seeds onto a paper towel-covered plate to drain off any excess water.
Fold the wet paper towel over your seeds, ensuring they are completely covered, and place the plate in a warm, dark space. The temperature should stay at 75 – 80 degrees Fahrenheit during this period.
During the germination process, make sure the paper towel remains saturated—but to the extent that your seeds are sitting in a pool of water. Check your seeds intermittently and watch for a taproot to begin to grow. The seeds are ready for planting when the taproot is 1/4- to 3/4-inch long. This may take up to two weeks, but typically, your seeds will be ready after three to seven days.
Tips for Achieving Optimal Results with Your Seeds
To help ensure you achieve optimal results, there are a number of variables to consider. Every cannabis strain is unique and will have its own unique set of effects, growing requirements, and more. Before beginning your cannabis growing journey, keep the following factors in mind:
Effects: Are you looking for a strain that will relax you? Provide heightened mental clarity? Do you prefer a sociable strain that will enhance creativity? THC levels, indica to sativa ratio and more will all factor into a strain's key characteristics.
Growing Setup: Each cannabis strain also has different growing requirements. Some strains will take up quite a bit of space; others will remain small and compact. Feminized strains, for instance, will require adjustment of light cycles while auto-flowering seeds will not.
Time Commitment: Some cannabis strains tend to be more high-maintenance and better suited to experienced growers; others are ideal for beginners. Additionally, some strains will have more efficient flowering times, others will take longer to produce yields.
A reputable online seed bank will list the above information on each strain's profile. You can easily filter through various types and qualities to help pinpoint the precise effects and growing characteristics you'd like.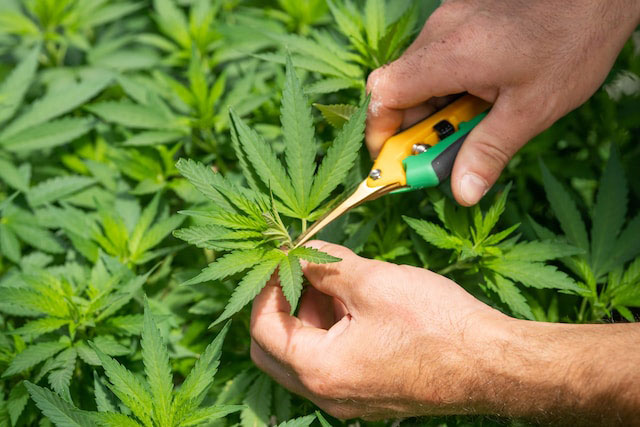 Different Types of High-Quality Marijuana Seeds Available
While there are thousands of cannabis strains in existence. Yet there are just four main cannabis seed varieties: feminized, auto-flowering, regular, and CBD. Below, we provide a brief overview of each variety's unique characteristics.
Feminized Seeds
While regular marijuana seeds have a 50/50 chance of producing male and female plants, feminized seed strains are bred to produce only female plants. Normally, when plants are pollinated by males, they will produce both seeds and resin-covered flowers. However, they will also prioritize seed production, which results in buds with reduced potency. Feminized cannabis seeds are beneficial because they produce notably high THC and CBD. Accordingly, they are desired by growers seeking especially potent yields.
Because of this quality, there is an abundance of feminized seed strains available to meet a variety of unique goals and tastes.
Regular Seeds
Regular seeds are preferred by growers looking to experiment with breeding new strains, regular cannabis seeds tend to have a more affordable price, but also tend to produce less potent yields. Unlike auto-flowering varieties, which tend to be fast-flowering seed strains, regular seeds grow at the normal rate.
Autoflowering Seeds
Autoflower strains have a special genetic quality; thanks to their ruderalis lineage, they are especially tough, resilient, and have a shorter flowering period. While they may be less likely to trigger a record-busting harvest, they have many other attributes: They're famously low-maintenance. In fact, there's an excellent chance they'll require no adjustment of light cycles at all. They also don't necessarily require pleasant weather; they're famous for thriving in less-than-ideal outdoor conditions. Finally, they are typically disease and pest-resistant seed strains. All of the aforementioned qualities make auto-flowering seeds suitable for both outdoor growers and beginners.
CBD Seeds
CBD seeds differ from traditional cannabis in that they do not produce the psychoactive effects associated with THC. The second most common cannabinoid found in cannabis, CBD is known to provide mental focus and clear-headedness without the mind-alerting effects. Strains high in CBD have a variety of applications: Many find it helps alleviate stress and boost mood, while in general, high CBD and low THC plants are fantastic strains for those seeking soothing properties.
Just what the doctor ordered
My doctor prescribed cannabis to treat my condition. I made the decision to grow my own medical marijuana, as I wanted to know I was consuming high-quality cannabis. It has helped me in so many ways to endure and reduce side effects from my condition and I have thoroughly enjoyed the process of harvesting my own.
 Our Most Popular Cannabis Strains