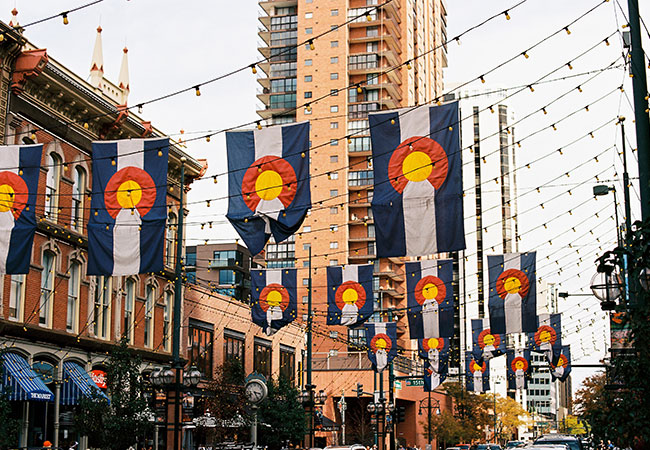 Established seed banks, like Growers Choice Seeds, don't just sell high-quality seeds, they only make feminized marijuana seeds available to their customers, which come with a satisfaction guarantee of a 90% germination rate.
Marijuana Seeds in Denver, Colorado
Medical marijuana was legalized on 7 November 2000 when almost 55% of Coloradans voted "Yes" to Amendment 20, and then 12 years later on November 6, 2012, state residents made the Centennial State one of the first two in the nation to approve the use, possession, and sales of marijuana and cannabis products for users over the age of 21 with the passage of Amendment 64, with the first state-licensed retail cannabis sales taking place at licensed dispensaries in January of 2014.
With cannabis cultivation has been legal in Colorado for over a decade for recreational purposes, and over two decades for medical users, state residents, including those in the capital city of Denver, have become pretty well-versed in not only learning and knowing how to grow marijuana plants from seeds for a relatively long period of time, but they also know that one of the best ways to buy high-quality cannabis seeds is through a reputable online cannabis seed bank like Pacific Seed Bank (PSB) or Growers Choice Seeds (GCS).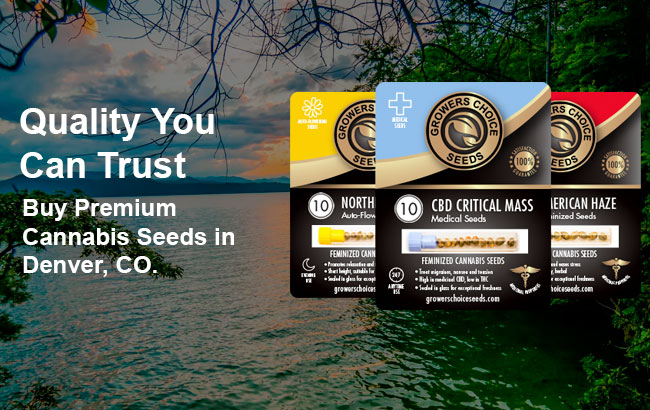 Benefits of Buying Weed Seeds From an Online Cannabis Seed Bank in Denver
While it goes without saying that supporting local businesses and cannabis seed breeders is important so as to ensure their ability to thrive and contribute to the economic good of their local community by both bringing in business and employing those who reside there, the reality is that most cannabis dispensaries aren't set up to provide the kind of selection of seeds that seed banks are.
In addition, while most local, state-licensed retail cannabis sellers can offer users a pretty good selection of cannabis strains in the form of cured marijuana flower or products, such as edibles, tinctures, shatter, etc., their inventory of landrace and hybrid strains just does not match what you find when shopping with a seed bank like GCS.
Some other reasons why in ordering seed packs from places like Growers Choice that have a storehouse of massive varieties of cannabis seeds are as provided below:
Established seed banks, like GCS, don't just sell high-quality seeds, they only make feminized marijuana seeds available to their customers, which come with a satisfaction guarantee of a 90% germination rate. In fact, GCS clearly states: "We promise at least 90% of your seeds will germinate. If they don't, we will replace them free of charge" provided that you "precisely follow the Germination Method" provided by GCS here.
GCS has a long-established relationship with numerous cannabis seed breeders, which is why they are able to offer such a huge selection of so many different strains of marijuana in seed form.
Investing in the premium seeds made available via GCS allows you to not only choose from a long list of feminized seeds, like Bubba Kush; but also autoflower weed seeds, like Golden Ticket; and high-CBD, medical cannabis strains, like Valentine X CBD–all of which include pure sativa and indica landrace strains, as well as a varied assortment of hybrid strains.
There are many strains that are rare and/or hard to find in regular seed forms, such as Silver Kush and Willy's Wonder, where normally you'd have to search high and low in the Mile High City to track down a clipping to grow these as "clone-only" strains.
Even though growing weed and using it in Denver, and Colorado, is completely legal, most still prefer to not just announce that they're at-home growers from their rooftops, and so the fact that GCS and PSB provide fast shipping in discrete packaging is something customers really appreciate. In addition, the discrete packaging also helps with not attracting unwanted attention from would-be package thieves.
Another benefit, which is not quite as pertinent to Coloradans, but is still worth mentioning here is that in states where cannabis usage and cultivation of any kind is 100% illegal, it's actually not illegal to buy and possess ungerminated marijuana seeds and to just store them. This is because an ungerminated seed does not contain any THC, or rather the amount it contains is so nominal that even the Federal Drug Enforcement Agency (DEA) basically considers them to be legal hemp seeds at that point. It is only once they have been germinated and begin to sprout that you would get into trouble with the law if you live in a regressive red state that continues to criminalize marijuana usage and possession.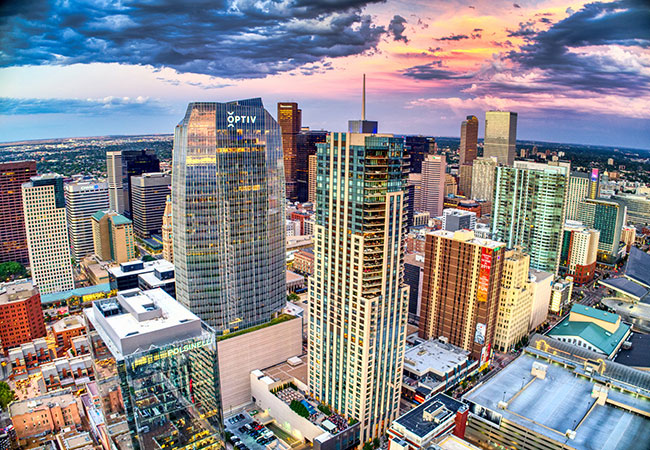 Cannabis Cultivation in Denver

Before getting into what the growing environment in the Mile High City is like, let's first just do a quick review of cannabis possession and cultivation laws in the state of Colorado, so that you are clear on how much you can grow and have on your person and in your home at any given time.
Denver's Medical and Recreational Marijuana Laws
It is important to know that while Colorado itself has general possession and cultivation laws, each municipality or county has its own specific cannabis laws. As such, for Denver, it's important that you pay attention to their exact laws.
In fact, one very important cannabis cultivation law to be aware of in Denver is that not only must you grow and keep your weed plants in an "enclosed, locked area" that only adults can access, but you CANNOT cultivate the seedlings grown from your feminized cannabis seeds outside, as both the City and County of Denver explicitly states so on its official website, along with: "Marijuana plants must be kept in an enclosed, locked structure with a permanent roof and solid exterior walls."
Regardless of if you are a Colorado medical marijuana (MMJ) cardholder or an adult user who is 21+, you cannot sell the marijuana you have cultivated at home. However, you can gift up to two ounces so long as no financial exchange is involved, and the person you are giving this to is at least 21 years of age.
In addition, you cannot use cannabis in any way in public places. This means you cannot combust, vape, or eat it. You also cannot use cannabis on federal lands.
Cultivation and Possession Laws for Medical Patients

Those with MMJ cards, including their registered caregivers, may buy and possess up to 2 ounces of medical marijuana per day.
Medical marijuana patients can cultivate up to 6 female plants, with no more than three being mature plants.
Cultivation and Possession Laws for Adults Users

Those over the age of 21 are legally allowed to buy and possess up to 1 ounce of cannabis at a time.
Adults may have a total of 2 ounces of weed stored at home.
Recreational adult users can also grow up to six female cannabis plants per person, with up to three of them being flowering, aka mature, plants. Denver itself limits at-home growing to 12 plants in total, regardless of the number of adults living in one residence.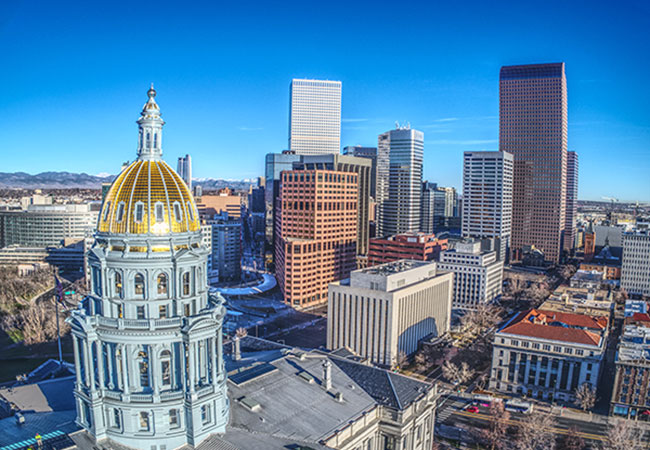 Growing Cannabis in Denver
While it may seem like bad news that Denver does not allow you to cultivate cannabis crops in any outdoor spaces, at the end of the day this isn't nearly as "unfair" as it may sound when you consider the fact that this is a place that has long, cold winters that frequently see heavy snow, including blizzards, and summers that can be either extremely humid with violent hail storms or ones that are hot and dry to the point of drought, which can make growing anything incredibly challenging.
So, really, if you think about it, being "limited" to indoor cultivation only is more of a blessing than a curse, as not only do you not have to worry about dealing with Denver's shorter and rather erratic springs and summers weather wise, you gain the advantage of always being able to create, control, maintain, and adjust when need be, the indoor growing environment for your cannabis plants.
Some Top Strains to Grow in Denver
Provided below are just a few of the many strains that tend to be popular amongst at-home growers in Denver, Colorado:
1. Green Crack feminized seeds: this old school evenly-balanced hybrid that delivers a rousing burst of energy and focus is a fast indoor grower as it usually begins to flower in just 6-8 weeks with an average yield of 450-550 grams per square meter.
2. Durban Poison autoflower seeds: often referred to as the "perfect morning pick-me-up," this pure sativa landrace should start to flower in just 9 weeks with a yield of about 300+ grams per square meter.
3. Purple Punch feminized seeds: this fast and hard-hitting indica-dominant hybrid that's wonderfully delicious and well-suited to high altitude growing has a short indoor flowering time of just 7-8 weeks.
4. Ghost Train Haze feminized seeds: this Colorado-popular super potent sativa-dominant hybrid that does best in a hydroponic setup has an indoor flowering time of 9-11 weeks.
5. Afghan auto seeds: this near-pure indica autoflower version of the Afghani landrace indica strain that hails from the high elevations of the Hindu Kush mountains is basically made for growing in a place whose very nickname is the Mile High City.
Fast Delivery and Amazing Seeds
A friend of mine recommended Growers Choice to me and boy was I glad that I bought from them. I've received my goods in less than a week and had great success with all 10 of my seeds. Can't wait to place another order soon!
 Our Most Popular Cannabis Strains