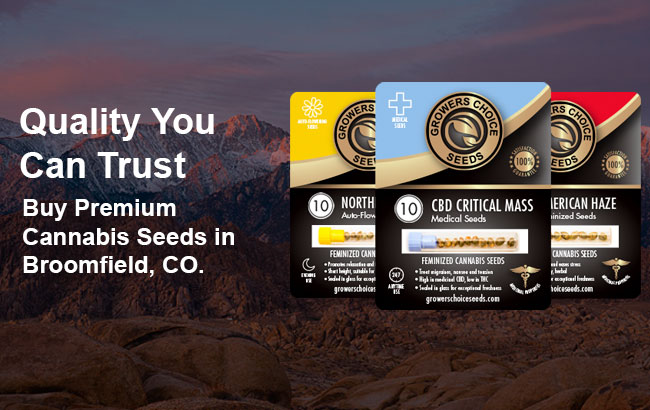 Is it legal to grow cannabis in Broomfield?
Colorado set the process of changing their marijuana laws in motion way back in 1975, when the state made the bold decision to decriminalize cannabis. Following that, medical marijuana use and cultivation became legal in 2000, with recreational use being legalized in 2012. Both medical and recreational patients are allowed to grow their own potent therapy gardens at home, even outdoors if they'd like, so long as the garden is properly concealed from the public.
Buy cannabis seeds in Broomfield
Coloradans take their cannabis very seriously – as they should! They're particularly fond of strains like:
If and when you're ready to get your own garden growing, you should always start off with the best quality Broomfield cannabis seeds available to you, and you'll find those for sale online with Growers Choice Cannabis Seeds. Follow our simple germination guidelines and you're guaranteed to be impressed with a potent harvest, thanks to our superior genetics. Convenience is having your top quality seeds delivered directly to your front door.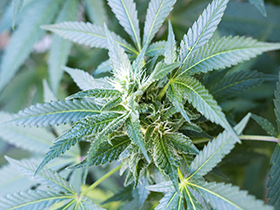 Can I use cannabis in public in Broomfield?
Our collective relationship with cannabis in the United States has come a long way from the mid 1900s when the federal government started cracking down on use and sale of what they considered a dangerous narcotic. With the help of tireless pot proponents and some dedicated scientific research, we're learning more and more about the wide range of benefits provided by cannabis when used as a medication, and local-level governments have slowly been warming up to and jumping on the bandwagon of medical marijuana, if not going so far as to legalize recreational cannabis use – as done by Colorado. In this state, you can legal purchase, use, and grow your own cannabis from Broomfield cannabis seeds like those available online for delivery from Growers Choice Cannabis Seeds. Although you are allowed to use cannabis on your own private property, you aren't allowed to smoke cannabis in public, though you might be able to get away with snacking on homemade THC-infused treats, as long as you are discreet.
What are the effects of eating a weed edible?
When you eat an edible, the cannabinoid THC is slowly absorbed into the bloodstream and metabolized through the liver. At this point, it's converted into a chemical called 11-hydroxy-THC, which is actually more potent than the original, and, although it takes longer (upwards of 90 minutes in some cases) the resulting high is full body, much more intense, and will last a lot longer (on average, anywhere between four to 12 hours, depending on the dose) than a high from inhaling. Cannabis proponents new and old should try cooking with ganja at least once in their lifetime. It's super easy, and THC-infused edibles will provide a completely different high than when smoked or vaped. You could add a drop or two (or more) of concentrated cannabis oil from a tincture to any recipe and you've instantly got a pot-infused edible. Or you could make your own cannabutter or cannaoils from your homegrown harvest.
Customers in Broomfield are giving Growers Choice top marks
Ordered my seeds, payment was easy, everything arrived in good condition. I bought two varieties, I can't say anything bad about them. One auto-flowering and one fem, both sets germinated and they all sprouted. Nice work. Looking forward to another great harvest from Growers Choice!
Most Popular Cannabis Seeds