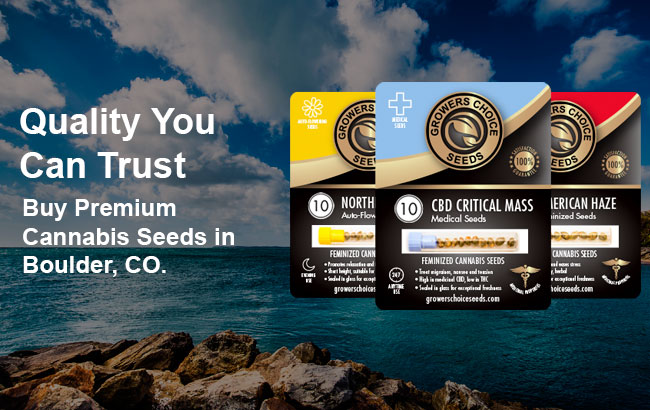 Interested in practicing the legal cultivation of cannabis in Boulder, Colorado? Unsure of what the local cannabis laws are? Confused by terms like "regular," "feminized," and "autoflower" seeds? Well, keep on reading, as all of these questions and more are covered in the article below!
Marijuana Seeds in Boulder, Colorado
Named the "Happiest City in America" by the venerable National Geographic, Boulder, which sees 300 days of sunshine on average, is a picturesque city in Colorado located in a pastoral valley just below the Flatirons and Rocky Mountains.
Known for its laid-back lifestyle, food scene, breweries, and access to outdoor activities, Boulder is the embodiment of a medium-sized city that sustains and near-perfect balance of nature and urbanity. In fact, it's been named one of the top ten most vibrant arts communities amongst cities its size in the U.S.
While Boulder is known for being a liberal and progressive kind of town, it lacks diversity as the majority of its 104,000+ population is overwhelmingly white and affluent, and even though the area prides itself on being welcoming, friendly, and inclusive many Black residents have been subjected to all too many incidents of discrimination. So, while there is so much good to be said about this beautiful area, it definitely has a lot of work to do in the racial equality and equity department.

However, the purpose of this article isn't to dissect the positives and negatives of living in Boulder, as we are here to talk about the cultivation of marijuana plants and the laws surrounding it in this lively and creative college town.
Medical and Recreational Marijuana Laws in Boulder
The State of Colorado legalized medical marijuana in 2000 and then in 2012 became the first of two states in the country to legalize recreational cannabis. However, all counties and/or municipalities in the state have the right to create their own laws regarding the purchase, possession, use, and cultivation of cannabis. This means that what applies to those who live in Denver, Pueblo, or Aurora is not going to necessarily apply to residents of the city of Boulder and Boulder County.
In fact, while many cities and towns not too far outside of Boulder County do not allow for the outdoor cultivation of cannabis crops, Boulder does!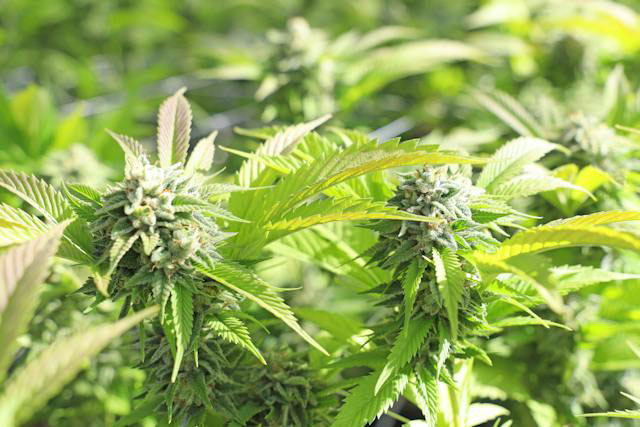 Boulder's Cultivation Laws
Medical marijuana card holders, caregivers, and adult users who are 21+ are permitted to grow their cannabis plants indoors or outside, provided that ALL plants are kept in a locked enclosure.
One person may grow up to 6 female cannabis plants, but NO household is allowed to cultivate more than 12 female plants.
Medical Marijuana Laws
You must be 18+, or have your parent or legal guardian as your registered caregiver in order to obtain your medical marijuana card.
Medical users and their caregivers can purchase and possess up to 2 ounces of medical cannabis.
Medical marijuana cannot be consumed in public.
Boulder's Cannabis Laws
You must be 21+ to be a legal adult user.
Those 21+ can purchase up to 1 ounce of cannabis flower or marijuana products per day.
Unlike in some counties in Colorado that allow a 2-ounce storage limit, residents of Boulder may only possess and store 1 ounce of marijuana
Cannabis and its products cannot be consumed in public spaces.
To find out more about Boulder County's marijuana laws please see refer to their fact sheet here.
Why Boulder's Cultivators Buy Their Marijuana Seeds From Growers Choice Seeds
Boulder locals consistently turn to Growers Choice Seeds (GCS) for procuring their favorite landrace and hybrid cannabis strains for a variety of reasons. Some of the most often cited ones are listed below.
Extensive Selection of Seeds: GCS' relationship with numerous reputable cannabis breeders from all over allows them to make thousands of the finest quality seeds available to their customers in ways that local dispensaries just aren't set up to do.
Feminized Seeds: GCS only sells feminized seeds that are photoperiods or autoflowers, as they have a 99% chance of producing all-female plants that give growers the THC-rich and/or CBD-rich buds that they want. This is also why GCS doesn't sell regular seeds, as they have a 50/50 chance of producing male and female plants. Although male plants play an essential role in the creation of new strains by serving as pollinators, your everyday at-home grower in Boulder is only looking to grow female marijuana plants that will provide them with a harvest of usable buds.
Speedy and Discreet Shipping: Fortunately, Boulder has a pretty low violent crime rate. Unfortunately, its property crime rate is higher than the national average, which is a big reason why Boulder residents greatly value the fact that GCS sends their seed orders quickly and discreetly, thereby decreasing the chances of attracting unwanted attention from would-be package thieves.
Affordable Prices: GCS is committed to making all of its high-quality marijuana seeds available at affordable prices. Furthermore, they provide incredible offers on wholesale feminized strains and feature regular rotating sales on a diverse offering of landrace and hybrid strains.
Germination Guarantee: GCS stands by the quality of its seed offerings by providing a guarantee that if 90% of your seeds don't germinate, they will replace the duds for free provided you adhere to their easy and inexpensive germination method.
Feminized Photoperiod Seeds

Feminized strains are photoperiods, which means that cannot transition from their vegetative stage to their flowering phase without some outside intervention in their light cycle, where, generally, their light/dark cycle needs to be switched from an 18/6 light and dark cycle to a 12/12 schedule.

Since Growers Choice Seeds provides a free blog that contains an abundance of useful information on almost everything one needs to know about cannabis, including light cycles, how to grow cannabis indoors and outdoors, etc. first-time growers in Boulder shouldn't have a problem being able to successfully cultivate easy-to-grow strains like Deadhead OG and Shiatsu Kush.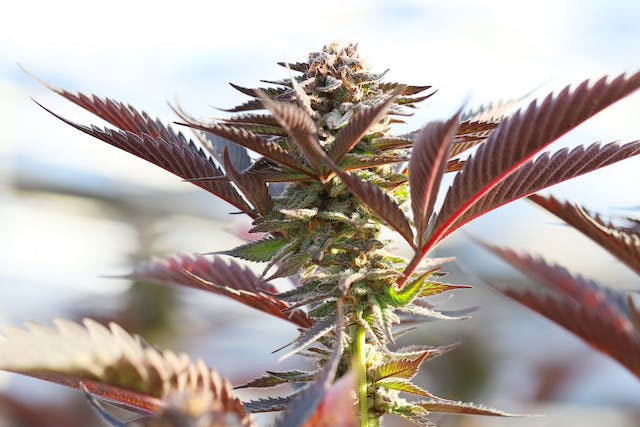 Autoflowering Feminized Seeds
Autoflowering seeds are feminized strains that have had about 10% to 20% ruderalis, which is a hardy landrace strain from Central Asia, added to their genetics. This addition gives autoflowers the innate ability to automatically flip to their flowering stage on their own without requiring any adjustments to their light schedule. Furthermore, autoflowers have a reputation for producing plants that are smaller, faster-flowering, and more resilient than their feminized photoperiod counterparts–making them particularly advantageous to both inexperienced growers, indoor growers with limited space, and outdoor growers trying to get as many harvests in one growing season.

Two autoflowers that should do well indoors and out in Boulder include White Nightmare and Violator Kush.
Boulder's Growing Environment
Boulder usually has a frost-free growing season that averages 136 days–starting around the 10th of May and ending near the end of September
Located in a valley at the foot of two mountain ranges, Boulder features a relatively mild climate with abundant sunshine, low humidity, and four full seasons. Generally speaking, its springs are crisp and pleasant with temperatures that hover in the 60s to 70s Fahrenheit, and its summer months are usually in the mid-80s, but can hit as high as the mid-90s in its hottest months of July and August.

Probably the biggest thing that outdoor cannabis growers in Boulder need to stay mindful of is the reality that hailstorms are far from uncommon there. While most plants damaged by hail can usually recover, they may not reach their full potential or flower. As such, cannabis cultivators may want to consider growing their plants in greenhouses, or providing some kind of netting, etc. as a "roof" for their locked and enclosed outdoor growing spaces to reduce the chances of their marijuana crops being too severely damaged.
Three Popular Strains to Grow in Boulder
Now that you know the most important basics of Boulder's cannabis cultivation laws, its outdoor growing conditions, and the major differences between regular, feminized, and autoflowering seeds, here are three more strains that have proven to be popular with growers and users alike in this affluent locale.

1. Grape Kush feminized: This sativa-leaning hybrid offers a clear-headed, tranquil high. It's known for producing hardy and resilient plants that can withstand unexpected changes in temperatures and/or humidity levels. Cultivated outside, it does best in a semi-humid environment where daytime temps are between 70-80 degrees Fahrenheit. Grown inside, will need to employ the use of carbon air filters as otherwise its aroma will make its presence known to those passing by.
2. Haze XL autoflower: This fast-acting and cheer-inducing sativa-dominant strain generally prefers a warm and humid environment, although its plants are quite tenacious and have a high-temperature tolerance even when conditions and temperatures aren't perfect.
3. White Runtz autoflower: This indica-dominant hybrid can thrive indoors and out. Outdoor growers in Boulder will want to select a suitable location that will accommodate its height and yield potential. To fully thrive it requires temperatures of 70-80 degrees Fahrenheit and a 40%-50% humidity level. Also, note that its plants are susceptible to pests, mold, and mildew.
Boulder gardeners choose Growers Choice
Reasonably priced and efficient. Growers Choice has a good selection of seeds, and I like that they've taken the time to include a lot of information about each strain they carry, as well as additional learning material. I recommend this company.
 Our Most Popular Cannabis Strains