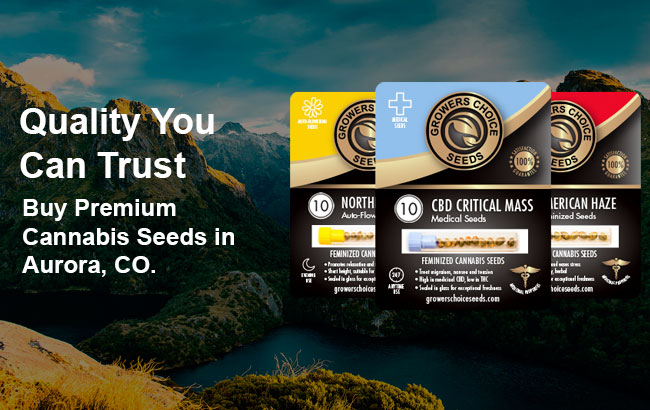 Known for its proximity to the breathtakingly beautiful Rocky Mountain Range, Aurora is the third largest city in Colorado and is located in the north-central part of the state just over 9 miles outside of the Mile High City of Denver. It is also home to a thriving medical and recreational cannabis community, where both forms of marijuana usage and cultivation have been legal for a relatively long time.
Marijuana Seeds Aurora, CO
In both 2000 and 2012, the majority of Aurora residents voted in step with the majority of their fellow Coloradans in approving both medical marijuana and the adult-use of recreational cannabis, respectively.
As one of the first two states in the country to legalize recreational marijuana, Aurora at-home cannabis growers are very much "in the know" when it comes to figuring out the best way to procure their favorite cannabis seed strains, with a high percentage of them relying on online cannabis seed banks like Growers Choice Seeds (GCS) as the local marijuana retail market generally isn't set up to offer the wide range of outdoor and indoor cannabis seeds that seed banks can provide.
As is common for many states where medical and/or recreational cannabis is legal, each county or town in Colorado has its own specific laws, especially around at-home cultivation.
As such, if you are new or moving to Aurora, which is considered part of Arapahoe County, it is your responsibility to know their exact marijuana laws.
Provided in the section below are the most important basic state laws and some specific Aurora, or Arapahoe County, regulations.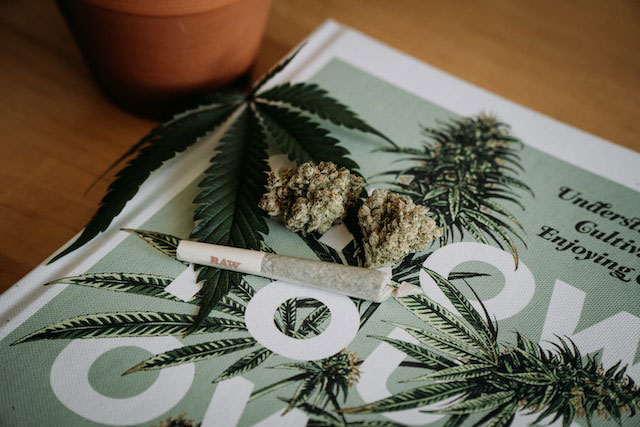 Aurora's Possession and Cultivation Laws for Medical and Recreational Users
To start with, regardless of if you are a registered medical patient, caregiver, or adult user, not only must you grow your cannabis crops in an "enclosed, secure space" it is illegal in Aurora to grow your marijuana plants outdoors, including in a greenhouse.
In addition, Arapahoe County, and therefore Aurora, limits the maximum number of cannabis plants that can be grown per residence to 12, with three or fewer being mature, no matter how many adults 21+, patients, or caregivers reside in the same house/apartment.
While you are legally allowed to gift up to two ounces of cannabis flower that you have grown at home for no form of remuneration, you cannot use cannabis in any public space be it indoors or out. This includes the consumption of edibles.
Medical Marijuana Laws
You must be 18 years of age or older, or have your parent or legal guardian as your registered caregiver.
You can purchase and possess up to 2 ounces of medical cannabis.
Medical cannabis patients and caregivers can cultivate up to six female marijuana plants, with no more than three being mature flowering plants. The limits per household in Aurora are provided in paragraph two above.
Cultivation and Possession Laws for Adult Users
Adult users are those who are 21+
Adult users can purchase up to 1 ounce of usable marijuana, and can store up to 2 ounces at home.
Those 21+ can legally grow up to six plants, with up to three of them being mature. The limits per household in Aurora are provided in paragraph two under "Aurora's Possession and Cultivation Laws for Medical and Recreational Users."
Why Aurora Cultivators Buy Their Marijuana Seeds From Online Cannabis Seed Banks
As mentioned at the start, local dispensaries in Aurora generally aren't set up to provide the extensive list of cannabis varieties that a seed bank like GCS does. The reason being is that GCS serves a sort of giant farmers market where reputable breeders from all around the continent are able to gather together in the same space to make their cannabis strains in seed form available to potential customers, which is something that Aurora at-home growers really appreciate.
Some of the other reasons that Aurora residents flock to online cannabis seed banks are provided below.
Affordability: GCS makes all of its marijuana strains available at highly-competitive prices. In addition, they also sell high-quality seeds in wholesale form for superior prices, and feature rotating monthly sales on a wide variety of fantastic strains.
Speedy and Discreet Shipping: With their neighboring city of Denver being listed as number one in the country for package thefts, Aurora residents love the fact that GCS quickly sends out orders in discreet packaging so as not to attract any unwanted attention. In addition, medical patients in Aurora with mobility issues especially value having their seeds delivered straight to their doorstep.
Feminized Cannabis Seeds and Germination Guarantee: GCS only sells feminized seeds because they have a 99% likelihood of producing all-female plants. The reason that they don't sell regular cannabis seeds is because they produce both male and female plants. Although male plants are highly valued by breeders as pollinators for creating new strains, they are of little use to everyday at-home growers in Aurora who want to harvest the buds of cannabis plants for their medical and/or recreational needs. Another thing that Aurora growers really appreciate about GCS is that all of their seeds come with a germination guarantee, which states that 90% of them will "pop," aka "germinate," and if they don't they will replace them for free so long as you strictly follow their incredibly simple germination guide.
Feminized Seeds vs. Autoflowering Seeds

Feminized Cannabis Seeds (Photoperiods)

Feminized seeds are unable to automatically switch from their vegetative growth stage to their flowering period without outside intervention where their light/dark cycle is switched from, what is generally, an 18/6 cycle to a 12/12 cycle. While this may seem like a daunting task to first-time and novice growers, the reality is, not only are there numerous feminized strains like Amherst Diesel and Dutch Treat that are otherwise easy for newbies to cultivate, but GCS also provides a free and highly-informative blog that serves as an invaluable resource on almost everything you need to know about how to grow cannabis indoors, light cycles, and so on.

Feminized Autoflowering Seeds

Thanks to the fact that they contain the landrace strain of ruderalis, which has its roots in the unforgiving regions of Central Asia, in their genetics, autoflowers are imbued with the ability to automatically transition to their flowering time without someone having to adjust their light/dark cycle. The presence of ruderalis also allows them to, usually, mature into smaller, faster-flowering more robust plants, all of which are highly advantageous features to growers in Aurora who have a small indoor setup, are inexperienced, and/or want to do as many crop rotations as possible in a year.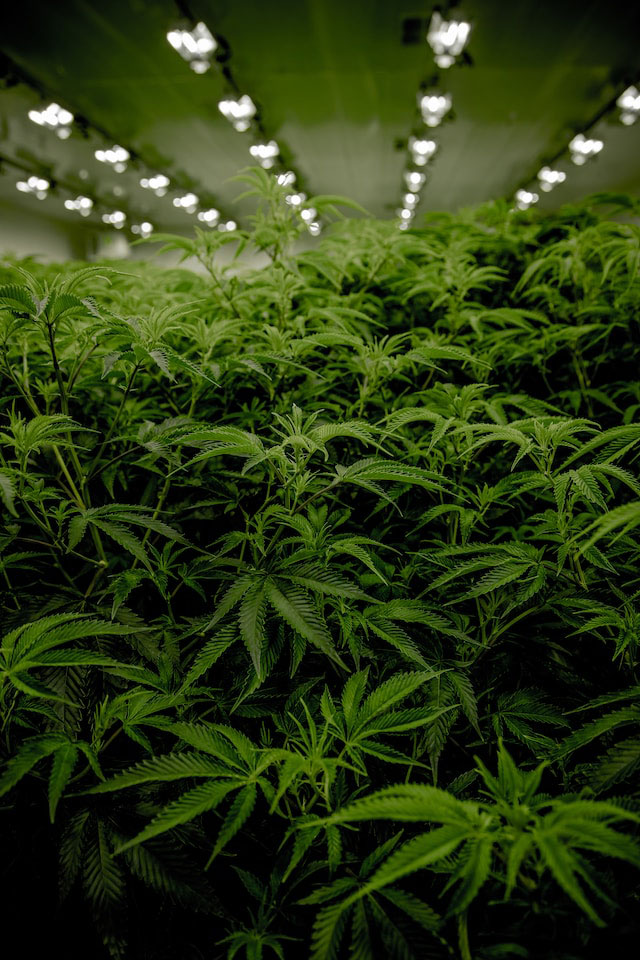 Growing in Aurora, CO
Since it is against the law to cultivate cannabis crops outside or in an outdoor greenhouse in Aurora, growers there don't have to contend with the 157-day outdoor growing season that, though generally warm to hot and clear, consistently experiences thunderstorms that bring with them hail and strong winds.
Plus, since outdoor cannabis cultivation is illegal in Aurora, indoor growers are able to grow most any kind of strain they wish to year-round, as they are able to create, adjust, and maintain the kind of growing environment that matches the specific temperature and humidity needs of whichever strains they're cultivating at any given point.
Lastly, Aurora at-home growers don't have to worry about protecting their marijuana harvests from would-be thieves or install any kind of protective fencing so that their pets or wild critters don't get into their crops.
Popular Strains to Grow Indoors in Aurora
1. White Fire Alien OG autoflowering seeds: This indica-dominant strain is known for abducting users to the planet of euphoria and the multiverse of sleep.
2. Tangerine Dream autoflowering seeds: This sativa-dominant strain has a reputation for delivering a head rush that can improve your mood and leave you feeling cheerful.
3. Jack Herer feminized seeds: This world-famous sativa-leaning hybrid is one of the most classic best-selling cannabis strains around due in large part to its fairly balanced effects.
4. MK Ultra feminized seeds: This 50/50 hybrid is one hard-hitting, potent strain that'll likely leave you glued to your couch in a state of ecstasy.
5. Skunk autoflowering seeds: This iconic indica-leaning strain with its near-epic yields and mood-elevating yet soothing effects that are unlikely to result in couch lock is one of the best-known hybrid strains around the world.
What are Aurora customers saying about Growers Choice cannabis seeds?
ust great seeds, all round. I ordered some Afghan, they germinated fast, they were strong and healthy and I got a nice yield. I'll be trying the Northern Lights next – that will be the real test.
 Our Most Popular Cannabis Strains