Growing cannabis in Arvada
Legally, both medical and recreational cannabis lovers in Arvada can grow up to six plants, three of which can be in the flowering stage, so long as they are in an enclosed, locked space, either inside your home, or in a greenhouse, if you plan on planting outside.
Adults that are 21 years or older can also legally possess up to one ounce of marijuana in this state, which is great news for locals, because it means in addition to your bud, you can try out the many concentrates, edibles, topicals and other cannabis-infused products available in the area.
Buy cannabis seeds in Arvada
If you're ready to start your own home-grown cannabis garden, make sure you stock up on the best quality Arvada cannabis seeds around, and you'll find those online when you shop with Growers Choice Cannabis Seeds. We carry a great selection of popular and potent strains from around the world, and every seed is hand-picked and inspected for freshness. Your order will be packaged in a medical-grade glass vial before being shipped across the border from our facility in Canada to your US home address.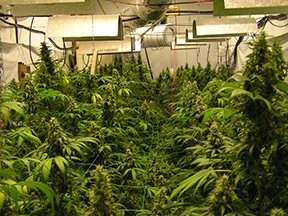 Is it easy to grow cannabis in Arvada?
Growing weed anywhere can be easy, especially when you opt for strains like Northern Lights (one that is particularly suited to indoor grow set ups), or another autoflowering strain like Blueberry, which lends itself well to the Sea of Green method in a hydroponic set-up.
What is the cannabis flowering stage?
Of all the growth stages of the cannabis plant, the most important (other than germination of course), is the flowering stage. Why? Because those big, beautiful flowers, also known as colas, are what produce the wonderful resin you will collect the THC or CBD you'll smoke once the buds have been dried and cured. Getting your plants to the flowering stage from vegetative can be a little tricky if you don't know what you're doing, but autoflowering Arvada cannabis seeds (like those available online at Growers Choice Cannabis Seeds) take some of the guess work out of this finicky process.
What is an autoflowering weed seed?
Autoflowering cannabis seeds are simply those that will enter the flowering state from the vegetative when the plant reaches a certain level of development, as opposed to a change in light conditions. (Cannabis plants are considered photoperiod plants, meaning they'll naturally progress stages as the light conditions change from near 24 hours of light to 12 hours light and 12 hours darkness.) Any strain can be autoflowering. Modern gardeners simply cross breed the cannabis variety ruderlais with their preferred strain to take advantage of ruderalis' natural ability to flower once it reaches a certain height.
Get what you pay for when you shop Growers Choice – the best
I've tried plenty of different shops online and I've come to the conclusion that 90% of them are just out to take your money and run. Growers Choice has proven that they can back up their claims with a great product. I've actually always ended up with bigger yields than promised. Plus, the price is right, and you don't have to wait forever for seeds to show up. Excellent product, excellent service.
Most Popular Cannabis Seeds