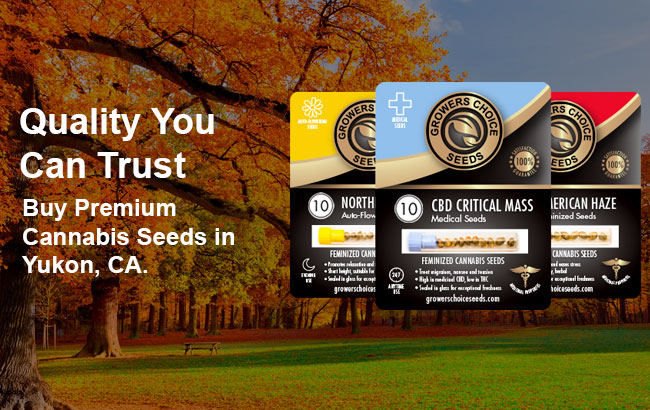 The Yukon might not seem like the ideal place to grow marijuana plants, but in fact, it even has a strain named after it—Yukon Gold! Growers Choice is an online seed bank that delivers a wide variety of cannabis seeds (indica, sativa, and hybrid strains) to all of Canada, including the Yukon.
Buy Marijuana Seeds in Yukon
The remote province of Yukon isn't actually a province but one of Canada's three territories, which though they comprise 40% of the country's geography only 3% of Canada's population resides there–due in large part to its rather inhospitable conditions that feature prolonged, cold winters with extreme snowfalls and soil that is frozen year-round.
Of the three Northwest Territories, Yukon, which is just above the Arctic Circle, is the smallest and furthest west. With winters that hover in the -18 degrees Celsius range and summers that rarely warm up past 20 degrees Celsius and that drop to 8 degrees Celsius in the evenings the warmer southern area of the region that are much colder the further north you go, it's understandable why this undeniably breathtaking region that boasts one of the last, mainly untouched wilderness areas in all of North America has such a small population of 37,00, of which almost 75% reside in its capital of Whitehorse. In fact, a good percentage of its population are the area's rightful stewards with around 25% Yukoners being of Aboriginal descent and 14 of Canada's First Nations.
Whitehorse, which is one of the warmer more southern areas of the Yukon, only has about 95 days of a frost-free outdoor growing season, but even then with nighttime temperatures consistently dropping to approximately 4 degrees Celsius it pretty much goes without saying that this is not the place for cannabis cultivators to be maintaining an outdoor cannabis garden, except maybe in a well-maintained greenhouse in the warmer regions and probably only indoors in its sparsely populated northern and central areas, such as Dawson City.
As is the case for the 10 Canadian provinces, each of the Northwest Territories is able to set its own regulations on adult-use cannabis for non-medical purposes, which the federal government legalized in 2018. In addition, Yukon follows Canada's federally mandated medical cannabis program, which is run by Health Canada, and was created in 2001.
The Yukon's Medical and Adult-Use Cannabis Laws
Canada's Laws for Medical Marijuana Patients
Canada's medical cannabis program is applicable to all of its citizens who are or wish to become medical marijuana patients. For exact details about this program, including possession amounts and where medical cannabis can be used, please see here.
Two points worth noting are:


There is no age requirement for obtaining a medical prescription for cannabis, but a healthcare provider does have to determine if a prospective medical marijuana patient has a qualifying medical condition that will allow them to register with Health Canada.
In regards to the personal cultivation of cannabis plants for medical purposes, a medical marijuana patient's registration certificate will indicate if they are authorized to do so, how many indoor or outdoor plants they can grow, where they can set up their cannabis garden, and how much-dried cannabis flower they can store at home.
Laws for Recreational Cannabis Participants in the Yukon Territory
The age for cannabis use for recreational purposes is 19 and older.
Those 19+ may purchase up to 30 grams of dried marijuana at a time, and this is also the legal limit that they can possess in public.
There is no at-home storage limit.
Yukon's licensed cannabis dispensaries are allowed to sell their cannabis products in-store and online and are allowed to provide weed delivery services.
Those who are 19+ may be at-home cannabis cultivators and can grow up to four cannabis plants per residence, and NOT per person.

Recreational cannabis participants who are at least 19 years of age can grow up to 4 cannabis plants for personal use. Cannabis plant seeds and clones must be legally acquired.

According to the Yukon government's official website marijuana and cannabis products can be combusted or consumed in a "private residence and adjoining property; or in another location if it's permitted by regulations." (Please refer to their website for other restrictions on where cannabis cannot be smoked etc. and all other laws as they pertain to adult-use cannabis.)
Why Cannabis Cultivators in the Yukon Buy Their Cannabis Plant Seeds from Cannabis Seed Banks
There are several reasons why those who call the Yukon home like to buy their marijuana seeds from reputable seed banks like Pacific Seed Bank (PSB) and Growers Choice Seeds (GCS). Two big reasons are as follows:
Extensive Selection: Cannabis seed banks work with numerous cannabis breeders from all over, which makes it possible for them to offer a wide range of high-quality, direct-from-the-breeder cannabis seeds on a scale that local cannabis dispensaries just aren't set up to do, seeing as their main purpose is making high-quality cannabis products available to their customers.
Ultra-Fast Shipping and Stealth Shipping: Despite having such a small population, the Yukon actually rates shockingly high on Canada's Crime Severity Index. While these crimes are, unfortunately, more violence-related, the capital of Whitehorse, where the majority of the territory's population resides, has also seen a significant increase in property crimes. As such, the fact that cannabis seed banks like GCS and PSB provide ultra-fast shipping, as well as free stealth shipping, is something that Whitehorse locals especially greatly value.
Three other reasons that at-home growers in the Yukon, and predominantly Whitehorse, prefer to order their weed seeds from reputable seed banks are provided below:
Feminized Marijuana Seeds: GCS only sells photoperiods and auto-flowering varieties that are feminized because they have a 99% chance of producing bud-bearing female plants, which is exactly what at-home cultivators, who will have little to no use for the non-bud-bearing male plants that regular weed seeds will produce, want.
Affordability and Special Deals: GCS prices all of its top-rated cannabis seed strains at fair and competitive prices. They also have a diverse inventory of wholesale marijuana strains for sale and offer regular, rotating deals on new, classic, rare, and popular strains.
Germination Guarantee: GCS has one of the highest germination rate guarantees in the industry, which is something else that sits well with Yukoners. In short, GCS states that if 90% of your weed seeds don't germinate, they will replace the duds for free. Their only condition is that growers must follow their simple and inexpensive germination guide.
Feminized Weed Seeds vs. Autoflowering Strains at Our Online Seed Bank
Feminized Seeds

Feminized cannabis plant seeds are photoperiod strains that are unable to transition from their vegetative stage to their flowering phase without having their light/dark cycle being switched from what is usually an 18/6 cycle to a 12/12 cycle.

Since GCS has a highly informative free blog that covers most everything one needs to know about how to grow cannabis, when to flip your plants to flower, information about the 12/12 light cycle, etc. first-time growers in the Yukon shouldn't have a problem growing low-maintenance strains like Timewreck and Darth Vader OG indoors.
Note, the reason that Yukoners need to grow their feminized marijuana indoors is because on top of the climate conditions in the Yukon, growing feminized strains outside during the growing season is pretty much impossible due to its location north of the Arctic Circle has 16-24 hours of daylight much of the summer, which is also why this territory is sometimes referred to as the "Land of the Midnight Sun."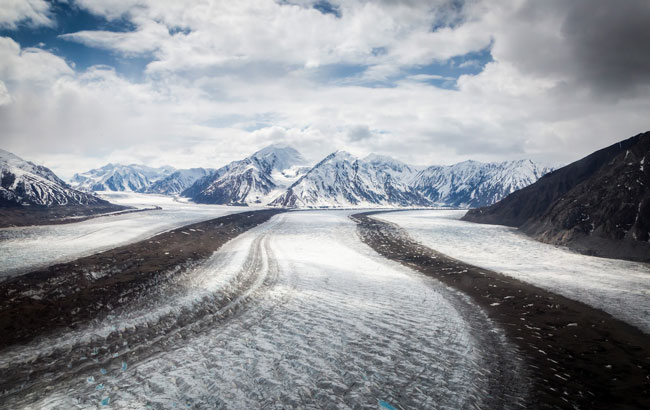 Autoflowering Feminized Seeds From Our Online Seed Bank
The auto-flowering varieties of feminized weed seed strains have had 10-20% ruderalis, which is a hardy landrace strain that hails from areas of Russia and Mongolia that traditionally have long, dark, and cold winters and summers that are short with prolonged hours of daylight, added to their genetics. As a result, autoflowering strains are imbued with the ability to automatically flip to their flowering period from their vegetative stage without changes being made to their light cycle.

In addition, auto stains tend to be faster-flowering, shorter, and more resilient plants. While it is possible that autoflowering strains like Lemon Skunk and Violator Kush that can thrive in cooler northern climates with a maximum 8-10 week period before flowering might be a good option for residents in areas of the Yukon like Whitehorse who are outdoor cannabis growers, it's still advisable to consider the option of using an outdoor greenhouse as the first frost of the season can fall as early as late August.

For those in the Yukon who have to or prefer to stick to growing their marijuana indoors, autoflowers are a fabulous option for those with limited space, as they tend to produce more compact-sized plants.
Some Top-Rated Cannabis Seed Strains for Growing in the Yukon
Having already provided you with four different kinds of feminized, autoflowering marijuana seeds, quality seeds, and cheap seeds that should do well in the Yukon Territory, here are three more, which will thrive indoors, in a greenhouse, and possibly outside if you live in the southern part of this breathtakingly beautiful part of the world. These three are ranked as favorite seed strains in the Yukon. They are fast-growing seed strains due to prolonged winters and short summers.
1. Neville's Haze feminized weed seeds: This sativa-heavy winner of the 1998 High Times Cannabis Cup was bred to be able to not just survive, but thrive in cooler European climates. However, due to the Yukon's extended hours of daylight during the summer months, you'll want to grow this potent cannabis strain in a greenhouse where you can block out the light or grow it indoors.
2. Nebula autoflower weed seeds: If you manage to plant this award-winning sativa-leaning hybrid, which despite its 17% THC content is a much more potent cannabis strain than one might assume, as soon as the growing season starts in the Yukon then it should be able to thrive outdoors in the summer months, and you should be able to get one successful harvest from it.
3. King Kong feminized weed seeds: This indica-heavy hybrid with its massive harvests both indoors and out will need to be grown in a warm, sunny, and semi-humid, Mediterranean-like setting in the Yukon be it indoors or in a well-kept outdoor greenhouse.
Start growing your own weed garden today using the marijuana seeds from our online seed bank! We sell the cannabis plant seeds you've been searching for as we offer an extensive seed selection that all gets delivered in discreet packaging to your home in Yukon. While we do not currently sell Yukon Gold cannabis seeds, be sure to check back regularly as we frequently switch up or seed selection.
Growers Choice cannabis seeds in the Yukon:
Dawson
Watson Lake
Haines Junction
Carmacks
…and more!
live waaaaaaaay out in the country, where on some maps I don't even have an address. Google can't even find me. Yet, Growers Choice has managed to send some lovely cannabis seeds straight to my door. You guys are amazing. Thanks for being so understanding with my weird address! Everyone was super nice on the phone and very accommodating. I'll be sure to let all of my weed growing friends know what a great place this is to buy from
 Our Most Popular Cannabis Strains