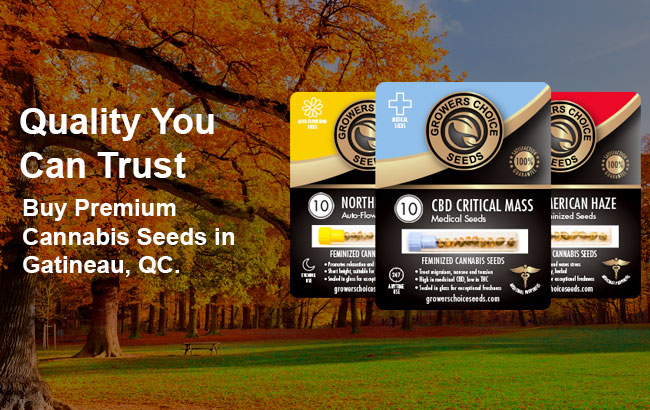 Want to start cultivating cannabis in Gatineau? Unsure of what its cannabis laws are? Confused by terms like "regular," "feminized," and "autoflower seeds"? Well, keep on reading, as all of these questions and more are covered in the article below!
Buy Cannabis Seeds in Gatineau
Named for one of the rivers on which it is located, Gatineau is the fourth largest city in the Outaouais region of the province of Quebec.
Considered to be one of the premier agricultural regions in Quebec, Gatineau, whose economy was once almost completely based on its forestry industries of timber and paper until the middle of the 20th century, is still known for featuring rich and fertile farmlands and varied agricultural practices thanks to having a frost-free growing season that averages just over 150 days per year and a humid continental climate that sees warm, sunny summers.
Unfortunately, though, at-home recreational cannabis growers aren't able to take advantage of Gatineau's luscious and productive soil as Quebec's provincial government policy does not allow for the cultivation of cannabis plants for non-medical purposes. While this may seem contradictory to the federal government's 2018 passage of the Cannabis Act, which legalized recreational marijuana, it actually is not, as every provincial and territorial government in the country is allowed to pass its own laws as they relate to recreational cannabis legalization regulations. This means that each provincial and territorial government has the legal right to set its own government policies and determine things such as minimum age requirement, laws related to cultivation, possession, storage, public usage, marijuana dispensaries, etc.
Conversely, the federal government's medical marijuana program, which is overseen by Health Canada and has been around since 2001, applies to all Canadians in every province and territory.
Having said all of this, it is the responsibility of the individual to make sure when they visit or move to a particular province or territory in Canada that they know what the local laws are in regard to recreational cannabis. While those who live in places like Gatineau in Quebec, which is the province with some of the strictest recreational cannabis laws in the country, strictly prohibit the at-home growing of marijuana plants for recreational purposes, other provinces like British Columbia and Ontario allow for the cultivation of four cannabis plants per household. Another example is age requirements, while the majority of provincial and territorial governments have set the minimum age at 19, Alberta has it set at 18, and Quebec's is 21.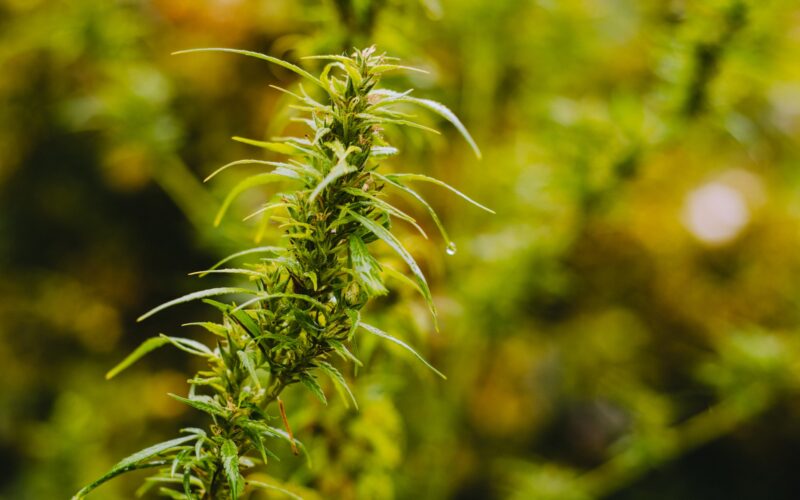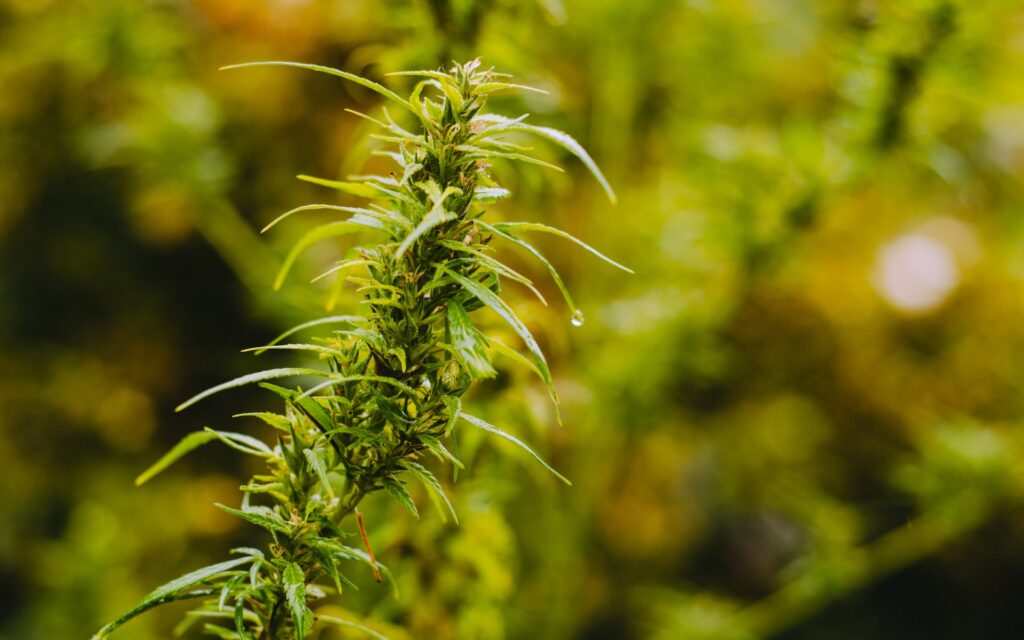 Gatineau's Medical and Recreational Cannabis Laws
Canada's Medicinal Cannabis Laws and the Benefits of Marijuana
Health Canada's medical marijuana program is accessible to all Canadians regardless of the province or territory they call home.
There is no age requirement. Instead, to obtain a prescription for medicinal cannabis, patients have to be approved by their healthcare provider. Provided that they are determined to have a qualifying medical condition they can then register with Health Canada.
Medical marijuana patients can legally possess up to 150 grams or a 30-day supply of cannabis flower or legal cannabis products in public. The only requirement is that they must have the proper documentation on them that shows they are authorized to use medical cannabis.
If a patient's registration certificate shows that they are allowed to grow medical marijuana plants at home, it will state how many plants, where they can be grown, and how much-dried cannabis the patient is allowed to store.
Gatineau's Recreational Cannabis Laws
Gatineau follows Quebec's recreational cannabis laws but notes that some cities and municipalities in Quebec may have slightly varying laws–mainly related to public usage.
You must be 21+ to purchase, possess, use, and store recreational marijuana and edible products, etc.
Those 21+ can have up to 30 grams of cannabis flower, or edible cannabis products, in public.
You cannot use cannabis in indoor or outdoor public spaces (Note that up until a few years ago you actually could use it anywhere that smoking tobacco is allowed.)
At-home storage is restricted to 150 grams of dried marijuana, or its equivalent, per household and NOT per resident.
Only the Société des Alcools du Québec (SAQ) is authorized to operate marijuana dispensaries in Gatineau.
The at-home cultivation of cannabis plants for non-medical use is strictly forbidden in Gatineau. The only exception is for medical marijuana patients who are licensed to do so.
While the at-home growing of marijuana seeds for non-medical purposes is illegal in Gatineau, it is not illegal to buy, own, and store ungerminated cannabis plant seeds. This is because the cannabinoids and THC contained in a female plant aren't activated until the feminized marijuana seeds are germinated.
Why Gatineau's Medicinal Cannabis Cultivators Buy Their Cannabis Plant Seeds from Online Seed Banks
Medical cannabis license holders who are permitted to cultivate marijuana seeds at home for medicinal purposes have been buying their cannabis plant seeds from reputable seed banks like Pacific Seed Bank (PSB) and Growers Choice Seeds (GCS) for years now for numerous reasons.
One big reason is the seemingly exhaustive list of marijuana seed strains that seed banks like PSB and GCS are able to make available to consumers. Basically, licensed cannabis retailers in Gatineau are more focused on providing legal cannabis products to their customers as opposed to a broad range of cannabis plant seeds–especially since recreational users aren't even allowed to cultivate cannabis at home. GCS and PSB, however, pretty much exist solely to make a wide range of feminized cannabis seeds accessible to a global audience.
Feminized Cannabis Seeds: GCS does not sell regular marijuana seeds because they produce both male and female plants, and your typical everyday at-home medical grower in Gatineau has little to no use for non-bud-bearing, pollinator male plants. As such, GCS only sells photoperiods and auto flower strains that are feminized marijuana seeds because they have a 99% chance of producing bud-bearing female plants, which is exactly what outdoor and indoor growers of medicinal cannabis in Gatineau want and need.
Speedy and Discreet Shipping: It seems pretty self-explanatory as to why customers in Gatineau value getting their cannabis product packages of marijuana seeds as quickly and discreetly as possible.
Affordability and Marijuana Seed Deals: GCS sells all of its marijuana seeds at highly competitive prices without inflicting additional costs on consumers. They also have a diverse and broad range of wholesale feminized cannabis seeds for sale, and special monthly cannabis sales on new, classic, rare, and popular cannabis strains of all kinds.
Germination Guarantee: Gatineau growers also like the fact that GCS has a germination guarantee that if 90% of your marijuana seeds don't germinate, they will replace the duds free of charge, so long as you adhere to their easy-to-implement and zero-cost burden germination guide.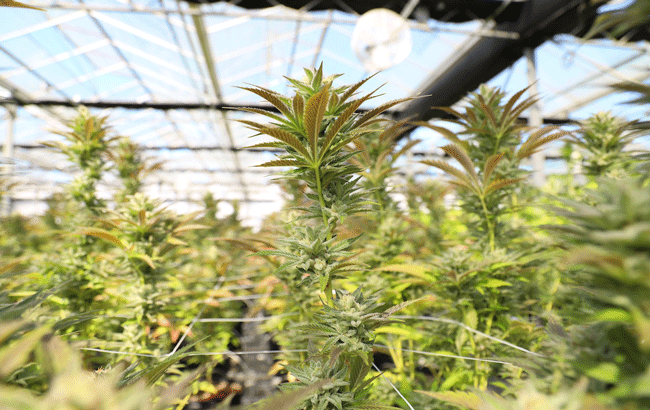 Feminized Marijuana Seeds vs. Autoflowering Marijuana Seeds
Feminized Seeds
Feminized marijuana seeds cannot transition from their vegetative growth stage to their flowering stage on their own. Instead, in order to flip to flower these feminized photoperiod strain must have their light/dark cycle manually switched from what is usually an 18/6 cycle to a 12/12 cycle.

Fortunately, this is not a difficult thing for new medicinal cannabis growers in Gatineau to learn how to do–especially since GCS provides a free blog that covers almost everything you need to know about how to grow cannabis, when to flip your plants to flower, a beginners guide to growing, what some of the top CBD-rich medical-grade strains are, what the flowering stage of a cannabis plant is, etc. As such, new cultivators in Gatineau should be able to successfully grow otherwise easy-to-grow feminized seed strains like CBD Moby Dick and Kush Mints.
Note, that because Gatineau averages 15 or more hours of daylight in June alone, unless you have a cold frame, row cover, or hoop house, you'll probably have to grow your feminized marijuana seeds indoors due to the extended hours of daylight.
Autoflowering Marijuana Seeds
Autoflowering strains are feminized cannabis seeds that are genetically imbued with the ability to automatically flip to their flowering phase on their own. In addition, in comparison to their feminized photoperiod counterparts, autoflowering marijuana seeds usually produce faster-growing, more robust, and smaller plants. The reason that they have all of these amazing properties is because they contain ruderalis, which is a hardy and resilient landrace strain that originated in the cold northern regions of Central Asia.

One of the things that Gatinaeu medical growers like about autoflowers, apart from the fact that they tend to be more resilient and forgiving of "rookie mistakes, is that it's possible to grow them outside during the growing season since they don't need 12 hours of darkness a night in order to flower. Two of the many autoflowering marijuana seed strains that are popular with medical cannabis license holders in Gatineau who are allowed to cultivate at home are Glass Slipper and Hindu Skunk.
Popular Marijuana Seed Strains to Grow in Gatineau
Three more strains that should do well indoors, in a greenhouse, or outdoors during Gatineau's growing season which usually starts in May and ends at the start of October are provided below. Buy the following marijuana products from our cannabis shop to start your own cannabis garden:
1. Bubblegum autoflower: With very moderate THC levels, this sativa-leaning hybrid is a good choice for consumers who are looking to potentially ease discomfort, headaches, and menstrual cramps.
2. Mendo Breath autoflower: This soothing and spirit-raising indica-dominant hybrid could be a good option for frequent cannabis consumers with a higher tolerance to THC and who are seeking relief from things like stress and various mood disorders.
3. Grape Kush feminized: This sativa-leaning hybrid has an anecdotal reputation for working to help alleviate chronic aches and pains, headaches, nausea, and loss of appetite, as well as stress etc.
Growers Choice is the number one choice in Gatineau
I couldn't be happier with my experience ordering from Growers Choice. I'm new to cannabis seeds and had many questions, and found nearly all my answers on Growers Choice! Any information I was missing was easy to get from calling their customer service number.
 Our Most Popular Cannabis Strains