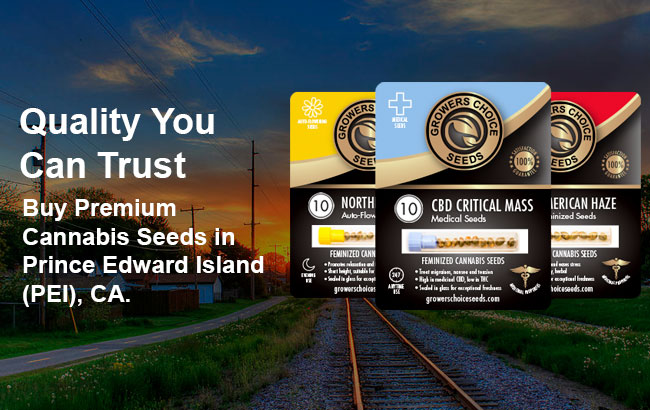 Looking for PEI marijuana seeds? Look no further than Growers Choice. Our extensive catalog of 40 feminized premium-quality seeds is available online for your perusal. From the comfort of your own home choose the type of PEI marijuana seeds you would like to purchase and we will have them delivered directly to your door in as little as 7 business days.
Buy Marijuana Seeds in Prince Edward Island
Prince Edward Island (PEI), or "the Island," as locals call it, is one of four Atlantic Canadian Provinces and is the smallest and least populated with only 140,000 residents–of which almost 30% reside in its largest city and capital of Charlottetown.
With approximately 800 km of coastline, rich agricultural resources, and 2,000 farms–many of which contribute to the province providing the nation with 30% of its potatoes– Prince Edward Island is something of an idyllic province, which is reflected in its other nickname of "the Garden Province."
Its thousands of farms also serve as an indicator of the fertility of its rich sandy soil that is red due to its high iron-oxide content and is well-drained and well-suited for a variety of agricultural crops.
Prince Edward Island's community is known for being authentically warm and congenial, often drawing those who are seeking a place where nature and modernity strike that fine and delicate balance of co-existing, and where the conveniences of urbanity don't overshadow the comfort of small-town living. Perhaps not too surprisingly, it also happens to be one of the safest provinces in Canada.
Unlike the Canadian provinces of Quebec and Manitoba, Prince Edward Island's recreational cannabis laws for possession, cultivation, etc. pretty much follow the suggestions provided in the Cannabis Act that the federal government passed in 2018. In addition, Prince Edward Island's government follows the country's federal medical marijuana laws, which were passed in 2001, and are applicable to all medical users who are registered with the country's medical marijuana program of Health Canada no matter which province they live in.
Medical and Adult-Use Cannabis Laws for Prince Edward Island
The Canadian Government's Medical Cannabis Laws
Canada's medical cannabis program is applicable to all national citizens who are or wish to become medical marijuana patients. For all the details about its program, including possession amounts and where medical cannabis can be used, please see here.
The two things worth mentioning here are:

There is no age requirement, but a healthcare provider does have to determine if a prospective patient has a qualifying medical condition.
When it comes to the at-home cultivation of marijuana plants for medical purposes, your registration certificate will indicate if you have permission to do so, how many plants you can grow, where you can grow your cannabis garden, and how much-dried marijuana you can store at home.
Prince Edward Island's Adult-Use Cannabis Laws
You must be 19+ to purchase, possess, and use recreational marijuana.
You can possess up to 30 grams of cannabis or marijuana products when in public.
However, you cannot use or consume marijuana or cannabis products in public. Usage is restricted to private residences, which may also include hotel rooms and campsites–if the owner allows.
There are currently only four government-run dispensaries in Prince Edward Island. Public and privately owned cannabis dispensaries are not allowed.
Those 19+ may legally grow up to four female plants in their cannabis garden. Indoor growers must make sure that their growing space is inaccessible to minors or trespassers. Marijuana being grown in an outdoor garden cannot be publicly visible and must be in a locked enclosure that is a minimum of 1.52 meters high.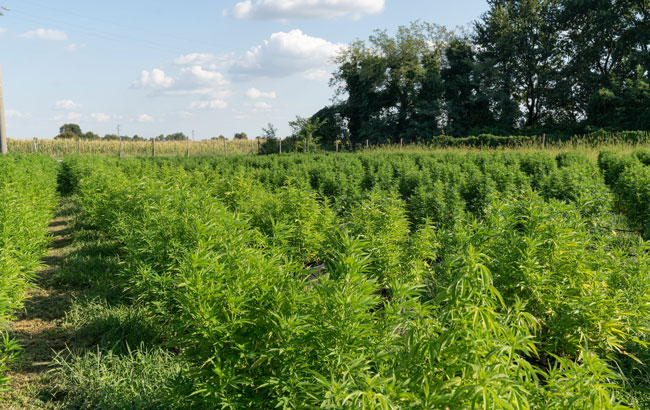 Why Prince Edward Island Growers Buy Their Favorite Seed Strains from Online Marijuana Seed Banks
Residents of the Island have been procuring their high-quality weed seeds from trustworthy seed banks like Pacific Seed Bank (PSB) and Growers Choice Seeds (GCS), for years now, in part because of their extensive seed selection catalogs that licensed dispensaries just aren't set up to provide. The reason that they are able to provide such a wide variety of strains is that they work with reputable breeders from all over who can make their landrace and hybrid strains available to a much larger global audience than just in the cities and towns where they breed their top-rated cannabis seed strains.
Some other big reasons why Prince Edward Island growers are such loyal patrons of different types of seed banks are provided below.
Ultra-Fast Shipping and Discreet Packaging: While crime rates are quite low in the Garden Province, locals still appreciate the speedy and free stealth shipping that online seed banks like GCS and PSB provide.
Feminized Marijuana Seeds: GCS only sells photoperiods and autoflowering feminized seeds because they have a 99% likelihood of producing bud-bearing female plants, which is exactly what Prince Edward Island at-home cultivators want. The reason they don't offer regular seeds is because they produce male and female plants. While breeders need the males as pollinators for creating new varieties of strains, those who are growing cannabis at home for their own personal or medical reasons don't want plants that won't produce CBD- or THC-rich buds.
Affordability and Exclusive Offers: GCS prices all of its marijuana seeds at highly competitive prices. They also have an extensive seed selection of wholesale marijuana strains for sale and a regular, rotating offering of cannabis seeds for sale.
Germination Guarantee: Lastly, GCS offers one of the highest germination rate guarantees in the industry that if 90% of your pot seeds don't germinate, they will replace the duds for free. Their only requirement is that growers must adhere to their simple and pennies-cheap germination process.
Feminized Marijuana Seeds vs. Autoflowering Seeds
Feminized Seed Strains

Feminized cannabis seeds cannot automatically transition from their vegetative growth stage to their flowering stage without their light/dark cycle being switched from what is generally an 18/6 cycle to a 12/12 cycle. As such, they are also known as "photoperiods."

Learning how to do this is not difficult at all, especially due to the fact that GCS has a free blog that covers most everything you need to know about how to grow cannabis, when to flip your plants to flower, a beginner's guide to growing, information about the 12/12 light cycle, etc. As such, new and inexperienced growers in Prince Edward Island should be able to successfully grow low-maintenance strains like Kilimanjaro and Snowcap.

Autoflowering Feminized Seeds
Autoflower seeds are feminized seed strains that contain approximately 10-20% ruderalis in their genetics. As a result, they can automatically transition to their flowering stage without having their light cycle changed.

Other benefits of autoflowers are that they are usually fast-flowering seed strains that usually produce shorter and more robust cannabis plants, which makes them more appealing to indoor growers with limited space for their cannabis garden; outdoor cultivators in cooler regions like PEI who want to get at least one, if not two, successful harvests from the cannabis plants in their outdoor gardens; and first-time growers who want plants that are more resilient and can just flip to flower on their own.

With an average outdoor frost-free growing season of about 150 days and a more mild and humid continental climate, cannabis growers in Prince Edward Island should generally not have a problem getting one to two bountiful harvests from strains like Hempstar and Northern Lights.
Prince Edward Island's Growing Environment

As mentioned above, most of Prince Edward Island has an outdoor growing season that lasts about 21+ weeks. This idyllic province, which enjoys four distinct seasons, usually gets plenty of precipitation throughout the year. Its beautiful summer days are usually warm but rarely hot, its springs and autumns are cool to mild, and its winters, while cold, are much more temperate than the majority of Canada's other provinces. All of this combined together works to create luscious conditions for outdoor gardens and agricultural abundance.

This also means that there are plenty of feminized and/or autoflowering strains that should provide outdoor growers with successful gardens and healthy plants, and for the ones that require particular weather conditions that Prince Edward Island's climate might not be conducive to there is always the option of growing them inside or in a greenhouse.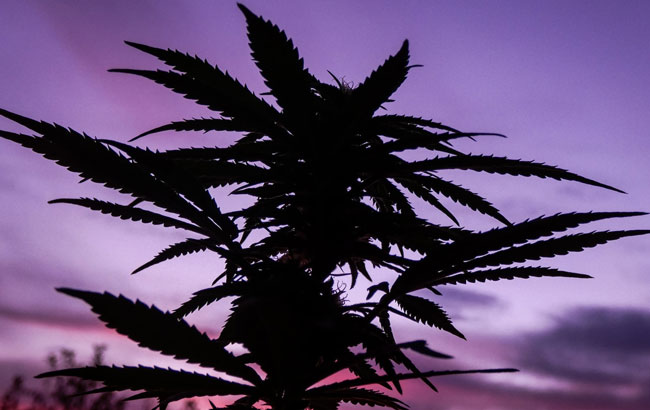 Suitable Seed Strains for Growing in Prince Edward Island
Provided below are three more top-rated cannabis seed strains to go along with the other four already provided that should flourish in the beautiful and idyllic province known as Prince Edward Island. Start growing your own cannabis garden today!
1. Thin Mint GSC auto pot seeds: This exquisite, evenly balanced dessert strain is the perfect choice for growers of all skill levels, and will thrive outside in will thrive in a warm and dry setting.
2. Cotton Candy Kush autoflower seeds: This euphoric, indica-dominant hybrid can produce massive harvests of 990 grams per plant when grown outdoors in dry, warm, and sunny locations.
3. Permafrost feminized: This sativa-dominant cannabis strain is an easygoing and high-yielding hybrid that should flower before the first frost of the year in Prince Edward Island.
Growers Choice cannabis seeds in PEI:
Stratford
Cornwall
Montague
Kensington
Miltonvale Park
Alberton
Souris
Miscouche
O'Leary
The Best Cannabis Seeds in Canada
I honestly believe you guys sell the best cannabis seeds in Canada. I've had no issues, not with customer service, shipping times, or the seeds themselves. I live quite far out of the way, so growing my own medicine is ideal for me, and I'm glad I've found such a reliable company to source my seeds.
 Our Most Popular Cannabis Strains