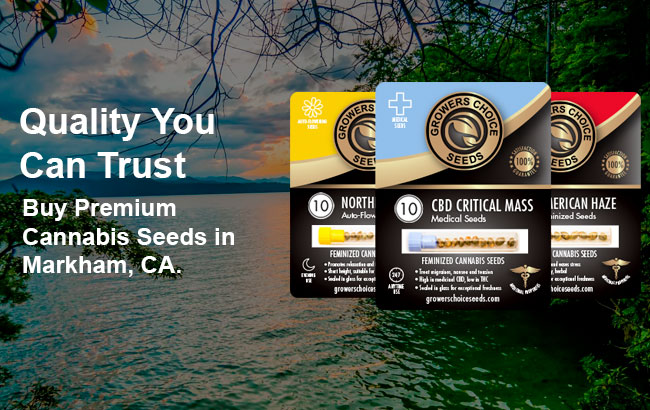 Are you looking for cannabis products in Markham, Ontario? Well, look no further than Growers Choice to help you with all your weed seed needs. We're your one-stop-shop for marijuana seeds and we even deliver your packages in discreet packaging.
Buy Marijuana Seeds in Markham, Ontario
As part of the Greater Toronto Area (GTA), Markham is a popular location for commuters who work in the bustling city of Toronto, which is only 30 minutes away. Not only is it known as the high-tech capital of Canada, but it also draws tourists from all over the Ontario province thanks to its historic streets, quirky shops, beautiful parks, and trails, farmers markets, and low crime rates.
As a part of the York Region, Markham also has what is known as some of the "finest farmland" in Canada, which combined with its annual outdoor growing season of approximately 165+ days, means it has the potential to be fertile ground for at-home recreational and medical marijuana cultivators.
Like all Canadians, medical cannabis patients who reside in Markham are protected by the same federal medical marijuana laws that are afforded to all Canadian citizens residing in any of the country's 10 provinces or three territories. In addition, recreational marijuana users in Markham must follow the province of Ontario's non-medical cannabis laws, which are based on the federal government's recommendations laid out in Canada's 2018 Cannabis Act.
This is to say that if you live in say Calgary, Alberta where the age requirement for the possession and cultivation of recreational cannabis is 18, you need to remember that if you go to Markham, Ontario's provincial government has set the age at 19. As such, it is your responsibility to check the recreational marijuana laws of any province you're in before you purchase; cultivate; store; or combust cannabis flower, vape products, or other cannabis concentrate products in public as each province and territory sets its own laws as they relate to non-medical cannabis.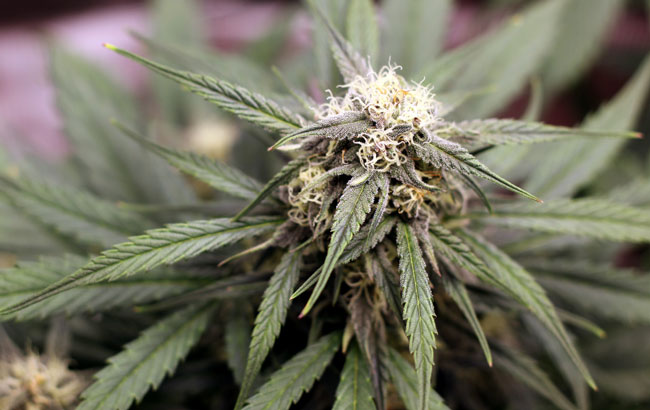 Medical and Recreational Marijuana Laws in Markham Ontario
Canada's Laws for Medical Marijuana Patients
Canada's medical cannabis program, which is overseen by Health Canada, is applicable to all of its citizens no matter where they live in the country. For exact details about this program, including possession amounts, where medical cannabis can be used, and laws as they relate to at-home medical marijuana cultivators please see here.
Markham's Laws for Recreational Users
Every municipality in Ontario can set its own restrictions around where cannabis can or cannot be consumed. For example, in Hamilton, Ontario you can use marijuana in public, but in Markham, you cannot.
You must be 19+ to purchase, possess, use, and/or cultivate marijuana.
You can possess and share up to 30 grams of cannabis.
There is no at-home storage limit.
In Markham, you cannot smoke cannabis flower or use vape products in any public space.
In Markham, you can only combust marijuana or consume cannabis concentrate products in a private residence.
You can grow up to four marijuana plants for non-medical purposes per residence–NOT per person.
Why Markham Marijuana Growers Buy Their Cannabis Seeds from Seed Banks
More and more at-home medical and recreational weed growers in Markham have been flocking to trustworthy seed banks like Pacific Seed Bank (PSB) and Growers Choice Seeds (GCS) to purchase their marijuana seeds over the past years–the main reasons for which are provided below.
Extensive Seed Catalogs: Seed banks like PSB and GCS serve as a sort of online marketplace where numerous cannabis breeders from all over are able to make their weed seeds available to interested customers. As a result, at-home growers in Markham are able to select from thousands of cannabis strains that would otherwise be difficult for them to find locally.
Feminized Cannabis Seeds: GCS only sells feminized photoperiods and autoflowering marijuana seeds because they have a 99% chance of producing female plants, which is exactly what at-home marijuana growers in Markham are looking for. They don't sell regular marijuana seeds because they will produce both male and female plants. While male plants, which can be used as pollinators, are incredibly important for cannabis breeders who are crafting new strains, your everyday at-home marijuana grower has little to no use for male plants.
Speedy and Discreet Shipping: Even though Markham residents can legally cultivate weed plants at home and get to enjoy living in a city that has low crime rates, they still appreciate that GCS delivers their orders quickly and in stealth packaging.
Price Point and Weed Seed Deals: GCS charges fair and market-competitive prices for all of its landrace and hybrid cannabis strains. In addition, they have a diverse selection of wholesale marijuana seeds for sale and features monthly deals on a rotating selection of its thousands of cannabis strains.
Germination Rate Guarantee: GCS provides an incredible seed germination rate guarantee where if 90% of your marijuana seeds don't germinate, they will replace them for free. Their only clearly stated condition is that you have to have followed their inexpensive and simple seed germination method.
Feminized Cannabis Seeds vs. Autoflowering Seeds

Feminized Seeds

Feminized cannabis seeds, which are called "photoperiods," cannot switch from their vegetative growth stage to their flowering period without outside intervention in their light/dark cycle. Generally, feminized photoperiods have to be changed over from an 18/6 cycle to a 12/12 cycle in order for them to move into their flowering stage.

While this may seem like too daunting of a task for first-time or novice marijuana growers, it's pretty easy to learn when and how to do this thanks in large part to the fact that GCS has a free and informative blog that covers pretty much everything one needs to know or learn about how to grow cannabis, when to flip your plants to flower, how the 12/12 light cycle works, etc. This means that inexperienced marijuana growers in Markham shouldn't have a problem successfully cultivating easy-to-grow strains like Tangilope and Granddaddy Purple.
Autoflowering Cannabis Seeds
Autoflowering seeds are feminized strains that contain the robust landrace strain from Central Asia called ruderalis. The inclusion of ruderalis in their genetics allows them to be able to automatically flip to flower without any outside intervention in their light cycle. Furthermore, autoflowers usually enter their flowering stage faster than feminized strains and are known to produce plants that are smaller and more resilient than their feminized photoperiod counterparts.
As such, autoflowers, such as AK-47 and Master Bubba, aren't just easier and more forgiving for inexperienced cultivators to grow at home, they are also loved by indoor growers who don't have much space for cultivating their marijuana plants, and by outdoor growers who want to get as many yields as possible from their weed plants during the outdoor growing season, which in Markham is about 5.5 months!
The Growing Environment in Markham
With an annual outdoor growing season that averages more than 165 days and some of the most fertile soil in Canada, Markham's weather conditions are also generally quite conducive to cultivating cannabis plants outside from around the middle to end of April or, at worst, by mid-May until the middle part of October or later (although sometimes the first frost of the year can happen at the end of September.)
Markham has a humid continental climate that sees warm to hot summers that are pretty humid, with springs and autumns that are usually quite pleasant, and winters that can see cold harsh weather with plenty of snow and wind. Annually, it gets about 985+ mm of rain with September or October often being the wettest months. As such, outdoor cultivators will probably want to get their initial cannabis planting done by the middle of May at the latest so that they can get one full if not even two complete harvests from their cannabis crops before things get too wet or chilly out. Those who can't get their marijuana plants into the ground until June or July may want to go with greenhouse growing instead or grow feminized or autoflowering strains that are particularly resistant to mold and mildew and that thrive in "wetter" conditions.

That said, there's always the option of growing almost any type of weed plant indoors any time of the year as with an indoor setup or grow tent you can just create the kind of temperature and humidity levels etc. that the strain requires.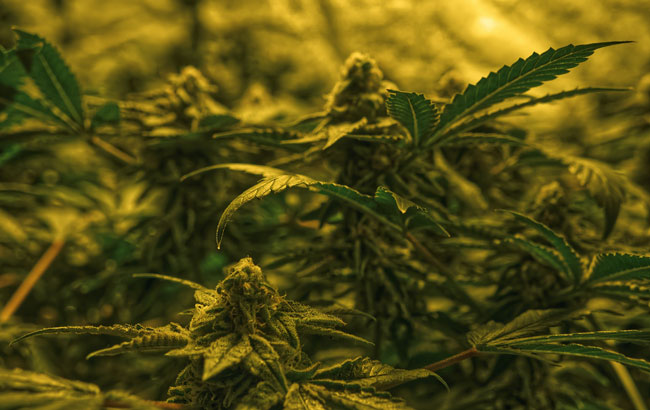 Other Popular Strains to Grow in Markham
Provided below are three more cannabis strains that Markham adult-users and medical marijuana patients like to grow at home either indoors or out, or in a greenhouse.
1. Qrazy Train auto: This 50/50 hybrid that invites users to sit back, relax, and enjoy the scenery as it departs the station is an easy-to-grow hybrid that's highly resistant to molds, pests, and temperature changes.
2. Pineapple Kush auto: This mellow 50/50 hybrid is a low-maintenance grower that's also resistant to common molds, mildew, and diseases.
3. Birthday Cake Kush feminized: While this one leans indica and is sedating in its effects, its uplifting cerebral effects hardly take the back seat. It's naturally resistant to mold, diseases, and changes in temperature, but does require some previous cultivation experience and needs to be in a warm and sunny climate.
Can't believe I can get cannabis seeds delivered to me in Markham
It was pretty shocking how easy everything was when ordering. Everything was very straightforward, and I got my seeds pretty fast. Overall, very happy with everything.
 Our Most Popular Cannabis Strains