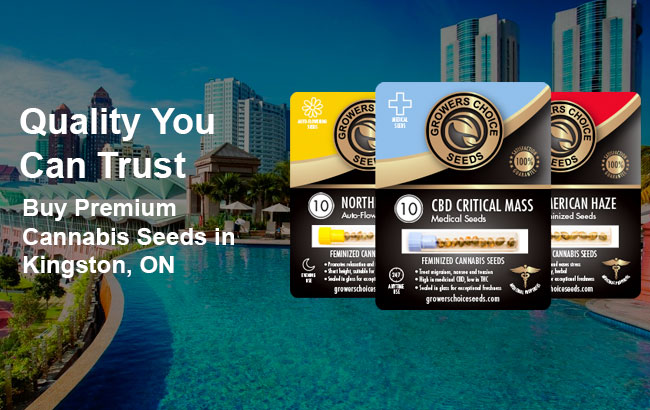 Want to start cultivating cannabis in Kingston? Unsure of what Quebec's cannabis laws are? Confused by terms like "regular," "feminized," and "autoflower seeds"? Well, keep on reading, as all of these questions and more are covered in the article below!
Marijuana Seeds Kingston Ontario
Known for being the birthplace of ice hockey and Canada's first capital, Kingston is a vibrant city rich in history, culture, and natural splendor. Situated on the picturesque convergence of Lake Ontario, the St. Lawrence River, and the Rideau Canal, Kingston, which is located between the metropolises of Ottawa and Toronto, is the capital of the province of Ontario.
As a city that embodies an idyllic blend of urbanity and small-town charm, Kingston features stunning waterfront views and is often referred to as the "Limestone City" on account of the very limestone bedrock that the city was built upon and its numerous historical buildings erected in the 19th century that were predominantly built with limestone.
With a frost-free growing season that averages approximately 160+ days, outdoor cannabis growers in Kingston may have to do some work to amend the soil, as even though the southern area of Ontario is known for having some of the most fertile soil in the province, much of Kingston's soil is not necessarily "the ideal."
As is the case for all Canadians, medical marijuana patients who call Kingston home are subject to the country's federally-run medical cannabis program, which was legalized in 2001 and is overseen by Health Canada.
As for Kingston's recreational cannabis laws, residents of the Limestone City are subject to the provincial government of Ontario's rules and regulations, which are based on the country's Cannabis Act of 2018. While this is not the case for every province and territory in Canada, in Ontario each municipality can set its own regulations around the public consumption of recreational marijuana and cannabis products. For example, in Markham, Ontario you cannot use cannabis in public, but in Kingston you can.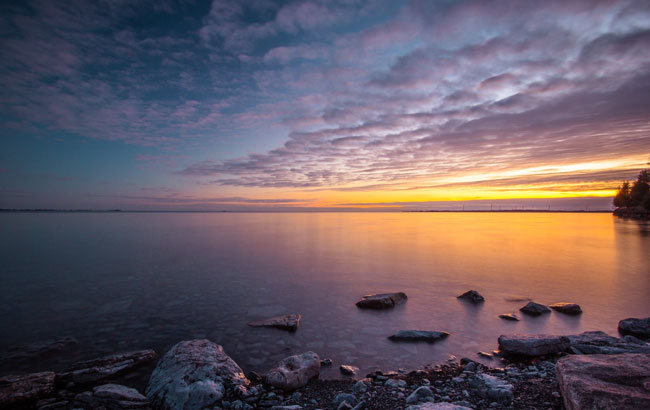 Medical and Recreational Cannabis Laws in Kingston Ontario
Canada's Medical Marijuana Laws
Canada's federally-mandated medical cannabis program is applicable to all of its citizens no matter which province or territory they reside in. For specific details about the country's medical marijuana program, including possession amounts, where medical cannabis can be used, and laws as they relate to the at-home cultivation of medical marijuana plants please refer here.
Kingston Ontario's Adult-Use Cannabis Laws
You must be 19+ to purchase, possess, use, and/or cultivate marijuana.
The amounts of cannabis you can possess and share are both set at 30 grams.
There is no at-home storage limit.
In Kingston, you are legally allowed to smoke or vape cannabis in any public space where smoking tobacco is permitted. However, there are a few exceptions. See here.
You can grow up to four cannabis plants for non-medical purposes per residence–NOT per person.
According to the Kingston police's official website, outdoor and indoor growers are meant to purchase their marijuana seeds online from the Ontario Cannabis Store. However, it does not state that it is illegal to purchase cannabis seeds from other online seed banks like Growers Choice Seeds (GCS) and Pacific Seed Bank (PSB).
Why Cannabis Cultivators in Kingston Buy Their Marijuana Seeds from Seed Banks
Over the past years, an increasing number of at-home medical and recreational at-home cultivators in Kingston have been turning to seed banks like Pacific Seed Bank and Growers Choice Seeds for procuring their favorite cannabis seed strains, in large part because of the extensive selection they offer. Essentially, places like Pacific Seed Bank and Growers Choice Seeds serve as a giant shopping mall where numerous reputable breeders from all over are able to make their premium cannabis seeds available to a much larger, global audience. As such, at-home growers in Kingston aren't limited to just what the Ontario Cannabis Store has to offer.
Feminized Cannabis Seeds: GCS and PSB only sell feminized photoperiods and autoflowering strains because they have a 99% chance of producing all-female, bud-bearing plants, which is what your everyday at-home grower in Kingston wants. This is also why they don't sell regular marijuana seeds as they have a 50/50 chance of producing male and female plants, and most at-home growers have little use for male plants, which are used as pollinators by breeders.
Speedy and Discreet Shipping: The fact that GCS and PSB both provide fast-delivery and stealth packaging is highly-advantageous in Kingston, as the discreet packaging is unlikely to attract unwanted attention from package thieves and/or those with too much time on their hands who might get all "hot and bothered" about someone not ordering their weed seeds from the Ontario Cannabis Store.
Affordability and Amazing Weed Seed Deals: GCS charges highly-competitive prices for all of its landrace and hybrid cannabis seed strains. They also feature a wide array of wholesale marijuana seeds and have phenomenal rotating cannabis sales on a host of new, classic, rare, and popular marijuana seeds.
Germination Guarantee: GCS has a germination guarantee in which they state that if 90% of your weed seeds don't "pop," aka "germinate," they will replace the duds for free, so long as you follow their cheap and simple germination method.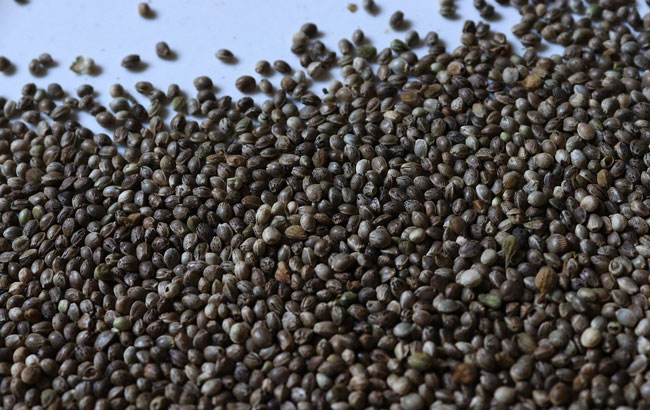 Feminized Seeds

Feminized marijuana seeds are photoperiods, which means that they are unable to automatically flip from their vegetative stage to their flowering phase without having their light/dark cycle from what is generally an 18/6 cycle to a 12/12 cycle.

Thanks to the well-researched and free blog that GCS provides, even first-time growers should be able to find out most everything they need to know about how to grow cannabis, etc.–making the figuring out of when to change their feminized strain's light cycle a near-cinch. As such, they should be able to cultivate low-maintenance strains like Ghost OG and Jillybean with relative ease.

However, one important thing to mention here is that unless you have an outdoor greenhouse, cold frame, row cover, or hoop house, you will probably need to grow your feminized cannabis seeds indoors in Kingston on account of its extended hours of daylight that range from 13 to 15+ hours during the summer months.
Autoflowering Cannabis Seeds
Autoflowering marijuana seeds are feminized strains that contain 10% to 20% ruderalis, which is a hardy landrace strain from Central Asia. The addition of ruderalis allows autoflowers to be able to automatically flip to flower on their own. Ruderalis also "imbues" autoflowering cannabis seeds with the ability to produce smaller, faster-growing, and more resilient plants than their feminized photoperiod counterparts.

At-home growers in Kingston find autoflowers to be advantageous for some of the following reasons:

A good majority of autoflowers should thrive outside in Kingston during its frost-free growing season that tends to last more than 5 months.
They tend to be more robust and forgiving of basic "rookie mistakes."

Most autoflowers start to flower in 7-9 weeks (although some take 10-12 weeks). This means that outdoor cultivators in Kingston should be able to get at least two full harvests from them.

Their, generally, more compact size means those with small indoor grow setups can usually grow the majority of these inside.

Two popular and easy-to-grow autoflowering strains that should do well indoors and outdoors in Kingston are Durban Poison and White Widow.
Kingston's Growing Environment
Having already covered various details about Kingston's growing environment throughout this piece, the only other thing to mention is that its summers are relatively mild and quite humid, with July usually being the hottest and most humid month where temps don't tend to exceed 27°C (80°F). As such, if you are growing your cannabis crops outside, you will want to grow autoflowers that are more resistant to mold and mildew. As already mentioned, you'll need to grow your feminized strains indoors or use a greenhouse, cold frame, row cover, or hoop house where you can provide them with total darkness for the hours they require for each growing stage.
Top Strains to Cultivate in Kingston
Provided below are three more strains that you should be able to grow indoors and/or outside in Kingston.
1. Cannalope Kush auto: This refreshingly crisp wake-and-bake sativa-dominant hybrid is resistant to mold and easy to grow.
2. Euforia auto: This multiple award-winning sativa heavy hybrid, which contains a potent 7% CBD, is considered a particularly tenacious strain that's resistant to common molds and mildew and can cope with sudden changes in temperature.
3. The Hog feminized: This easy-to-grow, award-winning pure indica, which comes with a 25% THC content, will thrive indoors in Kingston, and if you have the right outdoor setup that ensures it a dry and sunny environment as well as the hours of darkness it requires as a photoperiod, it will also do wonderfully outside as it's quite resistant to common molds and mildew.
 Our Most Popular Cannabis Strains