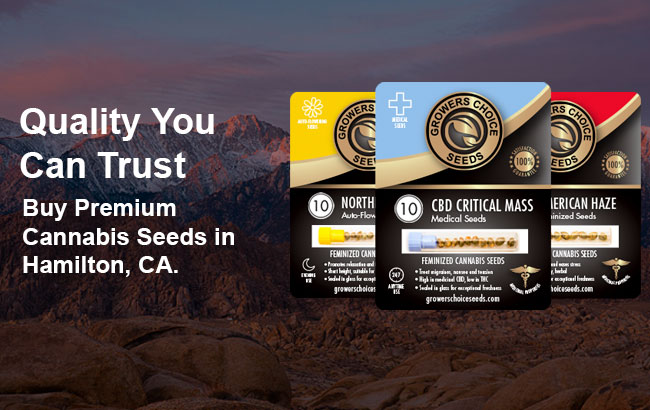 Are you interested in growing Hamilton cannabis plants? Every marijuana garden starts with high-quality seeds, which you can buy from our online seed bank. All orders from Growers Choice arrive at your home in discreet packaging.
Marijuana Seeds Hamilton Ontario
Located along the shoreline of Lake Ontario in the southern region of the province of Ontario, the city of Hamilton is about 70 kilometers west of Toronto, 75 km from the U.S. border, and about 66 km from the geological wonder of Niagara Falls.
Often referred to as "The Hammer" or "Steeltown" due to its heritage as a steel-producing city, the bustling urbanity of Hamilton is becoming better known these days for its lively and growing arts scene and access to nature, including the Niagara Escarpment.
Hamilton residents are subject to the same federal medical marijuana laws that all Canadian citizens living in the country are and the same recreational cannabis laws that all who live in the province of Ontario are.
Hamilton Ontario's Medical and Recreational Marijuana Laws
As mentioned above, no matter which of Canada's 10 provinces or three territories you call home, the country's medical marijuana laws apply to all of its citizens. However, when it comes to recreational cannabis, each province and territory is able to set its own regulations based on the recommendations made in the federal government's 2018 Cannabis Act.
As such, what applies to residents of The Hammer will apply to all Ontarians when it comes to the adult use of cannabis for non-medical purposes, but, for example, while Ontario does not have an at-home storage limit, Quebec does. Or, while those who live in Hamilton can legally cultivate their own recreational cannabis plants at home, those in Manitoba cannot, etc.
Canada's Medical Marijuana Laws
Canada's medical cannabis program, which is operated by Health Canada, is applicable to all of its citizens who are or wish to become medical marijuana patients. For exact details about this program, including the list of qualifying medical conditions, possession amounts, where medical cannabis can be used, and cultivation allowances please see here.
Hamilton's Recreational Marijuana Laws
You must be 19+.
You can possess and share up to 30 grams of cannabis.
There is no at-home storage limit.
You may smoke or vape your marijuana flower or cannabis products where the smoking of tobacco is permitted, except in vehicles.
You can grow up to four marijuana plants per household and NOT per person.
For further details on recreational user laws in the city of Hamilton, refer to the official website of their police department here.
Why Hamilton At-Home Growers Buy Their Cannabis Seed Strains from Seed Banks
There are several reasons why cannabis cultivators in Hamilton prefer to purchase their marijuana seeds from online seed banks like Pacific Seed Bank (PSB) and Growers Choice Seeds (GCS).
Extensive Selection: Pacific Seed Bank and Growers Choice are partnered with numerous cannabis breeders from all over. This allows them possible to make a wide selection of high-quality marijuana seeds that local cannabis dispensaries in Hamilton aren't set up to do.
Feminized Cannabis Seeds: GCS and PSB only sell photoperiods and autoflower marijuana seeds that are feminized as they have a 99% chance of producing bud-bearing female plants, which is exactly what at-home growers need and want. This is also why they don't sell regular marijuana seeds, as they produce both male and female plants, and while cannabis breeders need the male plants as pollinators, your typical everyday marijuana home growers are not going to have any real use for non-bud-bearing male plants.
Speedy and Discreet Shipping: With over half a million residents, Hamilton actually has a lower crime rate than most large cities in Canada. However, property crime remains an issue there, so the fact that reputable seed banks like GCS and PSB provide rapid and discreet shipping is important to locals.
Affordability and Special Seeds for Sale: PSB and GCS sell their landrace, indica-dominant, sativa-dominant, or hybrid strains for highly competitive prices. They also have wholesale marijuana seeds for sale and provide monthly sales on a rotating inventory of new, classic, rare, and popular marijuana strains.
Germination Guarantee: GCS has one of the highest germination rate guarantees in the industry where if 90% of your marijuana seeds don't "pop," aka "germinate," they will replace the duds free of charge. Their only requirement is that you have to follow their straightforward and pennies-cheap germination guide.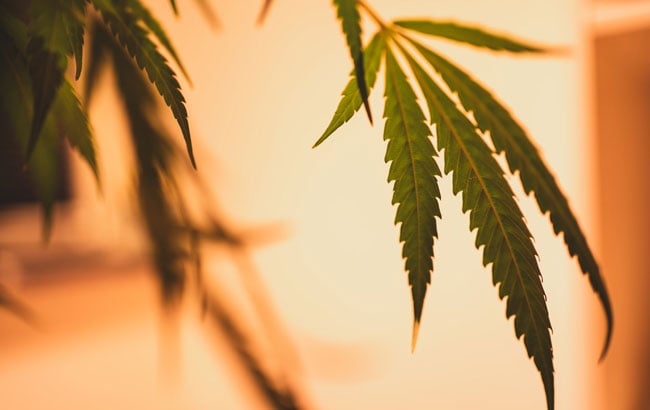 Feminized Marijuana Seeds vs. Autoflower Marijuana Seeds

Feminized Seeds

Feminized weed seeds are photoperiods that have to have their light/dark cycle switched from what is, as a general rule of thumb, an 18/6 cycle to a 12/12 cycle because they cannot automatically flip from their vegetative growth stage to their flowering time on their own.

While this may seem like a task that requires years of cultivation experience, in reality, it's not that difficult to learn how to do because GCS maintains a free blog that covers pretty much everything you need to know or learn about how to grow cannabis, when to flip your plants to flower, how the 12/12 light cycle works, etc. Therefore, first-time and inexperienced growers in Hamilton should be able to successfully grow otherwise low-maintenance strains like Shipwreck and Black Cherry Soda.
Autoflower Marijuana Seeds
Autoflowering strains are feminized marijuana seed strains that are genetically imbued with the ability to automatically flip to flower. This is because they contain the resilient landrace strain from Central Asia known as ruderalis. The presence of ruderalis also means that auto flowers tend to be faster-flowering seed strains that produce plants that are more compact and hardier than their feminized photoperiod counterparts.
All of these factors make autoflowering strains, such as Red Congolese and Cream, very attractive to novice growers who are looking to grow cannabis plants that don't have to have their light cycle changed and that are more forgiving of "rookie mistakes;" indoor cultivators who have a small growing space; outdoor growers seeking to get as many harvests from their cannabis crops during the outdoor growing season, which in Hamilton is relatively long at 190+ days.
Hamilton's Growing Environment
As mentioned above, Hamilton's average outdoor growing season is around 190+ days, which means that for just over six months out of the year, it's possible to cultivate at-home cannabis crops outside.
Hamilton has what's known as a humid continental climate that is by Canadian standards is considered to be quite mild. It doesn't have an actual dry season, so outdoor growers will want to grow strains that have a high resistance to molds and mildew.
Its summers are warm, with only a couple weeks out of the summer months where temperatures hit 30+ degrees Celsius, and even though they don't tend to get a lot of rainfall during these months, Hamilton's summers are usually quite humid due to being located on the shores of Lake Ontario. Springs and autumns are generally pleasant but can see warm daytime temperatures that are balanced with quite cool evenings; and winters tend to be marked by freezing temps, snow, and wind.
Overall, the area of Hamilton is located on some of Canada's top agricultural land, which features well-drained soil that is simultaneously able to retain enough moisture so as to support a variety of agricultural crops, etc. This is why it's home to so many wineries, farms, and cash crops.
The last frost is usually in the early part of May with the first frost generally falling around the middle of October, so medical and recreational cannabis growers in Hamilton will want to plan the planting and harvesting of their outdoor marijuana crops accordingly, and then move things indoors before the first frost of the year.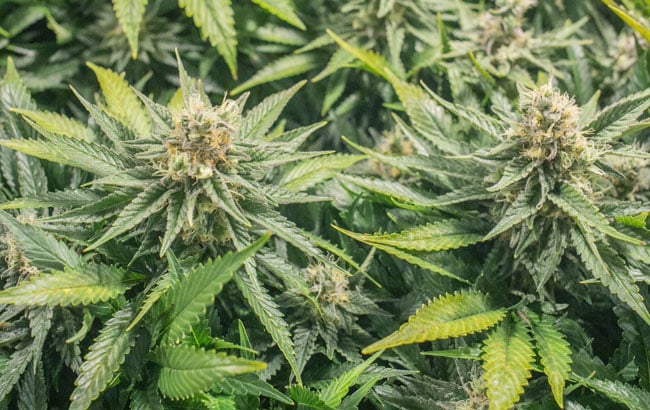 Some Top Cannabis Strains to Cultivate in Hamilton Ontario
To go along with the four strains already provided in the previous sections above, here are three more that should do well indoors, outdoors, or in a greenhouse in Hamilton.
1. Peanut Butter Breath autoflower: This evenly-balanced hybrid that's become one of the hottest strains around for at-home marijuana growers thrives in a warm and sunny setting where humidity levels are around 50% to 60%.
2. Mac 1 autoflower: Renowned for its incredibly high THC level of 30%, this highly sought-after 50/50 hybrid thrives in temperatures that run between 21-29 degrees Celsius and 70% humidity levels.
3. Grape Kush feminized: This sativa-leaning hybrid that offers a clear-headed, tranquil high does best in a warm, semi-humid environment, but at the same time produces hardy and resilient plants that can withstand unexpected changes in temperatures and/or humidity levels.
Hamilton has a favourite
My store buys cannabis seeds wholesale from Growers Choice, and my customers love them. We're always happy with the service we get and with the quality of the seeds.
 Our Most Popular Cannabis Strains