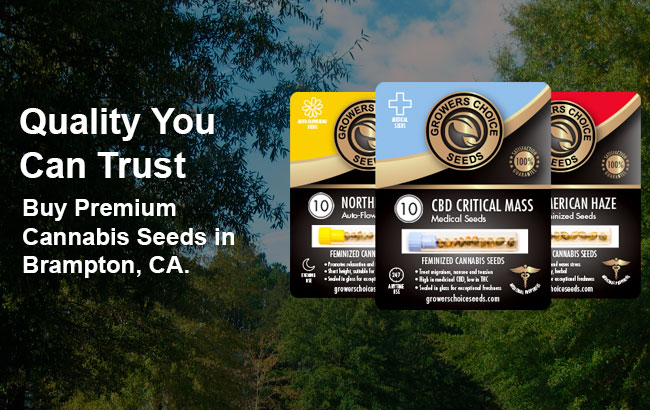 Originally known as "The Flower Town of Canada,"  Brampton is a large city known for its lush, natural beauty. Today, it boasts the slogan "Flower City"—a fitting nickname considering its many acres of sprawling parks. Below you'll find basic facts on cultivating cannabis in the city of Brampton—from popular strains to local laws and growing recommendations. 
What are Cannabis Seeds?
Slightly shiny and rich in color, cannabis seeds contain all the genetic information required to grow a new cannabis plant. Whether you're a seasoned gardener or entirely new to growing, purchasing high-quality seeds is a vital first step in cultivating bountiful plants.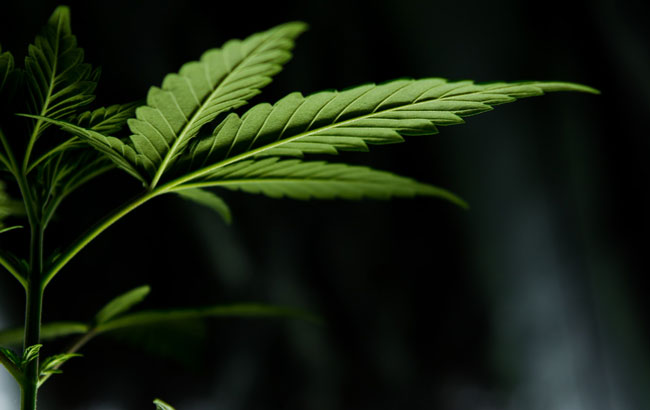 About Cannabis Culture in Brampton
A green, scenic city, Brampton is known for its 9,000 acres of vibrant parkland. While the city is excellent for families, its bustling nightlife also caters to young professionals. Some of Flower City's most notable attractions include Gage Park, the Peel Art Gallery, and an array of quality restaurants.
Types of Cannabis Seeds
Below, we describe the unique characteristics of some of the most popular cannabis seed types.
Feminized Seeds
While regular marijuana seeds have a 50/50 chance of producing male and female plants, feminized seed strains are bred to produce only female plants. Normally, when males pollinate plants, they will produce both seeds and resin-covered flowers. However, they will also prioritize seed production, which results in buds with reduced potency.
Feminized seeds bypass this issue entirely by eliminating seed production. Additionally, there is a wide selection of feminized weed seeds available to meet a wide variety of preferences.
Autoflowering Seeds
Thanks to their ruderalis lineage, auto-flowering strains have a special genetic quality: they are tough, resilient, and have a shorter flowering period. In short, they're famously low-maintenance and unlike their feminized counterparts, do not require adjustment of light cycles.
Auto-flowering plants are better equipped to thrive in harsher weather and stand up to pests, diseases, and mold. Thanks to these qualities, auto-flowering seeds are especially suitable for both outdoor and beginner growers.
Regular Seeds
Regular seeds are preferred by growers looking to experiment with breeding new strains, regular cannabis seeds tend to have a more affordable price, but also tend to produce less potent yields. Unlike auto-flowering varieties, which tend to be fast-flowering seed strains, regular seeds grow at the normal rate.
Where to Buy Cannabis Seeds in Brampton
Residents of Brampton have several good options for purchasing seeds. Below, we cover green flags to look for when researching a seed bank.
Seed Banks
While residents of Brampton have access to recreational marijuana products via privately owned retail stores, they can typically access the broadest selection of seeds at reputable online seed banks.
A reliable, high-quality bank will typically provide a wide selection of strains. They will all have exceptional germination rates. In fact, the best resources will provide a 90% germination guarantee—meaning with proper care they are all but certain to grow into vibrant plants.
Additionally, they will provide ample educational information such as a strain's unique qualities, THC content, plant size, average yields, and more. Yet despite the vast amount of information—it will be organized in a simple-to-navigate fashion: Marijuana plants can be filtered by characteristic to bring up select options. Finally, they'll provide stealth shipping.
Dispensaries and Specialty Shops
In January 2019, Brampton City Council voted to allow private cannabis retail stores. From flowers to concentrates, edibles to tinctures, and more, these local brick-and-mortar retailers are a good way to support the local, legal cannabis industry.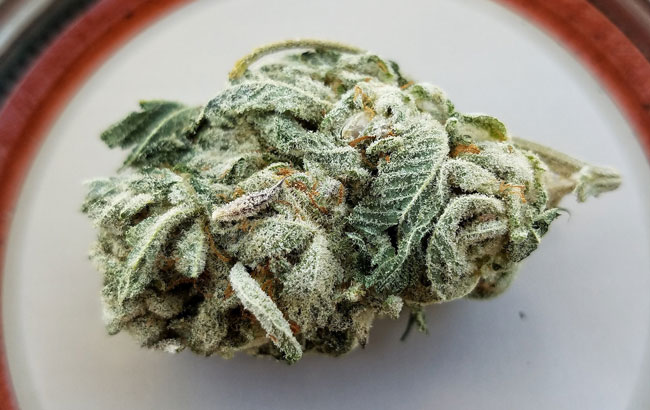 Strawberry Diesel
Known for their ability to provide a clear-headed experience, Strawberry Diesel seeds grow into plants that can boost cognitive function. With appropriate care, this strain can yield up to 400 grams per square meter indoors, and up to 500 grams from a single plant outdoors. Its taste is berry, diese-like, and sweet. Given its short stature, it is suitable for indoor growers with limited space. Many consumers of this strain report that it evokes a sense of happiness and relaxation combined while simultaneously uplifting the mood and sharpening the mind.
White Widow
A balanced hybrid, White Widow seeds are a tried-and-true classic with enduring popularity. This strain boasts beautiful, resin-covered flowers and a 50 percent indica, 40 percent sativa, and 10 percent ruderalis genetic breakdown. With a substantial THC content of 26 percent, this strain is best suited to those seeking potent psychoactive effects. Its intensely fruity aroma is accented by spicy, pungent undertones and finished off with a hint of citrus. Indoor growers take note: While White Widow has a scent that is appealing to many, it is also very potent—so you may want to insulate your growing space.
Tangerine Dream
Tangerine Dream seeds provide a head rush that can improve your mood and energy levels. Depending on the individual, you may feel happy, lazy—even gleeful—or intensely creative and productive. These weed seeds are the auto-flowering version of a sativa-dominant plant bred in Amsterdam.
A sativa-dominant strain, Tangerine Dream seeds will flourish with appropriate care. This plant will develop large, dense buds dusted with a substantial amount of resin and trichomes. Better suited to more experienced cannabis enthusiasts, this strain will spark a strong body high when consumed in larger doses.
Sour Kush Auto-flowering Feminized Seeds
Sour Kush is a cannabis strain that is an indica-dominant hybrid with a THC content of up to 22% and a delightful potency that'll soar you off to new dimensions! Its strong psychoactive components merged with deep body relaxation make it a go-to strain for many a cannabis connoisseur.
The offspring of Sour Diesel and OG Kush, Sour Kush seeds are a popular indica-dominant hybrid known for their unique fragrance, taste, and potent effects.
A blend of invigorating fragrance and taste, this strain emanates the scent of fresh lemons and earth. Its taste is similarly refreshing. The Sour Kush strain is known to evoke long-lasting, psychoactive experiences best suited for a tranquil evening. Given this strain's enduring effects, plan for intense psychological engagement and comforting physical effects for up to three hours. Due to its significant THC levels, Sour Kush is not recommended for beginners.
Perfect Strain for Your Needs
One of the best ways to find your favorite strain is to familiarize yourself with the main characteristics of each cannabis plant. Doing so will help you zero in on a strain that will meet your individual needs and provide a good jumping-off point to purchase your premium marijuana seeds. Below, we've highlighted some of the main categories to keep in mind when exploring different strains.
Desired effects: Depending on variables such as THC levels, sativa-to-indica ratio, and more, any given strain will have its own unique blend of effects. Some strains may have sedating and blissful properties, others will provide a burst of energy and focus—and any mixture in between. A good seed bank will provide a comprehensive description of each of their strain's potential effects.
Taste and aroma profile: A plant's terpene profile will determine its aroma and taste. Some strains are sweet, others are earth and pungent—the list goes on. Additionally, the strain's name often hints at its potential taste and scent. Thankfully, a plant's taste and aroma profile should be described thoroughly at a reputable online seed bank.
Cultivation preferences: Plant height and size, optimal conditions, average yields, and more are another set of variables any gardener will want to take into account before purchasing.
Popularity: Some strains are tried and true classics with lasting popularity worldwide—many are even award-winning seeds. Others are more niche and lesser known. An established seed bank will typically have an option to filter strains by popularity. Prices, customer reviews, and more are also good factors to consider.
.
Growers Choice in Brampton
I bought my first pack of seeds from Growers Choice a few weeks ago, and they are exactly what I was expecting and what I wanted. Thank you Growers Choice!
 Our Most Popular Cannabis Strains