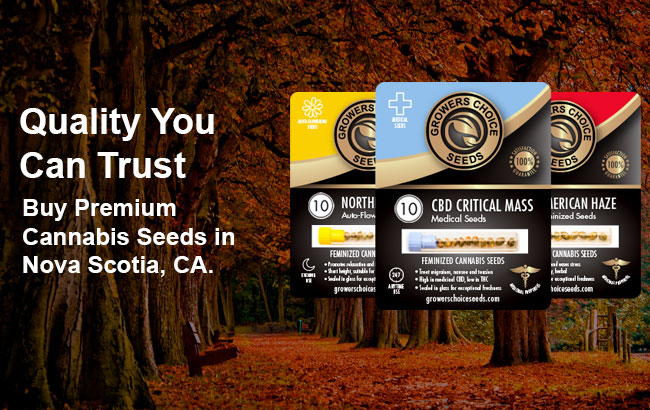 Are you ready to grow your very own cannabis garden in Nova Scotia? If yes, you'll need to buy weed seeds online from our seed bank. We guarantee fast shipping, discreet packaging, and a termination rate of at least 90%. Start growing weed seeds today!
Buy Marijuana Seeds and Weed Seeds in Nova Scotia
Nova Scotia, which is known as "Canada's Ocean Playground," boasts over 3,800 coastal islands that accompany its mainland. With a population of almost a million and almost half residing in its largest city and capital of Halifax, Nova Scotia is basically surrounded by the Atlantic Ocean and is home to almost 3,800 expansive farms. It has areas that are highly fertile, while other parts have acidic soils that are low in organic matter and without outside intervention and management can be infertile.
This also means that those who are cannabis growers may have to work to improve the soil conditions where they live, depending on what part of Nova Scotia they reside in.
Like all of Canada's provinces, Nova Scotia has set its own laws on the purchase, possession, consumption, storage, and cultivation of recreational marijuana since it was legalized by the federal government in 2018. When it comes to medical marijuana, which Canada legalized more than 20 years ago in 2001, Nova Scotia follows the country's medical marijuana program that is run by Health Canada.
This is to say that no matter where you live in Canada, if you are a registered medical cannabis user with Health Canada, the laws that apply to you in Nova Scotia are the same that will apply to you if you move to Alberta or British Columbia, etc. However, when it comes to adult-use cannabis laws, what is legal or illegal in Nova Scotia may not be the same in British Columbia Alberta etc.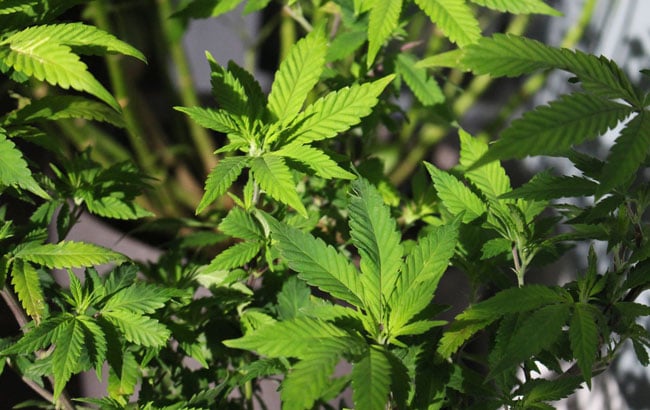 Medical and Recreational Marijuana Laws in Nova Scotia
Canada's Laws for Medical Marijuana Users
Canada's medical marijuana program does not have a minimum age requirement. Instead, those who are seeking a prescription for cannabis buds must meet with a healthcare provider who will determine if they are qualified to register with Health Canada, and if so, patients can then get their prescription for cannabis flowers.
Registered patients are allowed to possess up to 150 grams or a 30-day supply of marijuana in public.
If a medical user's registration certificate indicates that they are legally permitted to cultivate a medical cannabis garden at home, it will list the number of marijuana plants they are allowed to grow, where they can keep their cannabis garden, and what their storage limits are for cured cannabis flowers.
Nova Scotia's Adult-Use Cannabis Laws
You must be 19+.
Those 19+ may possess up to 30 grams of dried cannabis or marijuana products in public.
Nova Scotia does not limit how much you can store at home for your own personal use, so long as it is securely stored out of the reach of minors and pets.
Only government-run dispensaries operated by the Nova Scotia Liquor Corporation (NSLC) may sell recreational marijuana and cannabis products. Unlike in some other Canadian provinces, public and private retailers cannot become licensed dispensaries.
You can make edible marijuana products at home, but it is illegal under federal law for them to be sold.
You can grow up to four cannabis plants per household, not per person, so long as they are kept out of access to minors and pets. Note that the Nova Scotia government clearly specifies on its official website that individual municipalities in the province: "may pass additional bylaws that further restrict cultivation. Some have, so be aware of local bylaws." Therefore, it is your responsibility to check local municipality regulations, etc. on keeping a cannabis garden if you live in or are moving to Nova Scotia.

Generally, marijuana may be smoked in public anywhere that smoking tobacco is allowed. However, once again, it is your responsibility to check the local municipality laws where you live or are visiting in Nova Scotia as some have placed further restrictions on the public consumption of cannabis.
Why Countless Growers in Nova Scotia Buy Their Favorite Strains From Seed Banks
More and more outdoor and indoor cannabis growers in Nova Scotia have been buying their marijuana seeds from online seed banks like Pacific Seed Bank (PSB) and Growers Choice Seeds (GCS). There are several reasons for why–one of which is the extensive variety of strains that PSB and GCS are able to make available to their customers. Unlike a government-run dispensary, seed banks pretty much exist for the sole purpose of making as many different seed strain options available to indoor and outdoor growers, and they do this by partnering with numerous reputable breeders from all over who are then able to share their wide variety of cannabis strains with a much larger audience.
Other reasons why at-home cannabis cultivators in Nova Scotia love buying their weed seeds from trustworthy seed banks like PSB and GCS are explained below.
Feminized Marijuana Seeds: Reputable seed banks like GCS only sell feminized seed strains and feminized auto-flowering seeds because they have a 99% likelihood of producing all-female plants, which is exactly what Nova Scotian growers want. Regular seeds, on the other hand, produce male and female plants, and though cannabis breeders need male plants as pollinators, your typical non-commercial grower/breeder has no use for male plants.
Speedy and Discreet Shipping: Outdoor and indoor cannabis growers in Nova Scotia love that GCS delivers their marijuana seeds to them as quickly as possible and in stealth packaging.
Competitive Prices: GCS makes its seed strain options available at affordable prices. They also have wholesale marijuana seeds for sale and monthly sales on a rotating selection of a variety of strains that include new and classic strains as well as award-winning, top-rated seed strains.
Germination Guarantee: Lastly, the fact that GCS is one of the few seed banks around to include a germination rate guarantees that if 90% of your cannabis seeds don't germinate, they will replace them for free with their only stipulation being that growers must follow their inexpensive and easy to follow germination process.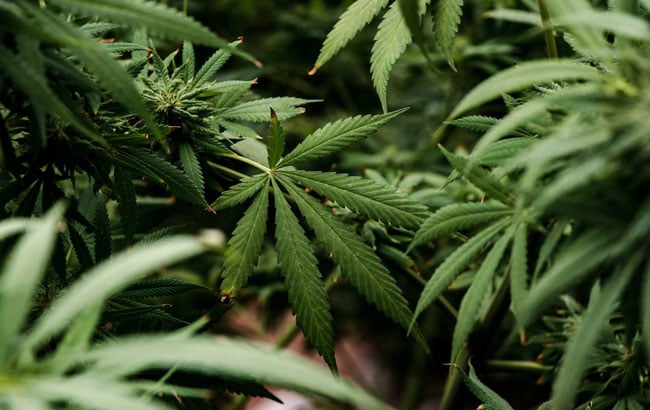 Feminized Seed Strains vs. Autoflowering Seeds
Feminized Seeds
Feminized seed strains are photoperiods, which means that they cannot shift from their vegetative stage to their flowering period without having their light/dark cycle manually changed from what is generally an 18/6 cycle to a 12/12 cycle.
For those who are new to the cultivation of cannabis seeds to plants or who want to increase their growing skills and knowledge, GCS has a free and highly informative blog that covers almost everything you need to know about how to grow cannabis, when to flip your plants to flower, when you can expect to see buds after switching your weed garden to a 12/12 cycle, different training methods for growing cannabis indoors, etc.
Thanks to all of the useful, knowledgeable resources provided by GCS, first-time and inexperienced growers in Nova Scotia should be fine figuring out light cycles, etc., and be able to successfully grow otherwise low-maintenance feminized seed strains such as Shiatsu and Black Cherry Soda.
Autoflowering Seeds

Autoflowering seeds are generally the fast-flowering seed strain versions of feminized strains. The majority of autoflowers tend to be smaller plants that are more resilient to temperature changes etc., and they are able to automatically flip to their flowering stage on their own. This is because they usually contain about 10%-20% ruderalis, which is a very robust landrace strain from Central Asia, which experiences frigid temperatures in its prolonged winters and prolonged hours of light in its short summers. Although this is not the case for all autoflowers, most are usually easier for novice growers to hone their cultivation skills on, and their tendency to be smaller and faster-growing than their feminized photoperiod counterparts is something that indoor and outdoor growers appreciate in regards to space limitations and getting at least one full harvest, if not two, from the plants they're growing in their outdoor gardens in places like Nova Scotia that in some areas has a growing season of just 100 days, and in others up to 200. Two fast-growing seed strains that should thrive indoors and out or in a greenhouse in Nova Scotia are Dragon's Breath and Glass Slipper.

The Growing Environment in Nova Scotia
As mentioned above, depending on where you live in Nova Scotia, the frost-free growing season can be anywhere from 100-200 days. This province's weather is greatly influenced by the Atlantic Ocean, but its weather is considered to be closer to that of a continental climate, although some areas, like Halifax, experience more eastern maritime weather. In addition, Nova Scotia is known for having a wet climate that sees the most storms out of all of the Canadian provinces.
In general, its summers are warm and short, its winters snowy or rainy, and has springs and autumns that are mild to warm with frequent rainfalls. As a maritime province, Nova Scotia's weather patterns can fluctuate from day to day.

For more specifics on what the climate and soil considerations are for each region of the province, please refer to this guide provided by Nova Scotia's government.

Top Feminized Seed Strains to Grow in Nova Scotia
Overall, if you are growing your cannabis crops outdoors, you'll want fast-flowering seed strains that are resistant to mold and mildew, due to how wet Nova Scotia's climate can be. However, when it comes to greenhouse or indoor growing, the world is your oyster!
Here are three more strains to go along with the four that have already been provided that should do well in Nova Scotia.
1. Kandy Kush autoflower marijuana seeds: This perfectly balanced hybrid is mold-resistant, and can be grown in and outside, where outdoors it will thrive in a cool climate.
2. Cannalope Kush autoflower: This refreshingly crisp sativa hybrid is resistant to mold, and outdoors produces larger yields that should be ready to harvest between the end of September and early October.
3. Pineapple Chunk feminized: Notable in part for its ease of growth, this indica is quite resistant to mold and disease.
Growers Choice cannabis seeds in Nova Scotia:
The greatest grows come from Growers Choice
I have been growing my own medical marijuana for years now, and I can definitely say that you guys sell some real top-quality seeds. I have had no issues – only one in ten seeds have failed to germinate, which is a completely acceptable germination rate of 90%! I'm very impressed and will be telling my gardener friends.
 Our Most Popular Cannabis Strains