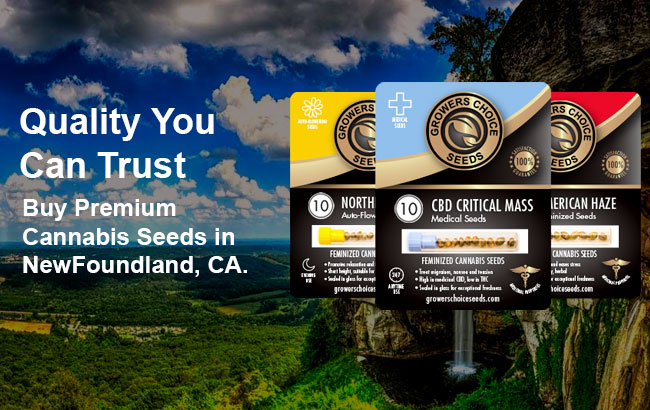 The easternmost Canadian province of Newfoundland and Labrador is made up of two regions–the island of Newfoundland which is located in the Atlantic, and Labrador on the mainland. Read on to learn more about cannabis culture and how to grow weed seeds in Newfoundland and Labrador.
Marijuana Seeds in Newfoundland and Labrador
Known for its more laid-back lifestyle, stunning natural scenery, and friendly warmhearted people, Newfoundland and Labrador is a tranquil province that has one of the lowest crime rates in all of North America and that many a traveler in search of a more mindful, contemplative, and rejuvenating experience surrounded by the fresh, cool air and ocean mist of the North Atlantic and breathtaking landscapes that include fjords and green pastoral settings visits.
Adding to the refreshing quietude and chill of this gorgeous Canadian province is the fact that Newfoundland and Labrador have had a medical marijuana program since the federal Canadian government legalized it all the way back in 2001, and legal access to the buying, possession, use, and cultivation of recreational marijuana since 2018.
In regards to this peaceful and happy province's recreational cannabis laws, each provincial government in Canada is able to set its own particular regulations and limitations on things like whether or not marijuana flower and cannabis products are sold by government-run dispensaries or private and/or public cannabis dispensaries, minimum age requirements, storage limits, whether or not cannabis and marijuana products can be used in public spaces, and whether or not the cultivation of medical and/or recreational marijuana gardens are allowed, etc.
As such, it's important that you keep in mind that what is legal or illegal in Newfoundland and Labrador may not be the same in other Canadian provinces like New Brunswick Quebec, etc.
In addition, as a general rule of thumb, provincial governments tend to stick with the federal government's laws related to the country's universal medical cannabis program.
Medical and Adult-Use Cannabis Laws in Newfoundland and Labrador
Medical Marijuana Laws
In keeping with Canada's medical marijuana program, there is no age requirement. Instead, those who are seeking a marijuana prescription for medicinal purposes must meet with a health practitioner who will determine whether or not your health condition qualifies you to register with Health Canada's medical cannabis program.
Registered medical patients are authorized to possess up to 150 grams or a 30-day supply of cannabis flower in public and, in Newfoundland and Labrador, may use it wherever tobacco is allowed provided they have the proper documentation that they can present to law enforcement if so requested.
If your registration certificate shows that you are allowed to cultivate medical marijuana plants at home, it will list how many cannabis plants you can grow, where you can keep your medicinal cannabis garden, and how much cannabis flower you can store.
Adult-Use Cannabis Laws in Newfoundland and Labrador
To buy, possess, use, and cultivate recreational weed, you must be 19+.
Newfoundland and Labrador does not have an at-home storage limit on cannabis flower or marijuana products.
You may cultivate up to four cannabis plants at home per residence, not per person.
You can only have an indoor marijuana garden. Outdoor gardens of cannabis are 100% forbidden in Newfoundland and Labrador.
You can possess up to 30 grams of marijuana, but you may not use it in public spaces.
You can combust your cannabis flower or consume marijuana products in a private residence or the yard attached to it, and depending on the owner of the building you might be able to consume it in hotel rooms or apartment units.
For more details on where you can and cannot consume marijuana products in Newfoundland and Labrador, along with answers to some of the most frequently asked questions related to non-medical adult-use cannabis see here.
Why At-Home Cannabis Growers in Newfoundland and Labrador Buy Their Seed Strains From Seed Banks
Canadian growers, including those in Newfoundland and Labrador, have been buying their favorite top-shelf seed strains from online seed banks like Pacific Seed Bank (PSB) and Growers Choice Seeds (GCS) for years now as they know that seed banks are the best way to access the most extensive list of new, rare, popular, award-winning, and powerful feminized seed strains, including CBD-rich medical grade seeds.
Some of the other reasons that indoor growers in Newfoundland and Labrador buy their weed seeds from trustworthy seed banks like PSB and GCS are as detailed below.
Feminized Seeds: PSB and GCS only sell feminized photoperiod seeds and autoflowering feminized strains because they have a 99% likelihood of producing all bud-bearing female plants, which is exactly what your typical at-home cannabis grower in Newfoundland and Labrador wants. The reason that they don't sell regular marijuana seeds is because they produce male plants too, which are mainly only of use to breeders who use them to pollinate the female plants when creating new strains etc.
Speedy and Stealth Shipping: While crime is not considered to be much of an issue in Newfoundland and Labrador, residents still greatly value that GCS quickly delivers their cannabis seed order(s) to them in discreet packaging.
Fair Prices: GCS makes all of its high-quality seeds available to customers at highly competitive prices. In addition, they also have wholesale marijuana seeds for sale as well as featuring regular monthly sales on a rotating selection of top-shelf seed strains.
Germination Guarantee: Another added benefit that comes from buying your pot seeds from GCS is that they provide a germination rate guarantee that 90% of the marijuana seeds you buy from them will germinate, and if they don't, GCS will replace them for free. The only clearly stated "condition" is that you must follow their easy and incredibly economical germination process guide.
Feminized Seeds vs. Autoflowering Cannabis Seeds
Feminized Seeds
Feminized seeds are photoperiods, which means that they are unable to automatically flip from their vegetative growth stage to their flowering period without having their light/dark cycle manually switched from what is generally an 18/6 cycle to a 12/12 cycle.
Since GCS provides a free blog that covers almost everything you need to know about how to grow cannabis, when to flip your plants to flower, how to build the best grow room for cultivating your weed garden inside, the easiest marijuana seed strains to grow indoors, etc. those who are new to cannabis cultivation shouldn't have much of a problem quickly learning how and when to change the light cycle for their indoor cannabis garden, making it possible to find success with easy-to-grow strains like Mickey Kush and Shipwreck.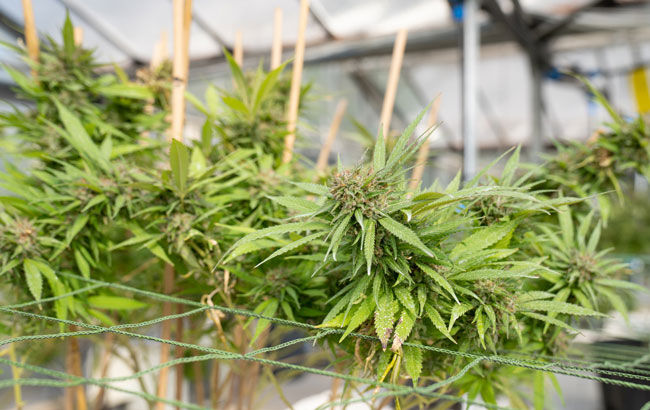 Autoflowering Seeds
Autoflowering feminized strains are known for being fast-flowering seed strains that tend to produce smaller and hardier plants than feminized photoperiods, and that can automatically transition to their flowering stage without any changes to their light cycle. This is because autoflowers contain ruderalis, which is a robust landrace strain that originally comes from Central Asia.

Strains like Nebula and Recon that produce shorter plants will be especially well-suited for private indoor growers in Newfoundland and Labrador who are most likely growing their plants in a grow tent or closet or smaller indoor space.
The Growing Environment in Newfoundland and Labrador

Seeing as you aren't legally allowed to be an outdoor cannabis grower in the tranquil province of Newfoundland and Labrador, you actually have the advantage of being able to grow any feminized or autoflowering strain you wish to inside without having to consider when the first frost of the year will hit, or whether or not it's warm or dry or humid enough outside, etc.
So, while it may at first seem like a negative that outdoor growers can't cultivate marijuana plants outside in this northeastern province, in reality, it's something of a blessing in disguise.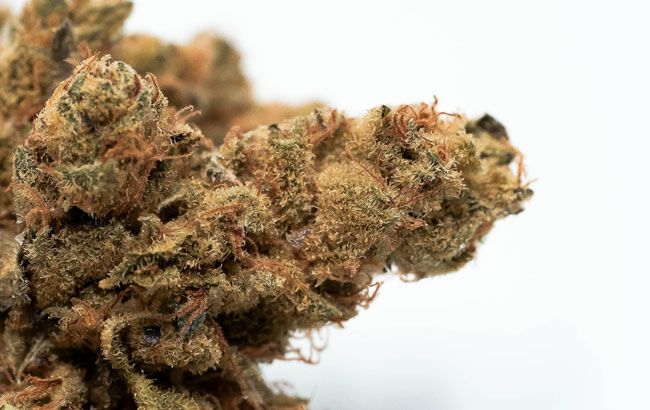 Top Strains to Grow in Newfoundland and Labrador
To go along with the other four strains that will all grow well indoors in Newfoundland and Labrador, here are three more that are popular amongst at-home cultivators in this beautiful and luscious province.
1. White Lightning autoflower marijuana seeds: This powerful 50/50 hybrid which is known for its automatic mood boost, is a fast-growing seed strain that should start to flower indoors in just 8 weeks.
2. Trinity feminized weed seeds: This highly after, blues-busting sativa-dominant powerhouse is said to thrive in small indoor growing spaces, which means that it should do well in a grow tent, grow box, or even a space as small as your closet.
3. Vanilla Kush feminized marijuana seeds: This award-winning indica-dominant hybrid with its bone-crushing relaxation that also comes with deeply happy and euphoric cerebral properties produces short plants and a hearty indoor yield of 450 grams per square meter in about 8-9 weeks.
Growers Choice cannabis seeds in Newfoundland and Labrador:
St. John's
Conception Bay South
Muont Pearl
Paradise
Corner Brook
Grand Falls-Windsor
Gander
Growers Choice Customers Keep Coming Back
I sent a question to this company, and they responded within hours. I've rarely felt so well taken care of by a random internet business. Thank you for being so helpful – you've won a loyal customer, here.
 Our Most Popular Cannabis Strains