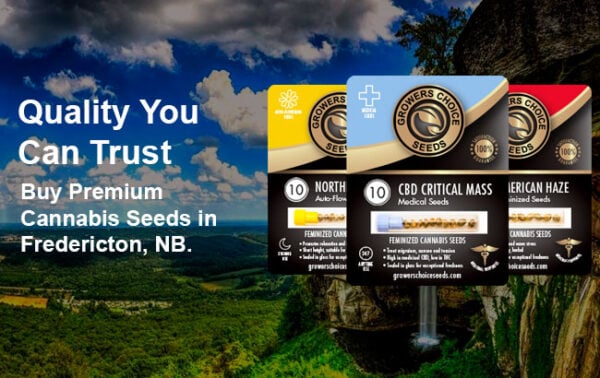 Want to start cultivating cannabis in Fredericton? Unsure of what New Brunswick's marijuana laws are? Confused by terms like "regular," "feminized," and "autoflower seeds"? Well, keep on reading, as all of these questions and more are covered in the article below!
Marijuana Seeds Fredericton
As the capital city of the picturesque province of New Brunswick, Fredericton is located on the Wolastoq, which means "Beautiful River" in Maliseet. With a population of just over 60,000, "Freddy Beach," as it's known by locals, boasts over 120 kilometers of scenic trails, the highest concentration of craft breweries in the entire region, and creative and eclectic cultural urbanity, making it a beautiful area to visit or call home.
Despite having a relatively short frost-free growing season that averages 125 days from the middle of May to the middle of September, gardeners and cannabis cultivators alike who reside in Freddy Beach and maintain outdoor gardens have learned how to properly plan and apply solid cultivation techniques to get a wide variety of agriculture, including more weather-resistant seed strains to thrive outside and/or in a greenhouse.
As the capital of New Brunswick, whose nickname is that of the "Picture Province," Fredericton residents are subject to Canada's federal government's laws as they pertain to the nation's medical marijuana program, which has been overseen by Health Canada since 2001.
As for recreational cannabis, which was legalized in 2018, the government of every Canadian province and territory is empowered to set its own regulations based on the suggestions laid out in Canada's Cannabis Act. This means that Frederictonians who wish to engage in adult-use cannabis are subject to New Brunswick's provincial laws, which are not the same in every single Canadian province or territory. For example, while New Brunswick, and therefore Fredericton, allows for the cultivation of indoor and outdoor weed gardens with some very specific structural requirements, the province of Quebec does not allow any cannabis cultivation, and the province of Newfoundland and Labrador only allows for indoor cultivation.
So, in short, what is applicable to Fredericton is not necessarily going to be applicable to those in St. John's.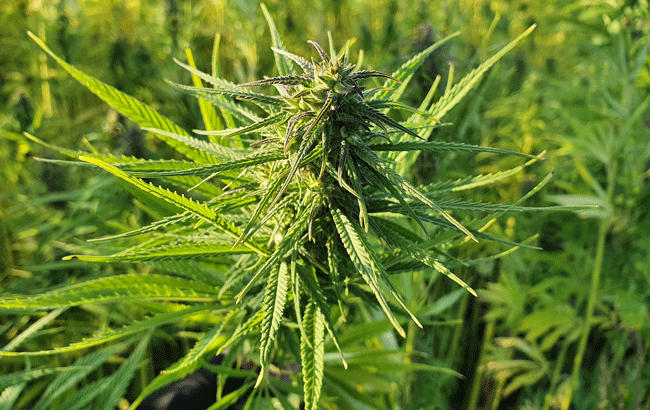 Medical and Adult-Use Cannabis Laws in Fredericton
Canada's Medical Marijuana Laws
Canada's medical cannabis program applies to all of its citizens seeking a medical prescription for cannabis, no matter which province or territory they reside in. For exact details about this program, including possession amounts, where medical cannabis can be used, and the rules of cannabis cultivation for registered medical patients, please refer to Health Canada's official website.
Adult-Use Cannabis Laws in Fredericton
Fredericton follows New Brunswick's laws as they relate to recreational cannabis.
You must be 19+ to purchase, possess, use, and cultivate recreational marijuana
Only government-run dispensaries, which are approved or run by Cannabis NB, may operate as licensed dispensaries.
Those 19+ purchase and possess up to 30 grams of marijuana.
There are no at-home storage limits.

It is illegal to smoke/vape cannabis or consume marijuana products in public in Fredericton. However, adult users can do all of these things in their place of residence, backyard/property, and an occupied campsite.

Those 19+ may legally cultivate four cannabis plants in an outdoor or indoor environment.
In Fredericton, indoor cultivator must keep their marijuana plants in a separate, locked space, and outdoor weed crops must be kept behind a "locked enclosure that is at least 1.52 meters high."
One last important thing to mention here that is specific to those living in Fredericton and other parts of New Brunswick is that this particular province's cannabis cultivation law clearly states: "Plants and/or seedlings need to come from Cannabis NB or a Cannabis NB approved retailers [sic]." However, the regulation does not stipulate or restrict where at-home growers can or cannot buy their favorite seed strains.
Why Frederictonian Cultivators Buy Their Favorite Seed Strains from Online Seed Banks
Medical and recreational at-home growers in Freddy Beach have been relying on reputable seed banks like Growers Choice Seeds (GCS) and Pacific Seed Bank (PSB) for years now–the main reasons for which are provided below.
Extensive Selection of Cannabis Seeds: Trustworthy seed banks like PSB and GCS serve as a sort of one-stop shop where customers from around the world are able to select from an extensive selection of cannabis seeds made available by the numerous cannabis breeders from all around whom PSB and GCS work with. The fact that seed banks can make not just hundreds of seeds but thousands, accessible to growers is something that at-home cultivators in Fredericton really appreciate, as then they aren't limited to the smaller offerings made available via their local Cannabis NB-licensed dispensaries.
Feminized Marijuana Seeds: As a highly-reputable seed bank, GCS only sells premium-grade feminized photoperiods and autoflowering seeds, and not regular seeds. This is because because feminized marijuana seeds have a 99% likelihood of producing bud-bearing female plants, whereas regular seeds will produce both male and female plants. While breeders can use male plants as pollinators when creating new cannabis strains, your everyday at-home grower in Fredericton has little, if any, use for non-bud-bearing male plants.
Speedy and Discreet Shipping: While Fredericton is far from being a dangerous "crime-ridden city," they do have slightly higher crime rates than the national average, with property crimes being about 4% higher. As such, locals do appreciate that GCS delivers their orders both quickly and discreetly.
Competitive Prices and Weed Seed Deals: GCS charges market-competitive prices for all of its incredible seed strains. In addition, they have a wide selection of wholesale marijuana seeds for sale, and feature monthly deals with unbeatable prices on a rotating selection of their thousands of weed seeds for sale.
Germination Guarantee: GCS provides one of the highest germination guarantees in the industry. In short, if 90% of your marijuana seeds don't germinate, they will replace the duds free of charge, provided that you've adhered to their cheap and easy-to-follow germination method.
Feminized Marijuana Seeds vs. Autoflower Seeds
Feminized Photoperiod Seeds
Feminized seeds are photoperiods, which means that they cannot automatically flip from their vegetative growth stage to their flowering phase without their light/dark cycle being manually switched from what is, generally, an 18/6 cycle to a 12/12 cycle.
Understandably, this might sound like a daunting task to a first-time grower in Fredericton, but seeing as GCS has free blog resources that cover almost everything one needs to know about how to grow cannabis, when to flip your plants to flower, the flowering stage of a cannabis plant, etc. novice growers living in Freddy Beach should be just fine cultivating otherwise low-maintenance strains like Cheese and Deadhead OG. However, because Fredericton gets 13 to 15 hours or so of daylight from June to August, you'll probably need to grow your feminized weed seeds either indoors or in a greenhouse where you can control the light/dark cycle.
Autoflower Seeds

Autoflowering marijuana seeds are the fast-flowering varieties of feminized strains. Not only are they fast-growing seed strains, they also tend to produce smaller and hardier plants than feminized seeds, and they are able to automatically flip to flower on their own. All of this is thanks to the fact that they contain ruderalis, which is a hardy landrace strain native to Central Asia.
Generally speaking, auto-flowers are considered to be easier for novice growers to find success with due to not requiring having their lighting schedule changed and the fact that they tend to be more forgiving and resilient plants. In addition, indoor cultivators with limited space appreciate their more compact size, and those maintaining outdoor gardens in places like Fredericton that have shorter growing seasons like that, growing an auto-flower means they'll get at least one solid harvest if not two.

Another advantage about auto-flowering strains for Fredericton cultivators is that its summer months of extended daylight won't hamper or impede an auto-flowering cannabis plant's ability to switch to its flowering period. Two particularly easy-to-grow autos that should do well outdoors in Fredericton, and indoors year-round, are Silver Kush and Royal Kush.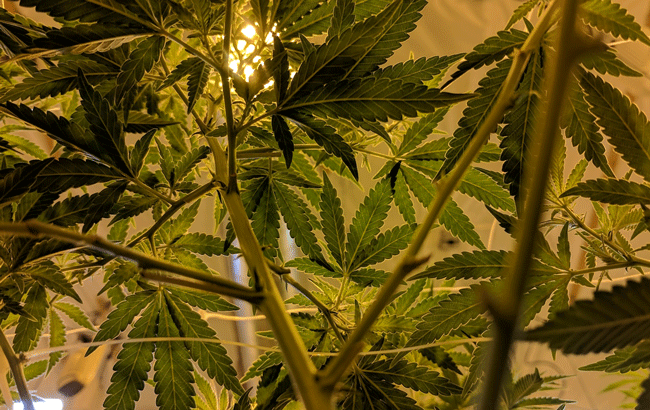 The Growing Environment in Fredericton
Fredericton has a semi-continental climate with warm summers and cold winters. Thanks to its inland location, Freddy's Beach has a relatively milder outdoor climate with higher summer temperatures and lower winter ones than other coastal locations in the Picture Province of New Brunswick.
Due to the city's rather short growing season, the following cultivation tips are recommended for getting the most out of your outdoor gardens.
Start your cannabis seedlings indoors so that they are able to develop a strong root system.
Adding a good layer of mulch around your cannabis plants will help them to thrive, and it will enrich the soil.
If you don't have an outdoor greenhouse, use a cold frame, row cover, or hoop house. Not only do they provide added protection against a sudden, unexpected change in temperature or frost, but they could potentially allow you to plant your outdoor weed crops a little earlier in the spring or harvest them a little bit later in the autumn.
Incredible Seed Strains to Cultivate in Fredericton
Provided below are three more incredible seed strains, to go along with the four provided above, to grow in Fredericton.
1. Tropicana Cookies autoflower: This potent seed strain that's sativa-leaning thrives in a Mediterranean climate, but it can adapt to cooler temperatures as well.
2. Power Kush autoflower: This indica-leaning hybrid that energizes and calms users in the same blow will thrive in a warm, semi-humid outdoor climate, and, provided you start your seedlings indoors, it should be ready to harvest before the first frost of the year hits in Fredericton.
3. Grape Kush feminized: This sativa-leaning hybrid offers a clear-headed, tranquil high and is usually ready to harvest in about 8 weeks indoors with a yield offering of 400 grams of cannabis per square meter.
Fredericton gets greener
I used to be against cannabis until my doctor suggested a strain with high CBD levels. I just Googled "CBD" strains, and Growers Choice popped right up. After spending the next few days reading through their website, I realized growing CBD Blueberry would be the best choice for me. I ordered and got them delivered pretty quickly. Very happy customer!
 Our Most Popular Cannabis Strains