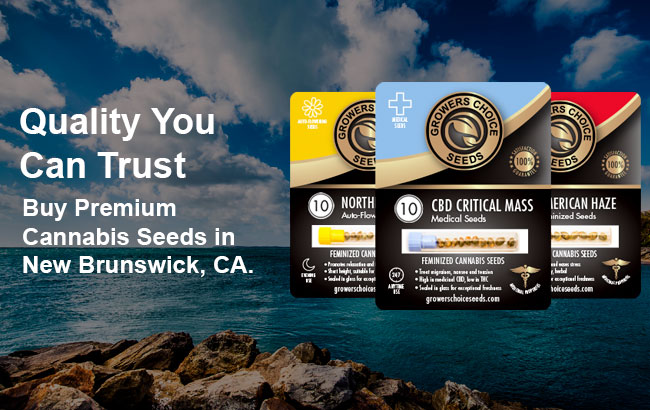 Want to grow marijuana seeds in New Brunswick? The Growers Choice seed bank is here to help you with all your weed seed needs, including fast shipping and affordable prices. Our autoflowering seeds come with a quick flowering time, which is perfect for those long Canadian winters.
Marijuana Seeds in New Brunswick
Boasting unfettered forests that comprise about 80% of the land and vast swaths of pristine nature, the Canadian province of New Brunswick is located beneath Quebec's Gaspé Peninsula and borders the northern boundary of the U.S. State of Maine.
Considered one of the most affordable provinces to live in thanks to its low cost of living as well as one of the safest, around half of the population reside in and around this picturesque province's three largest cities of Saint John, Moncton, and its capital of Fredericton.
Nicknamed the "Picture Province" due to its gorgeous coastline, New Brunswick attracts those who are looking to lead a simpler, quieter lifestyle surrounded by lakes and forests and away from the rat race in a friendly, more rural yet culturally vibrant setting.
Those who are fortunate enough to call this beautiful and cozy province home have also been able to legally access their country's medical marijuana program run by Health Canada since 2001, and recreational cannabis since 2018.
While medical marijuana is regulated by the federal government of Canada, the governments for each Canadian province set their own specific laws in relation to whether or not they have government-run dispensaries or public and/or private licensed dispensaries, possession amounts, whether or not cannabis and marijuana products can be used in public, and whether or not the cultivation of cannabis plants is allowed and if so, if cannabis gardens can be maintained indoors and/or outdoors, etc.
As such, it is important that you remember that the recreational cannabis laws that apply to New Brunswick aren't going to be the same as other Canadian provinces and vice versa.
Provided below are the cannabis laws as they pertain to those who reside in the Picture Province.
New Brunswick's Medical and Recreational Marijuana Laws
Laws for Medical Marijuana Users
New Brunswick follows Canada's medical marijuana program, which does not have a minimum age requirement for becoming a qualified medical user. Instead, those who wish to obtain a medical prescription for cannabis need to meet with a medical healthcare provider who will then determine if they are qualified to register with Health Canada.
Registered medicinal users can possess up to 150 grams or a 30-day supply of marijuana in public.
If a medical marijuana user's registration certificate shows that they are allowed to cultivate a cannabis garden at home for medical purposes, it will indicate how many marijuana plants they can grow, where they can grow their medical cannabis garden, and what their storage limits are for dried cannabis.
New Brunswick's Adult-Use Cannabis Laws
Those who are 19+ may purchase, possess, use, and cultivate recreational marijuana in New Brunswick.
Only licensed dispensaries approved or run by Cannabis NB can legally operate in New Brunswick.
You can purchase and possess up to 30 grams of marijuana or cannabis products.
There are no at-home storage limits in New Brunswick.

It is illegal to combust cannabis or consume marijuana products in public in New Brunswick. However, you can use it in your place of residence, backyard/property, and an occupied campsite.

If you are 19+ in the Picture Province, you are allowed to cultivate up to four cannabis plants indoors or outside.
New Brunswick's provincial government states that indoor growers must keep their plants in a separate, locked space, and outdoor growers must keep their cannabis garden behind a "locked enclosure that is at least 1.52 meters high."
For more on adult-use cannabis laws in the Picture Province please see here.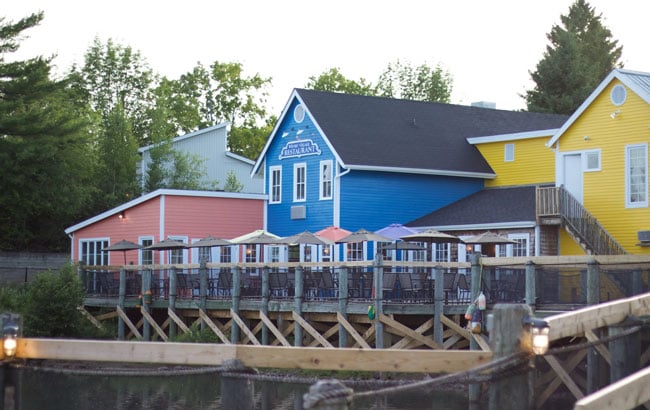 Why Online Seed Banks are a Popular Choice for Growers in New Brunswick
While New Brunswick's adult-use cannabis law clearly states: "Plants and/or seedlings need to come from Cannabis NB or a Cannabis NB approved retailers [sic]," it does not regulate where local at-home cultivators can or cannot buy their favorite seed strains from.
As such, both novice and experienced growers who reside in the Picture Province have been discovering or patronizing reputable seed banks like Growers Choice Seeds (GCS) for procuring their cannabis seeds for years now due in large part to the extensive selection of landrace and hybrid strains, including numerous award-winning strains, that GCS is able to make available to its customers.
Other reasons that all types of growers in New Brunswick like to purchase their weed seeds from trustworthy seed banks like GCS are provided below.
Feminized Seeds: GCS only sells feminized seeds and auto-flowering seeds because they have a 99% likelihood of producing all female plants, as opposed to regular marijuana seeds, which along with female plants will also produce non-bud bearing, pollinator male plants. While cannabis breeders need male plants, your everyday at-home marijuana grower in New Brunswick only wants female plants that will provide them with generous yields of nuggets that have the THC content and/or CBD level they are looking for.
Speedy and Discreet Shipping: Even though cannabis cultivation is 100% legal in the Picture Province, which has one of the lowest crime rates in the nation, growers there still place a high value on the fact that GCS provides speedy and direct shipping as well as stealth packaging.
Affordable Prices: GCS offers its high-quality seeds at highly affordable prices. They also have wholesale marijuana seeds available for competitive prices and feature monthly sales on a rotating selection of incredible seed strains.
Germination Guarantee: Another reason that New Brunswickers are so loyal to Growers Choice is that GCS is one of the few seed banks around to include a 90% germination rate guarantee that if 90% of your marijuana seeds don't germinate, they will replace them free of charge. The only requirement for being covered by this guarantee is that you precisely follow their germination guide.
Feminized Marijuana Seeds vs. Auto-flowering Seeds
Feminized Photoperiod Seeds
Feminized seeds require outside intervention in their light/dark cycle in order for them to transition from their vegetative phase to their flowering time. As such, growers need to intercede and switch them from what is usually an 18/6 cycle to a 12/12 cycle.
While this may seem like a big challenge for those who are completely new to maintaining an indoor or outdoor garden of marijuana plants, it's actually not that difficult, especially since GCS has a free and highly informative blog that covers almost everything you need to know about how to grow cannabis, when to flip your plants to flower, and so on. This means that new or inexperienced cannabis cultivators in New Brunswick should be able to successfully grow low-maintenance cannabis strains like Space Bomb and Kush Mints.
Cannabis Autoflowers

Autoflowering strains are generally fast-flowering seed varieties of feminized strains. Basically, while not all feminized seeds are autoflowers, all cannabis autoflowers are feminized.

Cannabis autoflowers have a reputation for maturing into smaller, more robust plants that contain 10%-20% ruderalis, which is a hardy landrace strain that is native to Central Asia. The presence of ruderalis is also why they are able to automatically flip from their vegetative stage to their flowering stage without any changes being made to their light/dark cycle. While there are definitely some autoflowering strains that require previous cultivation experience and some that can grow to be quite tall, they're generally considered to be easier for inexperienced growers to find success with and are usually more compact than feminized strains–making them easier for indoor growers with limited space to deal with. For example, two easy-to-grow, short ones that are popular amongst newbie growers in the Picture Province are Cataract Kush and Ripped Bubba.
New Brunswick's Growing Environment
The frost-free growing season in New Brunswick averages 125 days from May to September. Most of this picturesque province has a continental climate, which means it has freezing winters that are snowy; warm, humid summers; and generally cooler springs and autumns. While its springs and early summers tend to be dryer, its interior highlands, which average 1,200 millimeters (approx. 47 inches) of rain per year, get their heaviest rainfalls in the summer months.
While some feminized strains may pose more of a challenge for those wanting to do outdoor cultivation, they can always be grown inside, since indoor cultivation allows growers to create, monitor, and maintain the kind of temperatures and humidity levels particular strains require. Autoflowering seeds on the other hand should be much easier to grow as outdoor weed crops thanks to their usually being more resilient and faster-growing–thereby allowing growers to get at least one solid outdoor yield from these strains. Plus, when the frost hits New Brunswick and the outdoor climate becomes too cold for cultivating cannabis crops outside, you can also grow your autoflowers indoors.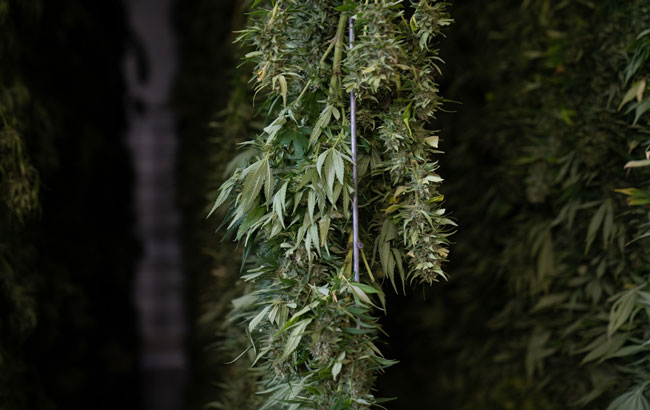 Perfect Strains for Growing in New Brunswick
In addition to the four strains already listed, here are three more that are an ideal choice for growing in the Picture Province of New Brunswick.

1. Blackberry Kush feminized: This potent strain is known for being a heavy-hitting indica-dominant hybrid that provides growers with impressive yields and is best reserved for indoor growing.
2. Platinum Bubba Kush autoflower: This indica-dominant hybrid with its powerful effects and decent yield sizes is considered to be an easy strain to grow indoors and out.
3. Bruce Banner #3 autoflower: This sativa-dominant strain with its Hulk-like abilities to smash stress, pain, and negative thoughts and feelings produces monster yields when grown outside and above-average-sized harvests indoors.
Growers Choice cannabis seeds in New Brunswick:
Dieppe
Miramichi
Edmundston
Bathurst
Campbellton
True satisfaction comes from buying Growers Choice
I am so satisfied with my order – I've actually already placed another. My two little sprouted seeds (I'm planting outside so I only germinated two) have turned into beautiful little plants with their second set of serrated leaves, and I'm so happy!
 Our Most Popular Cannabis Strains