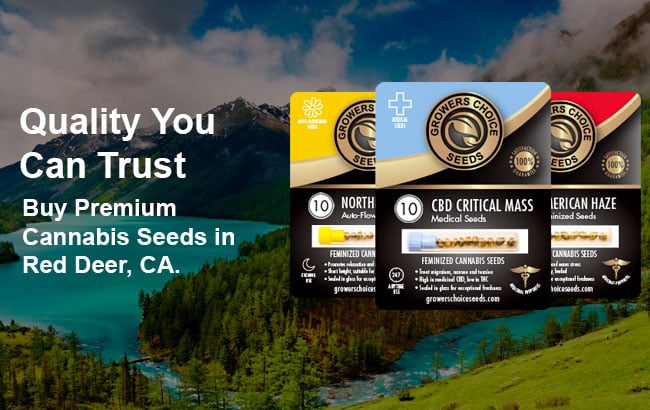 Named for the river on which it sits, Red Deer is known as an entrepreneurial city with a rich history of farming. Located near the midpoint of the Calgary-Edmonton Corridor, it is also a key part of Alberta's cannabis culture. Read on to learn about the benefits of home-growing cannabis, recommendations for obtaining high quality seeds, and more. 
What are Cannabis Seeds?
Small, rich in color, and with a subtle sheen, marijuana seeds contain all the genetic information required to grow mature plants. Typically, healthy seeds will have a rich, brown color ranging from light to dark. If a seed appears green, it's possible it was harvested too early, and therefore has a reduced chance of germinating.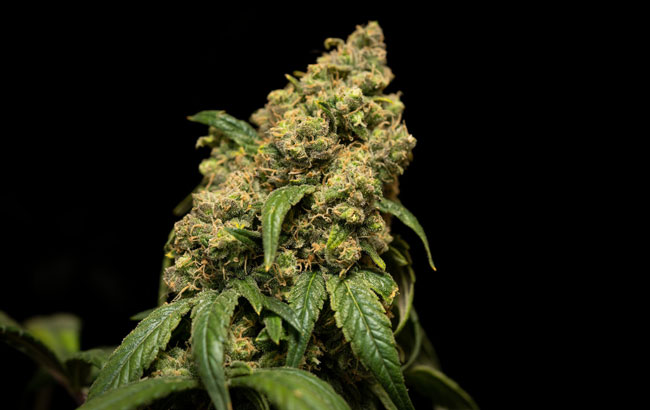 Benefits of Growing Cannabis from Seeds
Residents of Red Deer aged 18 and above may grow up to four cannabis plants per residence for personal use. More information can be found here.
As such, individuals living in Red Deer can enjoy the many benefits of planting their own small cannabis garden for personal use. This process can not only be cost-effective but very practical. Finally, the education, care, and thought that go into producing a small yet thriving garden can provide a sense of fulfillment in its own right.
Types of Cannabis Seeds Available
While there are thousands of cannabis strains in existence. Yet there are just four main cannabis seed varieties: feminized, auto-flowering, regular, and CBD. Below, we provide a brief overview of each variety's unique characteristics.
Feminized Seeds
While regular marijuana seeds have a 50/50 chance of producing male and female plants, feminized marijuana seeds are bred to produce only female plants. Normally, when plants are pollinated by males, they will produce both seeds and resin-covered flowers. However, they will also prioritize seed production, which results in buds with reduced potency. Feminized marijuana seeds are beneficial because they produce notably high THC and CBD. Accordingly, they are desired by growers seeking especially potent yields.
Because of this quality, there is an abundance of feminized seed strains available to meet a variety of unique goals and tastes.
Growing Cannabis from Feminized Seeds: Advantages and Disadvantages
While every situation will vary slightly, as a general rule, feminized plants cannot be bred and are more challenging to clone. However, any of these potential drawbacks may be outweighed by the virtual guarantee of female plants and buds with enhanced quality.
Regular Seeds
Regular seeds are preferred by growers looking to experiment in breeding new strains. Regular weed seeds tend to have a more affordable price, but also tend to produce less potent yields. Unlike auto-flowering varieties, which tend to be fast-flowering seed strains, regular seeds grow at the normal rate.
Autoflowering Seeds
Autoflowering cannabis seeds have a special genetic quality: Thanks to their ruderalis lineage, they are especially tough, resilient, and have a shorter flowering period. While they may be less likely to trigger a record-busting harvest, they have many other attributes: They're famously low-maintenance. In fact, there's an excellent chance they'll require no adjustment of light cycles at all. They also don't necessarily require pleasant weather; they're famous for thriving in less-than-ideal outdoor conditions. Finally, they are typically disease and pest-resistant seed strains. All of the aforementioned qualities make auto-flowering seeds suitable for both outdoor growers and beginners.
CBD Seeds
CBD seeds differ from traditional cannabis in that they do not produce the psychoactive effects associated with THC. The second most common cannabinoid found in cannabis, CBD is known to provide mental focus and clear-headedness without the mind-alerting effects. Strains high in CBD have a variety of applications: Many find it helps alleviate stress and boost mood, while in general, high CBD and low THC plants are fantastic strains for those seeking soothing properties.
Evaluating Different Types of Cannabis Seeds Red Deer
There are a variety of characteristics that factor into selecting the right cannabis strain. These will include your growing setup, the amount of time you can devote to the gardening process, personal tastes, and more.
Wide Range of Weed Strains Available
From mind-sharpening sativas to bliss-inducing indicas, THC-heavy to CBD-rich strains, there are numerous options to select from—each with its own unique nuance. Yet, despite the broad selection, pinpointing your favorite strain may be easier than you think. A good online seed bank will provide an easy-to-navigate experience that allows you to quickly identify the right strain based on your preferences.
Avoiding Low-Quality Seed Purchases
One of the best ways to avoid poor-quality seeds is to research an established, trustworthy seed bank. Seeking expert advice is another way to ensure you set yourself up for a smart, rewarding experience when gardening. For instance, local farms can provide valuable guidance when looking to narrow in on specific strains. When researching where to purchase, we recommend seeking out banks that have the following characteristics and features:
A variety of seeds backed by a germination guarantee: Obtaining affordable yet high-quality cannabis seeds is the vital first step in a successful growing experience. High germination rates are important; this will help ensure your seeds grow into potent mature plants. Additionally, the bank you select should provide a 90% germination guarantee on all seeds for sale.
Extensive selection: From enormously popular strains to hard-to-find varieties, and limited-edition seeds to CBD-rich strains, a good seed bank will have a robust selection of cannabis seed types. As such, it will be easy to identify your favorite strain within the current selection.
Educational information: Each type of strain seed should be accompanied by relevant information such as THC levels, flowering process, whether it is a photoperiod strain or not, plant size, aroma, taste, and more. This is the information that will allow you to distinguish your favorite cannabis seeds from thousands of seed strains.
Filtering options: Identifying your favorite strains may simply be a process of elimination. Are you seeking a strain with euphoric effects? Or maybe you'd prefer something with more relaxing properties. The best seed banks will provide simple ways to locate exact qualities amongst the variety of cannabis seeds available. It's simply a matter of finding the perfect cannabis pot plants for your specific preferences.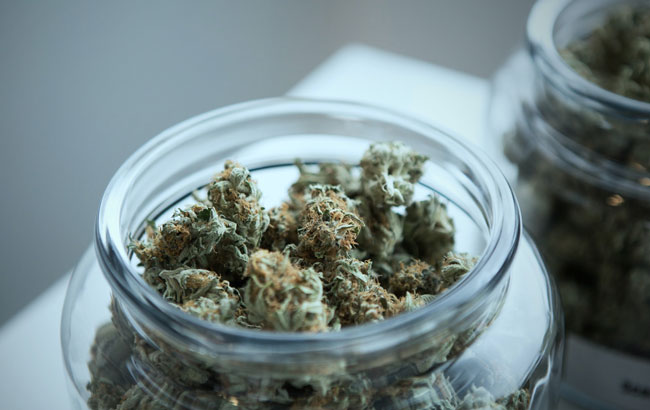 Factors Affecting Germination Rate for Beginner Growers
Even beginner growers can avoid mistakes when starting the cultivation process. Factors that will affect the germination rate typically include environmental factors such as the amount of light, nutrients, type of soil, and more you provide your seeds. To get started on the right foot, we recommend cannabis growers try the following germination method:
Factors Affecting Germination Rate for Beginner Growers
Even beginner growers can avoid mistakes when starting the cultivation process. Factors that will affect the germination rate typically include environmental factors such as the amount of light, nutrients, type of soil, and more you provide your seeds. To get started on the right foot, we recommend cannabis growers try the following germination method:
The Water Glass/Paper Towel Germination Method:
Place your weed seeds into a glass of pure water (distilled, rain, or spring). After your seeds have soaked for 14-18 hours, pour the water and seeds onto a paper towel-covered plate to drain off any excess water.
Fold the wet paper towel over your seeds, ensuring they are completely covered, and place the plate in a warm, dark space. The temperature should stay at 75 – 80 degrees Fahrenheit during this period.
During the germination process, make sure the paper towel remains saturated—but to the extent that your seeds are sitting in a pool of water. Check your seeds intermittently and watch for a taproot to begin to grow. The seeds are ready for planting when the taproot is 1/4- to 3/4-inch long. This may take up to two weeks, but typically, your seeds will be ready after three to seven days.
Popular Cannabis Varieties in Red Deer
The best of the best
I've received some of the best cannabis seeds from Growers Choice and I'm happy to say that there's no looking back. You can't go wrong with the superior quality of Growers Choice cannabis seeds as they've surpassed my expectations on numerous occasions—I'm definitely a forever customer! Thank you Growers Choice!
 Our Most Popular Cannabis Strains