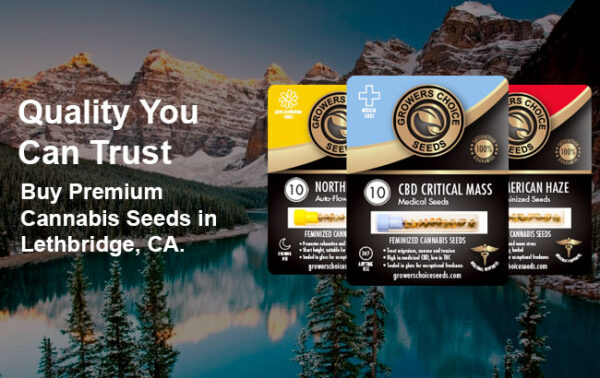 Lethbridge is a city in Alberta known for its sunshine-rich climate and proximity to the Canadian Rocky Mountains. Small-yet-thriving, it is famous for its scenic parks and recreational trails. Whether you're a long-time local or new to the area, the following article content will provide an overview of local growing laws, popular cannabis varieties, and how residents of Lethbridge can locate their favorite seed strains.
History of Cannabis in the Area
The third-largest city by population and area within Alberta—after Calgary and Edmonton—Lethbridge is a city rich with Albertan history nestled within one of the sunniest provinces. Originally known for its agriculture, Lethbridge is now best known as a vibrant commercial, research, technology, and industrial hub.
As the laws regarding cannabis in Canada have changed, so too has the popularity of cannabis. Although its popularity initially spiked in the 1960s across North America, recreational cannabis legalization of within Canada as of October 2018 has helped the local cannabis community flourish.
With growing access to healthy weed seeds and the legalization of home-growing within Alberta, many inquisitive connoisseurs are trying their hand at planting their own small garden. In short, from seasoned connoisseurs to intrigued beginners, the local cannabis culture is vivid and varied. Canada's Cannabis Act allows individuals in Alberta to grow up to four cannabis plants in their home. The seeds must be obtained from a licensed retailer. More information can be found here; we encourage any prospective cannabis gardeners to research their local laws.
Types of Cannabis Seeds Available
While there are over 700 cannabis strains in existence, there are just four main varieties gardeners typically plant: feminized, auto-flowering, regular, and CBD. Each of these varieties has a unique set of benefits and challenges. So, how do you select your perfect seed strain? Below, we highlight key features that are useful in determining which type of seed is best for your gardening journey.
Feminized Seeds
While regular marijuana seeds have a 50/50 chance of producing male and female plants, feminized marijuana seeds are bred to produce only female plants. Normally, when plants are pollinated by males, they will produce both seeds and resin-covered seed strain flowers. However, they will also prioritize seed production, which results in buds with reduced potency. Feminized marijuana seeds are beneficial because they produce notably high THC and CBD and avoid the list of issues that can arise with a 50/50 crop. Accordingly, they are desired by growers seeking especially potent yields. Because of this quality, many existing, favorite seed strains have been bred to be feminized.
Regular Seeds
Regular marijuana seeds are preferred by growers looking to experiment with breeding new strains. While they tend to be more affordable, they typically will produce less potent yields than feminized seeds. Unlike auto-flowering varieties, which tend to be fast-flowering seed strains, regular seeds grow at the normal rate.In general, regular seeds are best-suited to growers looking to experiment and create new strains.
Autoflowering Seeds
Autoflower strains have a special genetic quality. Thanks to their ruderalis lineage, they are especially tough, resilient, and tend to be fast-growing seed strains that can flourish within Canadian provinces—even those with harsher weather. Famously low-maintenance, they are best-suited to gardeners who have a less-than-optimum growing settle, or simply those who would prefer a plant that can endure harsher conditions. Auto-flowering seeds typically require no adjustment of light cycles at all. They also don't necessarily need pleasant weather to thrive; they're famous for flourishing in tougher conditions. Finally, they are typically disease and pest-resistant seed strains. All of the aforementioned qualities make auto-flowering seeds suitable for outdoor and beginner growers alike.
CBD Seeds
CBD seeds differ from traditional cannabis in that they do not produce the psychoactive effects associated with THC. The second most common cannabinoid found in cannabis, CBD is known to provide mental focus and clear-headedness without the mind-alerting effects. Strains high in CBD have a variety of applications: Many find it helps alleviate stress and boost mood, while in general, high CBD and low THC plants are fantastic strains for those seeking soothing properties.
High Quality Cannabis Seeds vs. Non-Viable Seeds
Now that we've covered the differences in seed varieties, we'll review how to determine if your seeds are healthy. Having high-quality seeds plays a pivotal role in your growing success: good seeds will produce healthier plants which, in turn, have improved seed production capacity, improved yields, more potent buds, are less prone to disease—the list goes on. While purchasing from a reputable seed bank with a germination guarantee should ensure your seeds are healthy, we always recommend developing the habit of checking your seeds for the following qualities:
A lack of green coloring: While weed seeds do vary in color, green seeds, specifically, have been harvested too early and are likely not viable. A rich, dark brown hue is typically an indicator your seeds are healthy.
Seeds that sink in water: Double-checking the health of your seeds only requires a glass of hot, distilled water. Drop your seeds in and wait approximately one hour. Check your submerged seeds: If they sink to the bottom, they are likely high quality.
Seeds that are firm to the touch: Simply pressing on a seed with your finger is another useful method to determine its health. Firm seeds that do not give way under pressure are likely healthy. Any that give way—or already have cracks—are likely not viable.
How to keep your seeds healthy: The entire gardening experience can be a rewarding process for growers—particularly if the right steps to protect your seeds are taken. If you do not plan on planting right away, know that seeds within a sealed container can remain fresh in the refrigerator. 6-month-old seeds are still viable if stored this way—however, the limit is roughly twelve months for refrrigeration. 5-years old seeds (and older) can still be planted when stored properly in the freezer.
Purchasing Cannabis Seeds in Lethbridge
Recreational consumption of cannabis is legal in Alberta, and therefore Lethbridge. There is a growing legal cannabis market and number of licensed dispensaries within the city that provide quality products Currently, adults over 18 may possess up to 30 grams (or of cannabis in a public place; this is in line with the limit set by the federal government.
Where to Buy Cannabis Seeds in Lethbridge
Local retailers
There are a number of local, licensed retailers in the Lethbridge area where marijuana products such as edibles, seed strain flowers, concentrates and more can be purchased. In-person stores can be useful to those who would like to peruse a high quality of cannabis products and make a purchase the same day. Local, licensed stores as well as reputable online banks are an excellent way to ensure you avoid unverified seed strains.
Typically, licensed dispensaries will have a friendly team that can answer questions—from more advanced concerns to local cannabis culture. They may even be able to provide a list of cannabis events, or simply advise those new to the cannabis universe. However, some may have a smaller collection or limit of weed seeds for sale in comparison to the wide range available at a good online bank.
Online Cannabis Seed Banks
Online cannabis retailers and seed banks are one of the best ways to locate an extensive selection. What's more, they're typically an excellent resource for educational information, guides, and any other cannabis factoids you may require.
When researching your list of cannabis shops online, keep in mind that there are a variety of types of seed banks in terms of reputability and quality. While you may need to browse through a number of options; a little research should allow you to find the perfect seed bank. Healthy seeds are absolutely necessary for successfully growing and should be accompanied by thorough, accurate descriptions as well as backed by a germination guarantee. When exploring your online marijuana seed store options, we recommend keeping the following qualities in mind.
Qualities of a Reputable Online Seed Bank
Healthy seeds backed by a germination guarantee: Obtaining healthy seeds is the vital first step in a successful growing experience. The best online seed banks will provide products from breeders with excellent seed production capacity—from the most legendary seed strain to lesser-known yet equally excellent products. High germination rates are important; this will help ensure your seeds grow into potent mature plants.
Extensive selection: From enormously popular strains to hard-to-find varieties, limited-edition seed strains to award-winning products, a good seed bank will have a robust strain selection from expert cannabis breeders. As such, it will be easy to identify your favorite seed strains within the current selection.
An excellent customer service team: A good online seed bank will also be able to answer any questions you may have, provide secure and convenient payment methods, and ensure your pack of seeds should be shipped efficiently and discreetly
Strain information: Each type of seed strain should be accompanied by relevant information such as THC levels, flowering process, whether it is a photoperiod strain or not, plant size, aroma, taste, and more. Ideally, you should be provided clear and accurate information that leaves no doubt about the characteristics of the product in question. From ease of growth to short or long-lasting effects—the right seed bank will provide a thorough overview. For example, are you looking for the fastest sativa? Or perhaps you'd like to avoid ultra-high levels of THC?
Growing recommendations and guides: A good seed bank will provide practical, objective information on all their seeds for sale—and ideally, growing recommendations as well. Germination and growing guides should offer easy-to-understand instructions, top-rated methods, as well as photographs of growth, and many other useful resources. This is all information that will allow you to distinguish your favorite varieties from hundreds of seed strains—and in general, have the best growing experience possible.
Filtering options: Are you seeking a strain with euphoric effects? Or maybe you'd prefer something with more relaxing properties. The best seed banks will provide simple ways to locate exact qualities amongst the variety of marijuana seeds available. It's simply a matter of finding the perfect seed strain for your specific preferences.
Looking for the right seed strain?
Every individual will have their own unique tastes and preferences when settling on their favorite seed strains. While there is a wide selection available to Lethbridgians, the following varieties have emerged as especially popular with locals. If you're looking to find the perfect strain, the following options may serve as excellent jumping-off points. Or, if you'd prefer to dive right into a more extensive seed library, Growers Choice provides precisely that—from the fastest sativas to heavy, indulgent indicas, and a variety of hybrids with euphoric effects.
Blueberry Headband Feminized Seeds
This legendary strain is a sativa-dominant hybrid containing 19% THC and sleepy, joyful effects. In terms of ease of growth, it is considered an intermediate strain, and and is distinguished by its earthy, herbal scent. Blueberry Headband marijuana seeds grow into medium-sized plants that provide buzzy, creativity-sparking effects. If you're a fan of citrus notes and looking to tap into your innter artist, this may just be the strain for you
Platinum Bubba Kush Auto-Flowering Feminized Seeds
An indica-dominant hybrid, these feminized marijuana seeds provide euphoric effects and a 20% THC content. Thanks to their ruderalis genetics, they have a resilient and fast-flowering nature. In terms of ease of growth, they are ideal for beginners! This legendary strain is ideal for those seeking an earthy, sweet, woody flavor.
A beloved, energizing strain, Amnesia Haze is known for its potency and versatility. These weed seeds grow into sativa strains that develop a pungent, citrusy taste and stress-melting effects. Best-suited to those looking to brighten their mood, the Amnesia strain is intermediate in terms of ease of growth. It also contains a 20% THC content and is known to enhance creative thinking.
Growers Choice in Lethbridge
Ordering from Growers Choice was easy every step of the way. My seeds were delivered right on time and customer service was available any time I had a question. I know I won't be shopping anywhere else!
 Our Most Popular Cannabis Strains