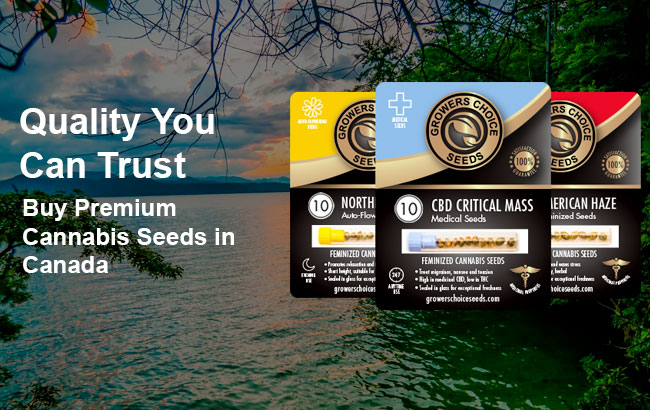 In 2023, Canadian cannabis growers can tend up to four legal cannabis plants per household in most provinces. Despite the wide variety of cannabis strains in dispensaries, finding legal homegrown MJ seeds depends on the province. Online cannabis seed banks offer a workaround, and the harsh climate is manageable with the right outdoor seed strains.
What Are Cannabis Seeds?
Cannabis seeds are like the golden tickets to cultivating your own grown cannabis plants. Whether you're eyeing autoflower seeds, feminized cannabis seeds, or high-THC seeds, you're basically shopping for the marijuana plant's future.
Benefits of Growing Cannabis from Seeds
Growing cannabis from MJ seeds opens up a realm of cannabis strain cultivation customization that's unparalleled. Thanks to Grower's Choice Seeds, you can navigate an extensive selection of high-quality cannabis seeds, diving into a genetic diversity that ranges from:
High THC Seeds:


Bruce Banner – High-THC, easy-to-grow, energizing yet relaxing effects.

Auto-Flowering Seeds:
Feminized Marijuana Seeds:

$100 OG: High-THC, indoor cultivation, delivers balanced relaxation and euphoria.

Medical Seeds:

Suzy Q CBD: Low-THC, outdoor-friendly, offers calming, non-intoxicating relief.
Regular discounts keep your cultivation game strong, discreet packages ensure a discreet delivery guarantee, and positive reviews back up the quality cannabis seeds you can expect. You're not just a Canadian Cannabis grower; you're an artisan of your homegrown cannabis plants. With Grower's Choice Seeds germination rate guarantee, you're not just tossing MJ seeds into the soil and hoping for the best. You're essentially a cannabis connoisseur in the making, crafting your unique blends or perhaps even creating your own robust hybrid-grown cannabis plants. So perfect yourself as a cannabis grower and discover the wide variety of cannabis strains that you've handpicked and nurtured. It's not just gardening; it's a full-on curated cannabis experience.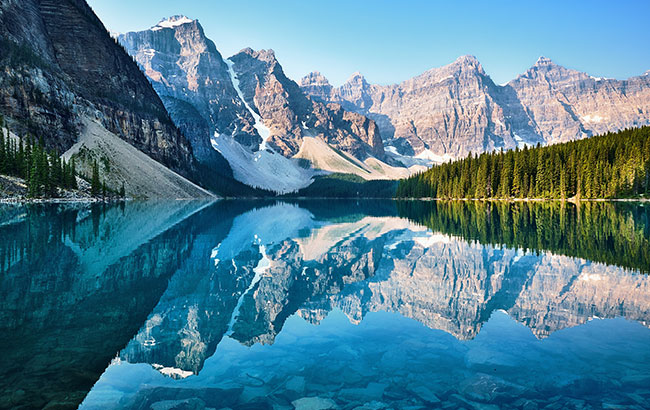 Popular Strains
If you're keen on leveling up your cannabis cultivation game, Grower's Choice Seeds has you covered. With popular strains like Bruce Banner, one of our standout cannabis seed strains making waves across North America.
Bruce Banner is not just another popular strain; it's an iconic titan in the cannabis community known for its staggeringly high THC levels and powerful effects. Born from a blend of OG Kush and Strawberry Diesel, the strain has characteristics that make it stand out in a crowd of high-quality cannabis seeds. This strain has a reputation for being one of the strongest available, capable of knocking even the most seasoned cannabis enthusiasts off their feet. It offers various phenotypes and strain varieties, increasing its popularity among those who appreciate a good selection of cannabis seeds. Whether you're into autoflower cannabis seeds for a quick turnaround or feminized seeds for guaranteed female plants, Bruce Banner has options. High-THC seeds of Bruce Banner are especially sought-after, promising a cultivated experience unlike any other. And if you're shopping from North America, you'll be pleased to find this gem in the extensive selection offered by Grower's Choice Seeds. This variety offers both a high germination rate guarantee and premium quality, making it a go-to for both novice and experienced growers. So if you're in the market for something extraordinary, Bruce Banner should be at the top of your list.
Grower's Choice
Grower's Choice Seeds has carved a niche as a reliable seed bank in the cannabis industry since 2003. In a world where over fifty countries have legalized medical marijuana, and the demand for MJ seeds is skyrocketing, this cannabis seed bank stands as a beacon of reliability. With a deep-rooted passion for cannabis seed strains, they frequently introduce new, exclusive strains to an already extensive selection of strains that boast auto-flowering seeds, high-CBD seeds, and popular strains known for their relaxing effects. Whether you're into feminized cannabis seeds, high-THC seeds, or medical cannabis seeds, they've got you covered. What sets them apart is a commitment to quality; rigorous genetic testing ensures each weed seed is fully feminized, contaminant-free, and packs a germination guarantee of at least 90%. In addition to this, they offer discreet delivery a variety of payment options, and excellent customer service. The website also serves as an educational hub, complete with a blog to keep both novice and experienced Canadian cannabis growers informed. With raving customer reviews as proof, Grower's Choice Seeds marijuana seed bank sets the gold standard in premium quality marijuana seeds, ensuring every home grower has a selection of seeds for sale available.
Delivery Guarantee
North America is a vital hub for the cannabis industry, particularly for marijuana seed banks looking to expand their footprint in a market ripe with opportunity. Among these, Grower's Choice Seeds stands out as the most reputable cannabis seed bank, offering international shipping and express shipping options to both the United States and Canada. Stealth shipping is more than just a post-purchase formality here; it's a discreet art form ensuring a high delivery success rate. With a variety of seeds, including autoflower seeds and feminized cannabis seeds, Grower's Choice Seeds provides a variety of cannabis seeds and customer service that's hard to beat.
Seeds for Sale
Their extensive strain selection doesn't just include common strains; they offer exclusive strains like Pineapple Express and Bruce Banner to satisfy both novice and experienced growers. Discreet payment options, flash sales, bonus seeds, and other sweet deals, make it easier for international customers to invest in a wide range of popular strains at affordable prices. And let's not forget the multiple payment methods, including credit card payments and Interac E-Transfers, to fully accommodate Canadian customers. When it comes to MJ seeds in North America, Grower's Choice Seeds remains Canadian Cannabis Growers' one-stop shop for premium quality marijuana seeds.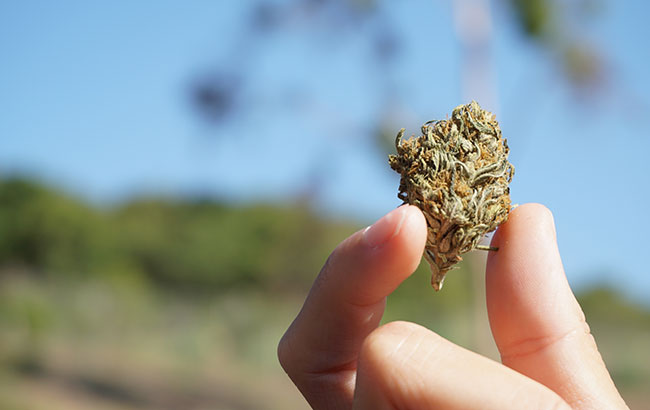 High-Quality Seeds From Our Online Seed Bank
Explore high-quality cannabis seeds from autoflower marijuana seeds to feminized seeds. Benefit from a top-notch germination guarantee and stealth shipping. Grower's Choice Seeds' level of service is unmatched among marijuana seed banks.
Regular Seeds vs. Feminized Cannabis Seeds
Navigating the MJ seeds market can feel like scrolling through a never-ending playlist of seed types. Two types of seeds you'll encounter are regular cannabis seeds and feminized seeds. Regular marijuana seeds are like "mystery mix packs" of non-feminized seeds; they can grow into both male and female plants, making them a go-to for traditional breeding projects. On the flip side, feminized cannabis seeds are a product of meticulous breeding to ensure they only give rise to female cannabis plants. The allure here? Female plants are the ones that produce those rich, resinous buds everyone's after. With feminized cannabis seeds, you essentially sidestep the hassle of identifying and removing useless male plants, thereby maximizing your potential bud yield. For those who want to kick it up a notch, there are also high-quality marijuana seeds like autoflower marijuana seeds, which are a whole different ball game, catering to both novice and experienced growers. But let's not overlook the high-THC seeds, hybrid cannabis seeds, and medical marijuana seeds, each with its unique set of relaxing effects. So whether you're fresh to the scene, using a grower kit, or you're a seasoned outdoor grower looking for premium quality marijuana seeds, there's a vast selection of strains and premium seeds tailored to your needs.
Experienced Growers and Quality Seed Banks
In the sprawling cannabis ecosystem, experienced growers and quality seed banks are the unsung heroes ensuring top-shelf greenery. These green-thumbed veterans know that superior crops start with high-quality seeds, and to get their hands on these, reputable seed banks are their go-to sanctuaries. When you're choosing a seed bank, you're not just looking for regular seeds; you're after high-quality seeds with top-notch germination guarantees, solid customer reviews, and a wide selection of strains and types of seeds like autoflower cannabis seeds, specialty seeds, and even medical cannabis seeds. The top seed banks offer frequent deals, credit card payments, and combo packages (always wrapped in discreet packaging) to suit various cultivation scenarios—from outdoor growers to those working with indoor cannabis seeds. Reliable seed banks also flaunt a delivery guarantee and offer stealth shipping methods for their extensive seed inventory. And if you're into snagging sweet deals, keeping an eye on frequent sales and current discounts can be a game-changer. So, whether you're in British Columbia or part of the broader North American cannabis community, getting your weed seeds from a well-reviewed, reliable seed bank is the first crucial step in your journey from grower to ganja guru.
Online Seed Banks & Discreet Shipping
Growers Choice Seeds is a North American gem in the cannabis industry, that takes weed seed quality to another level. With two decades in the biz, they've curated a selection that's as high-quality as it is diverse. Situated in Sacramento, California, the company is in tune with the increasing global demand for cannabis seeds, particularly as legislation lightens up. They offer a sweeping selection of cannabis seeds, whether you're after high-CBD varieties, autoflower marijuana seeds, or unique strains that tantalize your taste buds and deliver specific psychoactive effects. New popular strains pop up weekly, selling out quicker than you can say top-notch germination guarantee. Speaking of, they offer a 90% germination rate guarantee. If your cannabis seeds don't sprout, they've got you covered with replacement seeds.
Quality control isn't taken lightly here. Physical inspections, germination testing, and genetic vetting ensure that every seed is a winner. They are committed to customer education, too, with a blog that's a treasure trove of cannabis knowledge. Their customer service is top-notch, always at the ready to assist or offer a current discount on their finest weed seeds. Their unyielding commitment to quality, coupled with a broad range of cannabis seeds and popular strains, and a dedication to consumer service, makes Growers Choice Seeds a go-to for both novice and experienced growers alike.
 Our Most Popular Cannabis Strains