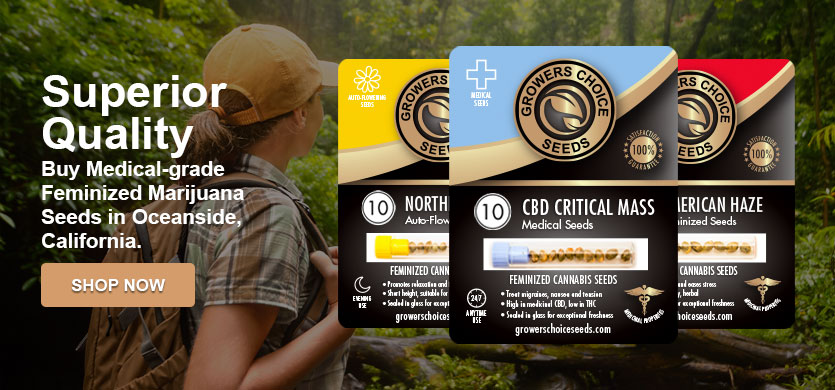 Interested in the outdoor and/or indoor cultivation of your favorite cannabis strain(s) in Oceanside? Wondering if Oceanside has any particular marijuana laws that differ from the State of California? Confused by the different categories of cannabis seeds like regular seeds vs. feminized seeds vs. autoflower seeds? Well, you've come to the right place, as all of these questions and more will be answered in the article below.
Marijuana Seeds Oceanside, California
As the northernmost region of North San Diego County, Oceanside is a popular short- and long-destination amongst those looking for mild coastal temperatures pretty much 365 days out of the year.
About 40 miles north of downtown San Diego, Oceanside is infamous for its six or so miles of beaches that locals and tourists flock to, as well as its cherished landmark of the Oceanside Pier that juts almost 2,000 feet out into the Pacific Ocean and features stunning views and welcome ocean breezes.
Featuring an arid subtropical climate with warm, dry summers and cool winters, this Southern California city rarely seeds its temperatures drop below 38 degrees Fahrenheit or rise above 83 degrees Fahrenheit. In fact, the average yearly temperatures in this bustling coastal city range from the mid-60s to the low-70s Fahrenheit. It tends to see its last frost of the year at the end of January and first frost anywhere from the end of November to even the end of December at times. Maybe the only "downside" about Oceanside's climate is that doesn't get much rain, with the majority of its annual average of 11.9 inches of rain occurring just over the course of about 38 days in total–usually during its winter months.
Oceanside, California's Medical and Recreational Cannabis Laws
It's pretty common knowledge that California has long been one of the most progressive states in the U.S. not just on its stance on medical and recreational weed but on a wide swath of social issues as they relate to equality and the protection of reproductive rights, civil rights, LGBTQ rights, etc.
California was the first state in the country to legalize the use of medical cannabis in 1996, and in 2016 became the fifth in the nation to legalize recreational marijuana. So, it's not exactly hyperbolic to say that Californians, including those who call Oceanside home, who use and/or grow their own cannabis are pretty "weed savvy."
However, for those of you who are planning to visit Oceanside for the first time or are moving there from another part of the state or the country, there are some important things you should know about state and county laws as they relate to the purchase, possession, use, and cultivation of marijuana.
For starters, every city or county in California has its own specific regulations around the growing of recreational and/or medical-grade marijuana plants. This means that what is allowed in San Francisco is not necessarily allowed in Oceanside and vice versa.
So, as you read the "rules" below, remember that any restrictions that Oceanside, as a part of San Diego County, might place on cultivation are not applicable to other counties in the state.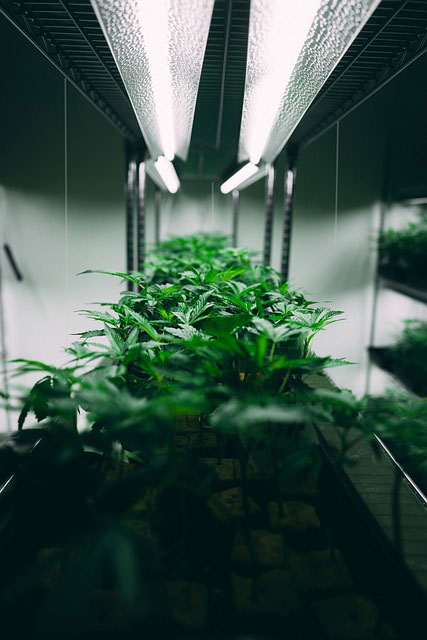 San Diego County's Cultivation Location Laws for Medical and Recreational Growers
Regardless of whether you are a recreational use or medical marijuana card holder in Oceanside who wants to grow your own plans at home, know that San Diego County clearly states that cannabis plants must be cultivated indoors OR in a fully enclosed and secured outdoor structure like a greenhouse or shed.
In short, outdoor growing is illegal if you're cultivating your seedling plants outside in open containers or in the ground, but it is legal if they are growing "outside" in a greenhouse that can be locked.
California's Medical Marijuana Laws:
You must be 18+. If you are under 18, you must either be lawfully emancipated, or have a parent or legal guardian, who is 18+, serve as your primary caregiver.
Registered medical marijuana patients and caregivers can possess up to 8 ounces of cannabis flower unless otherwise prescribed by their healthcare provider.
Medical cannabis patients and caregivers can cultivate a total of 6 mature plants or up to 12 immature marijuana plants at home. They may be allowed to grow even more f their physician provides a recommendation stating as such.
At-home medical growers in Oceanside are subject to San Diego County's cultivation location laws.
Recreational Marijuana Laws:
You must be 21+ to purchase, use, and cultivate cannabis.
You can purchase and possess up to 1 ounce (28.5 grams) of cannabis flower and 8 grams of cannabis products, like concentrates, etc.
Generally speaking, in Oceanside and all of San Diego County, you smoke/vape cannabis flower or marijuana products in public where the smoking of cigarettes is permitted.
You cannot smoke or vape within 1,000 feet of a school, daycare, or youth center when kids are present.
In Oceanside, those 21+ may cultivate up to 6 plants at home, so long as they are in compliance with San Diego County's cultivation location laws.
Why Oceanside Growers Buy Their Favorite Strains From Seed Banks
Oceansiders who cultivate cannabis at home have been buying their favorite cannabis seeds from online seed banks like Growers Choice Seeds (GCS) for years now. Some of the major reasons for why are provided below:
Extensive Selection: Generally speaking, your typical licensed cannabis dispensary in Oceanside isn't going to have thousands of premium feminized seed strains available as that is not their main business objective. However, Growers Choice pretty much exists solely to make as many high-quality cannabis seeds as possible available to its customers.
Feminized Seeds: GCS does not sell regular cannabis seeds because they have a 50% chance of producing male plants, and your typical at-home grower in Oceanside wants all female plants, as the female cannabis plant is what produces those THC-rich buds. As such, GCS only sells feminized seeds that are either photoperiods or autoflowers, as they have a 99% likelihood of producing all-female plants.
Speedy and Discreet Shipping: Even though Oceanside has a relatively low crime rate, locals always appreciate getting their orders from GCS quickly and without attracting the unwanted attention of would-be package thieves.
Affordability: GCS makes all of its high-quality marijuana seeds available at affordable prices. They also provide discounts on wholesale bulk orders, and feature special monthly sales on a diverse and rotating selection of high-quality marijuana seeds.
Germination Guarantee: The fact that GCS stands by the quality of its feminized seeds by offering one of the highest germination rate guarantees around is something that Oceansiders really like. If 90% of your seeds don't germinate, GCS will replace the duds free of charge. Their only requirement is that you follow their easy and pennies-cheap germination method.
Feminized Seeds vs. Autoflowering Seeds

Feminized Photoperiods
Feminized seeds are photoperiods. What this means is that their plants cannot switch to their flowering phase without having their light/dark cycles switched from what is generally an 18/6 cycle to a 12/12 cycle.
While this might seem like a daunting undertaking for first-time growers, it's not that hard because Growers Choice has a free blog that has almost everything one needs to know about cannabis, how to grow it, etc. Therefore, newbie Oceanside growers shouldn't have too much of a problem growing otherwise low-maintenance strains like White Russian and Lemon G, especially since cultivation is only allowed indoors or in an outdoor greenhouse/shed–all of which are places that provide growers with far greater control over creating and maintaining the strain-specific climate needs that their plants need.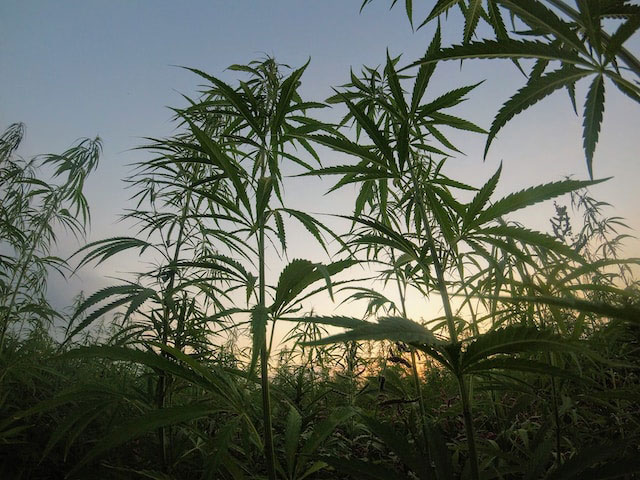 Autoflowering Feminized Seeds

Autoflowering strains are feminized seeds that have had the hardy Central Asian landrace strain of ruderalis added to them. In short, ruderalis provides autoflowers with the following traits:
Being able to automatically flip to the flowering stage without requiring changes to their light/dark cycle.
Faster flowering times (usually 7-9 weeks, but can be longer)
More robust and resilient to sudden changes in temperature or rookie mistakes
Smaller, more compact-sized plants compared to their feminized photoperiod counterparts.
Considering the fact that growers in Oceanside can't legally do open-air outdoor cannabis cultivation, they're not limited by any strain's exact temperature or humidity needs, as they can easily create these conditions indoors or in a greenhouse or shed. Two strains that are popular with greenhouse growers in Oceanside are Pinkman Goo and Kryptonite.
Popular Strains in Oceanside
To go along with the four strains provided above, here are three more that should thrive indoors and/or in a greenhouse in Oceanside and are popular amongst local users and growers there.
1. Tora Bora feminized: This powerhouse of a pure indica is a sturdy, low-maintenance strain that does well indoors and in a greenhouse with soil or hydroponics.
2. Jesus OG auto: This transcendent sativa-heavy hybrid will require plenty of space and a warm Mediterranean-like climate. Indoors and in a greenhouse it's advised to apply the Low-Stress Training method and to top and trim it.
3. Grapefruit Kush feminized: This indica-dominant strain is an easy-to-grow hybrid that can be successfully grown indoors or in a greenhouse.
Oceanside residents love Growers Choice Cannabis Seeds
I placed an order for some Northern Lights seeds and I was worried they wouldn't make it across the border, so I opted for the discrete shipping option and they made it here, no problem! All five seeds germinated for me, and the quality of the cannabis is pretty high. I'm definitely ordering from here again.
 Our Most Popular Cannabis Strains