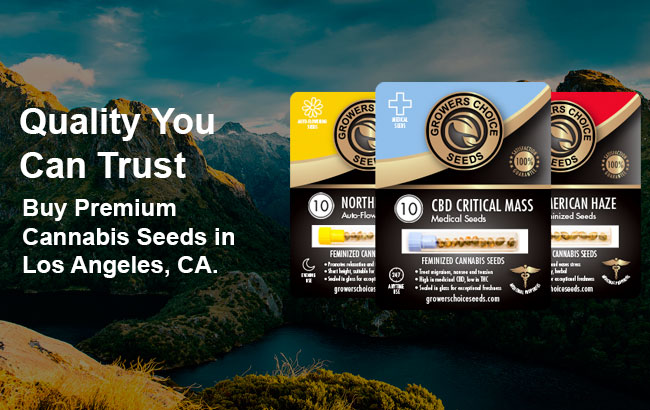 Known as the "City of Angels," LA has long been at the forefront of medical and recreational cannabis legislation as one of California's numerous progressive large cities. Read on to learn more about how to grow marijuana in Los Angeles.
Top-Quality Cannabis Seeds in Los Angeles

In 1996, Los Angeles residents, along with the rest of their fellow Californians, became the first in the United States to be able to legally access medical cannabis as registered and qualified medical marijuana patients.
Then, in November 2016, the Golden State became one of the first "green states" in the country by legalizing the adult use of recreational cannabis when 57% of state voters made their voices heard by voting "Yes" to Prop 64–the Adult Use of Marijuana Act. As a result, this also paved the way for the first recreational cannabis sales to be made in January 2018.
As is common for many cities and counties in states that have legalized adult cannabis usage, every county in California has its own unique set of laws regulating the use, possession, and cultivation of medical and recreational cannabis.
As such, before getting into the nitty gritty of cultivating cannabis in the City of Angels, let's first make sure you're aware of LA's medical and recreational marijuana laws.
Medical and Recreational Cannabis Laws in Los Angeles
Laws for Medical Marijuana Patients in LA:
You must be 18 years of age or older to apply for an LA county-issued medical cannabis card, or if you are a minor, you must either be lawfully emancipated or your parent or legal guardian, who must be 18+, will have to be your primary caregiver.
Medical patients can possess up to 8 ounces of cannabis flower.
Registered medical users in LA can cultivate a total of 6 mature cannabis plants or up to 12 immature marijuana plants. However, LA also allows for licensed medical healthcare providers to prescribe larger possession and cultivation amounts that they have determined will be consistent with a patient's current medical needs.
Recreational Cannabis Laws in LA:
Adult cannabis users must be 21 years of age or older.
Adult users are allowed to purchase and possess up to 1 ounce of cannabis flower and 8 grams of cannabis concentrate from a state-licensed dispensary.
Adult users can cultivate a total of 6 cannabis plants in or outside of their private residence provided the marijuana plants are in a locked, secured place that is not visible to the public.
For those who wish to know more about the specifics of medical and recreational marijuana laws as they pertain to the county of Los Angeles, see here.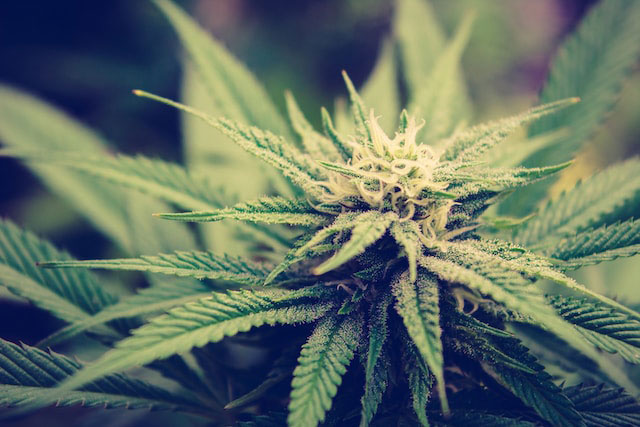 The Pros of Buying Marijuana Seeds from an Online Seed Bank
There are numerous reasons why outdoor and indoor growers prefer to buy their weed seeds from reputable seed banks like Growers Choice Seeds (GCS) and Pacific Seed Bank (PSB), some of which are listed below.
Extensive Selection: Because GCS and PSB have established relationships with reputable breeders around the continent, they are able to offer a stellar and huge selection of seeds to their customers. This also means that they're usually able to make popular legendary strains more easily available as well as ones that are otherwise hard to come by.
Price Point: Since online seed banks like GCS and PSB have access to so many kinds of seeds in large quantities, they can offer incredible cannabis seed sales, as well as bulk cannabis seeds at a lower price point. As such, you can often find numerous high-quality seeds at affordable cannabis seed prices.
Discreet Packaging: Even though cannabis usage and cultivation is 100% legal in LA and generally quite socially acceptable, many growers still prefer the fast delivery times and discreet shipping methods that PSB and GCS are able to provide. This is also useful to medical users who may have more limited mobility and prefer to have most things delivered straight to their doorstep.
Germination Guarantee: GCS and PSB have a commitment to seed quality, which is why they only have seeds for sale that are feminized marijuana seeds and feminized autoflower seeds and not regular seeds, which can also produce male plants that don't produce buds. This means two things: Number one, unlike regular cannabis seeds, which can produce both male and female cannabis plants, feminized seeds have a 99% likelihood of producing bud-bearing female plants. Secondly, GCS and PSB are so confident in the high-quality cannabis seeds that they make available to customers that they stand by their promised 90% germination rate by offering a germination guarantee that if 90% of your ungerminated seeds don't "pop," aka "sprout," they will provide you with replacement seeds free of charge, provided you strictly adhere to the germination instructions that they each provide. (For PSB see here, for GCS here.)
Feminized Marijuana Seeds vs. Auto-Flowering Seeds
If you've ever looked at a cannabis seed vendor's website, such as for GCS or PSB, you will quickly see that their offerings are divided into feminized seeds, autoflower seeds, and high-CBD strains, which are either feminized or autos and are often used by medical marijuana patients and those with a low tolerance to THC.
About Feminized Marijuana Seeds:
As already discussed above, feminized cannabis seeds have high germination rates and an almost 100% chance of producing all female plants.
While feminized seeds can be a bit more challenging for beginner growers to find success with, they make for great outdoor growing in a place like LA, which has an almost year-round growing season of approximately 270 days.
The reason that they can be a bit more difficult for first-time and inexperienced growers is that feminized seeds aren't able to transition to their flowering stage from their vegetative stage on their own. As such, you have to know a little bit about light and dark cycles for feminized strains, as most require an 18/6 schedule during their vegetative period, and then a 12/12 cycle in order for them to transition into their flowering time. That said, it doesn't mean that there aren't plenty of low-maintenance feminized beginner strains that a novice grower could successfully cultivate.
As to why feminized seeds make for fabulous outdoor growing, sativa-dominant hybrid strains and pure sativas generally grow to be very tall, which can make things difficult for indoor growers with limited space in their homes. While indica-dominant hybrids and pure indicas tend to be much smaller, they can still be very bushy growers, which again can make them better suited for outdoor growing as the taller or bushier a cannabis plant is, the greater your possibility of getting more grams per plant come harvest time.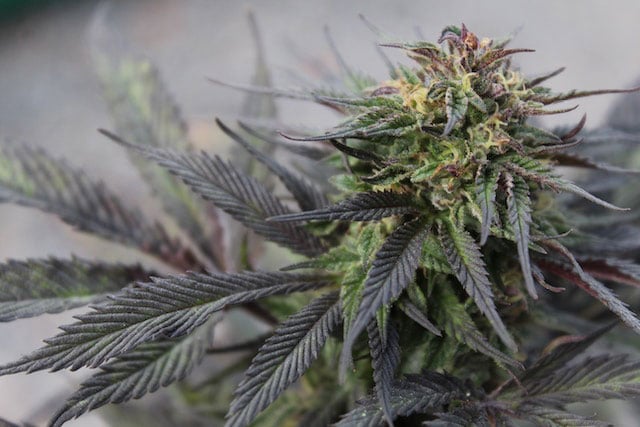 Feminized Autoflower Seeds:
Auto-flowering strains not only tend to enter their flowering period much faster than feminized seeds, but they're generally much easier for less experienced growers to successfully cultivate both indoors and out. In addition, their plants are usually much more robust and smaller in size than feminized strains, which in LA is a huge benefit as many Los Angeles residents are apartment dwellers with limited indoor and outdoor space and only have say a small balcony or indoor nook in which to grow their cannabis plants.
However, the biggest reason that growers of all skill levels in LA love auto-flowering seeds is because they are able to automatically flip to flower without your having to figure out how to create long stretches of total light deprivation in this West Coast metropolis in Southern California that's known for its abundant sunshine and incredibly mild winters where the average amount of sunlight per day is 12 hours and 10 minutes and that can reach as high as 13+ hours at times.
The reason that autoflower strains possess all of these amazing traits is due to the fact that they contain around 10% ruderalis, which is a landrace strain native to Central Asia, which traditionally has long, harsh winters, and short summers. As a result of their natural environment, ruderalis evolved to be able to thrive in such conditions, and when mixed with various popular strains and high-content CBD strains, these hybrids are "imbued" with all the best of ruderal traits.
LA's Cultivation Environment
As already mentioned, LA has an outdoor growing season that is almost year-round, with the first frost date of the year potentially occurring around mid-December and the last frost day date being at the start of February.
As such, you can pretty much count on growing the majority of your cannabis crops outdoors in LA's generally warm and dry Mediterranean-like climate for most of the year, and most likely, even when its mild winters hit, you could probably do outdoor greenhouse growing. For the strains that don't do well in hot summer settings like the kind that LA is also known for, then you can easily grow them indoors year-round too.
Heck yes, I'll keep buying from this place. The shipping was top speed (I guess cause their warehouse is close, but I was still impressed) and two of my three seeds germinated within a couple of days. Still holding out hope for the third, but I also understand the whole "natural mystery" side of ordering seeds. I will definitely re-review when I have plants to discuss, but so far very happy.
This company is the bomb – seriously. My seeds got here so fast (love that they ship out of Cali) and two have already sprouted after just two days. Can't wait to try more strains
Rated 5 out of 5 Oh man, I am so stoked about my seeds! I live in Los Angeles, so cannabis seeds are easy to find. Growers Choice seeds are the highest quality I've seen yet. I'm constantly impressed with the variety of strains available. Customer service folks are always friendly and have answers to my questions. Great place to buy seeds in L.A.!
Most Popular Cannabis Seeds