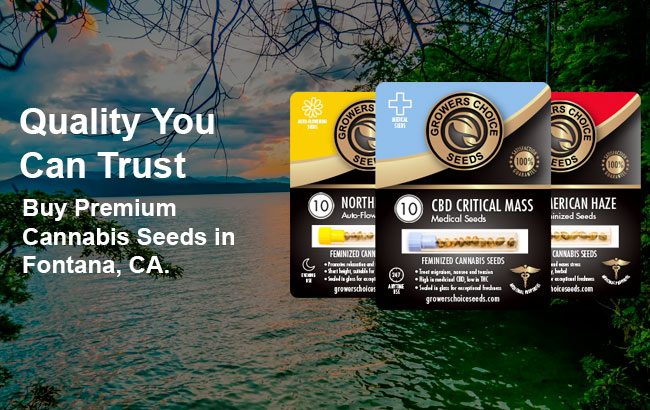 Curious about cultivating cannabis in Fontana, California? Not sure what the differences between feminized, autoflowering, and regular seeds are? Unsure of which online seed bank to choose from? Find out the answers to these questions and more below!
Buy Marijuana Seeds in Fontana
Known as the "City of Action," Fontana, which is the second-largest city in San Bernardino County, boasts the stunning San Bernardino Mountains as its backdrop and is about 50 miles east outside of LA.
With a frost-free growing season of almost 9.5 months on average and a semi, Fontana has a subtropical Mediterranean climate with long hot, dry summers and short, cool winters. While its outdoor conditions may sound pretty ideal for cultivating cannabis outside, the City Council of Fontana does not allow for the outdoor growing of marijuana. Although having to grow your marijuana plants indoors may seem like a negative, in reality, it's something of a blessing in disguise. Indoors, you can create and maintain the proper temperature and humidity levels your plants require; whereas outdoors you'd have to constantly keep a close eye on your marijuana crops as summer temps are consistently in the 90s and low 100s, and there are rarely ever any rainfall until the late autumn/early winter.
With medical marijuana being accessible to qualified patients since it was legalized in 1996, and adult-use cannabis since its 2016 legalization, residents of Fontana have been able to purchase, possess, use, and cultivate marijuana for quite some time now.
In the State of California, every city or county has its own regulations around the growing of medical and recreational cannabis plants. These laws, which are usually passed via the local city council, differ from county to county in California, so it's important to remember that, for example, LA's cannabis cultivation laws aren't going to be the exact same as Fontana's, and so on.
As such, before getting into the various categories of cannabis seeds that exist, some of the best places to procure them, etc., let's first go over the basics of California and Fontana's marijuana laws as they relate to medical and recreational users.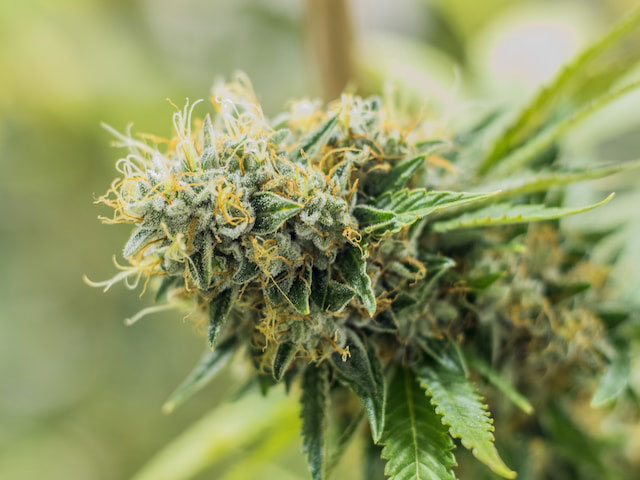 Fontana's Medical and Recreational Cannabis Laws
While medical and recreational marijuana are both allowed in Fontana, the city clearly stipulates that "The cultivation area must be located within the residence or within an accessory structure." While this wording can be a little confusing, basically, outdoor growing is not legal in Fontana, even though it is legal in places like LA County.
California's Medical Marijuana Laws:
You must be 18+. Those under 18 must either be lawfully emancipated or have a parent or legal guardian, who is 18+, serve as their primary caregiver.
Registered and qualified patients and caregivers can possess up to 8 ounces of cannabis flower unless otherwise prescribed by their healthcare provider.
Medical marijuana cardholders and caregivers can cultivate a total of 6 mature female plants or up to 12 immature marijuana plants per parcel indoors in a locked and secure place.
Recreational Cannabis Laws:
You must be 21+ to be a legal adult-user
You can purchase and possess up to 1 ounce (28.5 grams) of cannabis flower and 8 grams of cannabis concentrate.
To legally cultivate cannabis plants for non-medicinal purposes in Fontana, adult users must apply for a Residential Indoor Marijuana Cultivation (RIMC) Permit from the City of Fontana.
A RIMC Permit is only good for one person at one residence and only allows for indoor cultivation.
While more than one RIMC Permit-holder is allowed per residence, only one secured indoor cultivation area is permitted and the maximum amount of marijuana plants allowed is six per residence, regardless of how many RIMC Permit-holders reside under the same roof.
For further details about the City Council of Fontana's RIMC Permit rules and regulations see here.
Why Fontana At-Home Cultivators Buy Their Marijuana Seeds From Seed Banks
Fontana growers have been buying their favorite cannabis seed strain from online seed banks like Growers Choice Seeds (GCS) for years now. There are several reasons for "why," with one of the biggest being tied to GCS' extensive selection. While it's important to support locally-owned dispensaries in Fontana, the fact is their purpose of business tends to be more centered on making quality products, like cannabis flower, edibles, concentrates, etc., available to their customers. However, a seed bank, like GCS, pretty much exists for the sole purpose of serving as a sort of giant marketplace where reputable breeders from all over are able to gather together under one shared roof to showcase all of their incredible landrace and hybrid marijuana seed strains to potential customers.
Four other reasons that cannabis growers who call Fontana home opt to buy their cannabis seeds from a seed bank like GCS are provided below:
Feminized Seeds: GCS only sells feminized photoperiods and feminized autoflowers because they have a 99% chance of producing all-female plants, which is what your typical at-home grower in Fontana is looking for. Regular cannabis seeds, on the other hand, have a 50/50 chance of producing male and female plants. While breeders and commercial growers need male plants for pollination purposes when creating new strains, most at-home medical and recreational growers do not want or need male plants.
Speedy and Discreet Shipping: While Fontana is not the most dangerous city in California, its also not the safest. In fact, its crime rate is listed as being considerably higher than the national average. As such, locals in Fontana appreciate that GCS quickly delivers their orders in stealth packaging, which is less likely to attract unwanted attention from would-be package thieves.
Affordability: GCS makes all of its cannabis seeds available at highly competitive prices. They also have wholesale marijuana seeds for sale and feature monthly sales on a diverse selection of top-notch marijuana seeds that include new and classic strains as well as award-winning, top-rated strains.
Germination Guarantee: Last but not least, Fontana growers love the fact that GCS stands by its seed quality by offering one of the highest germination rate guarantees around. GCS states that if 90% of your weed seeds don't germinate, they will replace the duds for free. Their only "condition" is that you have to follow their simple and pennies-cheap germination method.
Feminized Cannabis Seeds vs. Autoflowering Seeds

Feminized Photoperiod Seeds
Feminized seeds are photoperiod strains. What this means is that they are unable to automatically transition from their vegetative growth stage to their flowering stage without having their light/dark cycles switched from what is generally an 18/6 cycle to a 12/12 cycle. Since Growers Choice provides a free blog that has information on almost everything you need to know about growing cannabis indoors, light cycles, etc. even inexperienced growers in Fontana should be able to easily figure out how to grow otherwise low-maintenance strains like Mango and Rainbow on their own.
Autoflowering Feminized Seeds

Autoflowering seeds are feminized seed strains that contain ruderalis, which is a robust landrace strain that hails from Central Asia. The addition of ruderalis makes it possible for autoflowers to automatically flip to their flowering phase without any changes being made to their light cycles.
In addition, autoflowers come with the advantage of producing smaller plants than their feminized photoperiod counterparts, which is especially useful for Fontana growers who are restricted to indoor growing and may not have a lot of space for doing so.

Autoflowers are also usually faster-flowering, which means you can potentially double if not even triple your harvests in a year, and their robustness and resiliency can make them more forgiving of rookie mistakes, or, in the case of indoor growers in Fontana, if you didn't quite set the temperature or humidity levels in your indoor grow set-up correctly.

Two popular autoflowers that should thrive indoors in Fontana are Blueberry and Pineapple.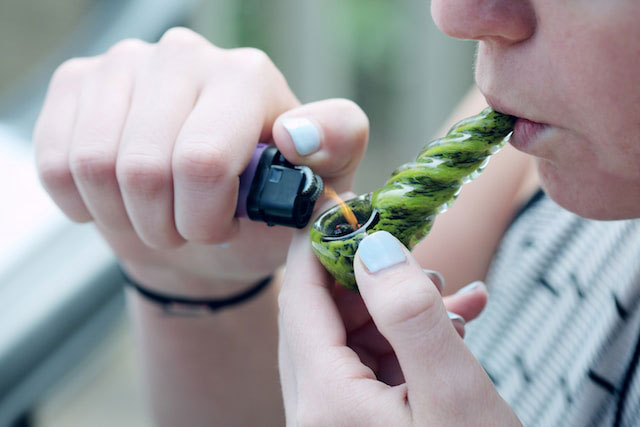 Top Strains to Grow in Fontana
Another great thing about only being able to grow cannabis indoors in Fontana is that growers there aren't restricted to feminized or autoflowering strains that will thrive in extremely hot and super dry conditions. Instead, Fontana growers get the pick of the litter and can grow any strain they wish to inside, as indoor growing comes with the huge advantage of cultivators having full control over lighting, temperature, and humidity levels, as well as things like odor control by employing things like a good ventilation system and/or the use of carbon filters, etc.
Provided below are three more highly sought-after strains in Fontana to accompany the other four already listed in the sections above.
1. White Buffalo auto: This fast-acting wake-and-bake strain definitely requires some previous experience, but is also not the hardest one to grow. Grown indoors, it's recommended that you top and train this one early on.
2. Mendo Breath auto: This deeply relaxing indica-dominant hybrid is a moderately difficult strain to grow, and will respond best to the use of hydroponics as opposed to soil when grown inside.
3. Bay 11 feminized: This award-winning 50/50 hybrid is a beginner-friendly strain that should start to flower indoors in 9-10 weeks, after which it usually renders a yield of about 800 grams per square meter.
What Fontana customers are saying about Growers Choice cannabis seeds
I ordered my Tangerine Dream seeds and they were shipped to be in a few days, no problem. I like that they came sealed in an airtight container instead of loose in a bag. They were all there and perfectly fresh.
 Our Most Popular Cannabis Strains