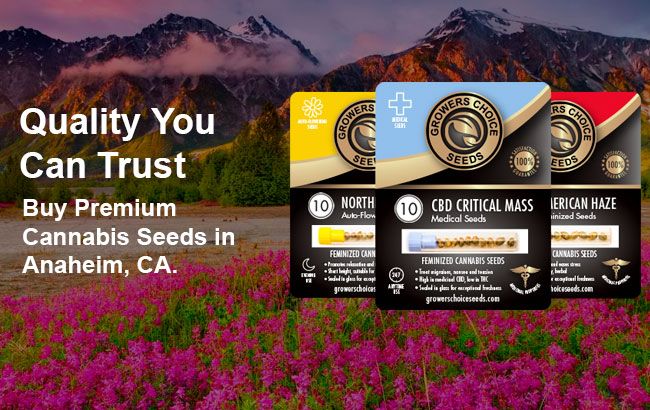 Curious about cultivating cannabis in Anaheim, California? Not sure what the differences between feminized, autoflowering, and regular seeds are? Wondering why Growers Choice Seeds is so popular with the cannabis community of growers in Anaheim? Find out the answers to these questions and more below!
Marijuana Seeds in Anaheim
While Disneyland or Angel Stadium might be the first things that come to mind when thinking of Anaheim, this bustling city has several other bragging points to boast of, including being home to a thriving cannabis community of medical marijuana patients, adult-use, or recreational, cannabis users, and marijuana cultivators.
Located just 26 miles outside of LA, Anaheim has a frost-free outdoor growing season of approximately 270 days; fertile, well-drained, moderately deep soil; and a climate that is generally mild and sunny throughout the year with hot and dry summers, making it an idyllic location for those who wish to maintain an outdoor cannabis garden pretty much year-round.
Like all Californians, Anaheimers have had access to medical cannabis and medical marijuana products since 1996, and adult users have been able to purchase marijuana flower and cannabis products from recreational cannabis dispensaries since 2016, when state voters said "Yes" to the Adult Use of Marijuana Act, aka "Prop 64," which legalized adult-use, or recreational, cannabis for those 21 years of age and older.
If you are planning to visit or move to Anaheim, know that every city or county in California has its own specific regulations related to the cultivation of medical and recreational cannabis. When it comes to Anaheim, residents there may only legally cultivate their cannabis crops indoors, although it's pretty much guaranteed that there are many who choose to gamble on their chances of not getting caught and do stealth outdoor grows.

Another unusual thing about Anaheim is that even though marijuana usage is legal there, you won't be able to find a licensed dispensary in the city, as the Anaheim Municipal Code strictly forbids medical and recreational cannabis dispensaries from operating there. That said, the city does not restrict users from purchasing their recreational and medical marijuana products from cannabis dispensaries in other cities or from online dispensaries.
Again, while Anaheim has more restrictive legislation in place than other counties in the Golden State, that doesn't mean that its next-door neighbor of LA, which allows cannabis dispensaries to operate there and for users to grow their own cannabis indoors and out, does.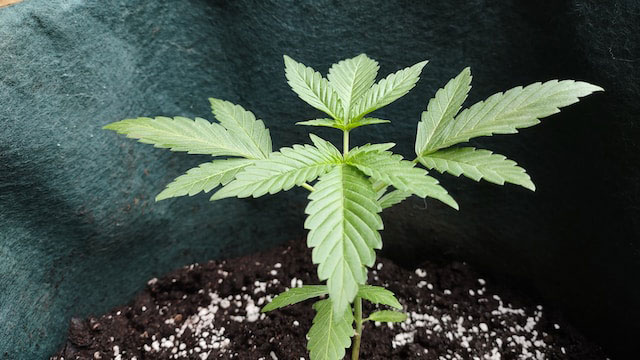 Anaheim's Laws for Medical Marijuana Patients
You must be 18+. Those under 18 must either be legally emancipated or have a parent or legal guardian, who is 18+, serve as their primary caregiver.
Registered medical marijuana patients and caregivers can possess up to 8 ounces of cannabis flower unless otherwise prescribed by their healthcare provider.
In Anaheim, medical users may only consume their medicinal marijuana in a private space, and not in public.
Medical marijuana cardholders and caregivers in Anaheim can cultivate a total of 6 mature female plants or up to 12 immature marijuana plants indoors only. They may be allowed to grow even more cannabis plants at home if their physician provides a recommendation.
Anaheim's Recreational Cannabis Laws:
You must be 21+ to purchase, use, and cultivate cannabis.
You can purchase and possess up to 1 ounce (28.5 grams) of cannabis flower and 8 grams of cannabis concentrate.
While California State law allows you to smoke or vape cannabis flower or marijuana products in public where the smoking of cigarettes is permitted, Anaheim strictly forbids the smoking and vaping of marijuana in public spaces. You may only consume cannabis in a private space.
Those 21+ may cultivate up to 6 female cannabis plants per residence indoors only in a locked enclosure where the plants are not visible to the public.
Why Anaheim's Cultivators Buy Their Marijuana Seeds From Online Cannabis Seed Banks
Seeing as dispensaries and commercial cultivation are not permitted in Anaheim, growers there have been buying fresh high-quality marijuana seeds from online cannabis seed banks like Growers Choice Seeds (GCS) for years now. Along with accessibility, Anaheimers choose GCS for many if not all of the other reasons provided below:
Extensive Selection: GCS is able to much a wide variety of cannabis strains available thanks to their well-established relationship with reputable breeders from all over. Basically, Growers Choice serves as a sort of online shopping mall where breeders are able to make all of their incredible premium strains available to customers in places like Anaheim.
Feminized Strains: GCS does not sell regular seeds because the majority of at-home growers have little to no use for the male plants that regular seeds have a 50% chance of producing. Instead, GCS only sells feminized photoperiods and feminized auto-flowering cannabis seeds as they have a 99% chance of producing all-female, bud-producing cannabis plants, which is what Anaheim indoor cultivators are looking for.
Speedy and Discreet Shipping: With a population of over 340,000, it goes without saying that package thefts can be an issue in Anaheim. So, the fact that GCS not only quickly gets orders sent out but ships its marijuana seeds in stealth packaging is something that locals greatly appreciate.
Affordable Prices: GCS makes all of its high-quality cannabis seed strains available at market-competitive prices. They also provide discounts on wholesale seeds and feature special cannabis sales on a diverse selection of strains.
Germination Guarantee: GCS promises that if 90% of your marijuana seeds don't germinate, they will replace the duds for free. Their only requirement is that you follow their cheap and simple germination method.
Feminized Marijuana Seeds vs. Autoflower Marijuana Seeds

Feminized Seeds
Feminized cannabis seeds are photoperiods, which means that they can't transition from their vegetative stage to their flowering phase without having their light/dark cycles switched from what is generally an 18/6 cycle to a 12/12 cycle. Since Growers Choice provides a free blog that has information on almost everything you need to know about cannabis and how to grow it, etc. even novice growers in Anaheim should be able to cultivate otherwise low-maintenance strains like Chocolate Chunk and Cat Piss with relative ease.

In addition, since outdoor growing is illegal in Anaheim, locals there have the luxury of being able to grow their feminized strains indoors year-round where they aren't restricted by outdoor temperature and humidity levels.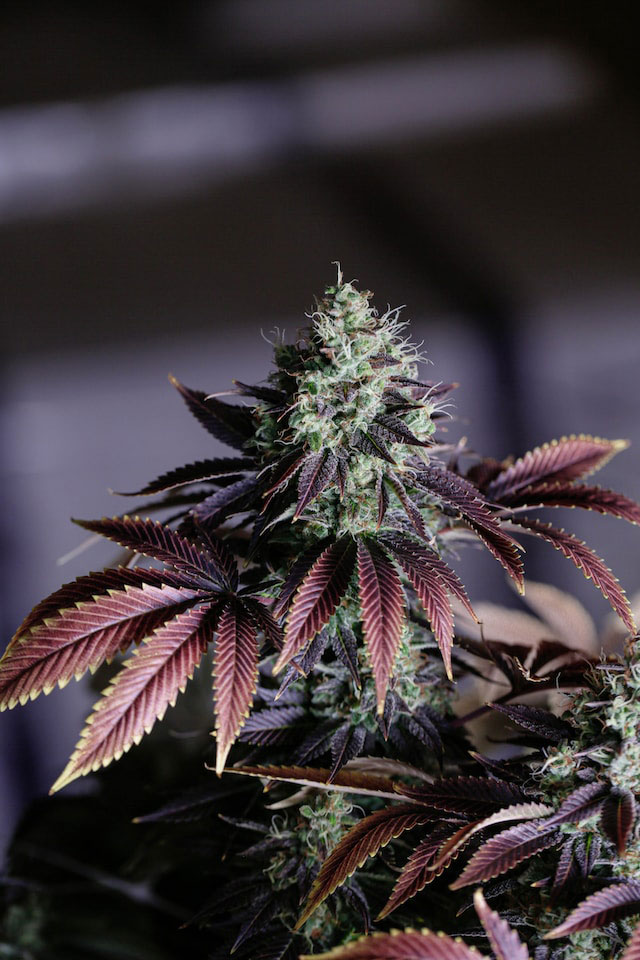 Autoflowering Feminized Seeds

Autoflowering seeds are feminized strains that have had ruderalis added to them. This addition empowers them to be able to automatically move into their flowering phase without requiring any changes to their light cycles.
Some other things that growers love about autoflowers are listed below:
They tend to produce smaller plants, which is great for Anaheimers with small indoor setups.

They're usually faster flowering than their feminized photoperiod counterparts.
They're more robust and resilient, which can be especially beneficial to newbie growers in Anaheim.
Again, since at-home growers in Anaheim have to stick to indoor growing if they want to keep things legal, they can grow any autoflower they like since they're able to create and control the climate conditions each strain requires. Two popular autoflowers in Anaheim these days are Glass Slipper and Dragon's Breath.
Popular Strains in Anaheim

While there are those in Anaheim who opt for doing some illegal outdoor grows on their balconies, outdoor greenhouses, or in the secluded corner of their backyard that are out of the sight of nosy neighbors and law enforcement, most growers there seem perfectly content to keep their growing regimen to inside their place of residence as indoor growing means they aren't restricted in their strain choices due to weather considerations. By embracing such a positive attitude, the world of cannabis cultivation is truly an Anaheim cannabis grower's oyster.
1. Alaska Thunderfuck auto: This sativa-dominant strain renowned for its potency and cerebral stimulation is usually grown by those in colder northern climates, but since indoors growers in Anaheim are able to create the cooler temps this strain thrives in, it's gained quite the following there.
2. Green Queen auto: This sativa-leaning hybrid that provides users with the best of the sativa and indica worlds will do well in a sunny and dry Meditteranean-like setting.
3. Pot of Gold feminized: This multiple award-winning, near-pure indica makes for the perfect escape from the worries and woes of life's daily grind. It will thrive in a warm and dry climate, and it's actually best to grow it indoors where growers can maintain the proper humidity levels as it is susceptible to mold.
Great Seeds, Helpful Guides
I stumbled onto Growers Choice when I was just browsing and ended up spending hours reading their how-to articles. At the end of it, I bought seeds – and I wasn't even sure I wanted to grow before that! I'll definitely be checking back during the growing process, to refresh my memory and learn more.
 Our Most Popular Cannabis Strains