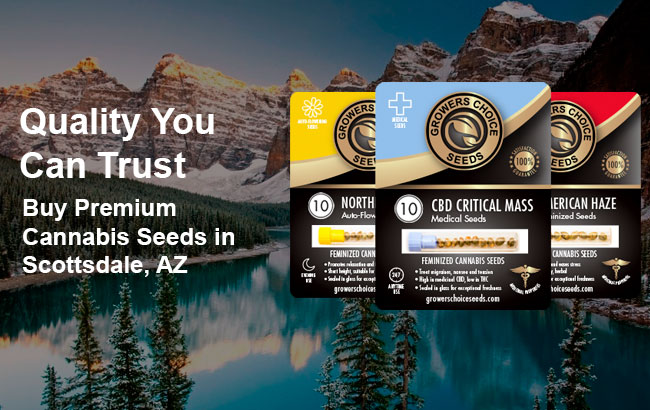 Scottsdale, Arizona, is a buzzing hub for all things cannabis! From a super chill legal environment that came alive in 2020 to a smorgasbord of strains that'll make any ganja lover's heart stop for a second, it's all happening here. Read on to find out more.
Introduction to Scottsdale Cannabis Seeds
Welcome to the vibrant world of Scottsdale's cannabis scene! Get ready to dive into the buzzworthy strains that grace this city, the groundbreaking developments in cultivation, education, and the science behind this remarkable plant.
Whether you're a newbie grower excited about autoflowering seeds or an aficionado hunting for that premium OG Kush, Scottsdale's got you covered. And let's not overlook the pioneering role of Scottsdale Community College in equipping the next generation of cannabis entrepreneurs. With research avenues expanding and medicinal cannabis making waves in healthcare, the future has never looked greener!
Scottsdale's scorching weather isn't the only hot topic in this city!
Marijuana Laws in Arizona
When Arizona legalized marijuana plants for recreational use in 2020, the decision not only marked a pivotal moment for cannabis culture but also introduced a new regulatory framework. Anyone aged 21 or older now has the legal right to possess up to 1 ounce of marijuana, as long as it has been obtained from a state-licensed dispensary. This is critical to note because possession from non-licensed sources remains illegal and could carry legal penalties.
Possessing between one and 2.5 ounces constitutes a petty offense, so recreational buyers should be wary about how much they are carrying. The law is even less forgiving for minors caught with less than an ounce; they face a fine of $100 along with four hours of mandatory drug counseling. Although, this is still a relatively gentle slap on the hand compared to other states' marijuana penalties.
Arizona also maintains a medical marijuana program, and medical users with qualifying conditions can seek out medicinal cannabis. Detailed information on these conditions can be obtained from the Arizona Department of Health Services (ADHS) website, offering clarity and guidelines for those in need.
Driving under the influence of cannabis is illegal and can result in significant legal repercussions. Additionally, public consumption and transportation of cannabis across state lines is prohibited. Pack accordingly!
The regulation of delta-8 THC in Arizona has its nuances. While it's legal if derived from hemp and contains less than 0.3% delta-8 THC, the industry remains underregulated. As such, consumers are strongly advised to review batch-specific lab reports from independent laboratories for product quality verification.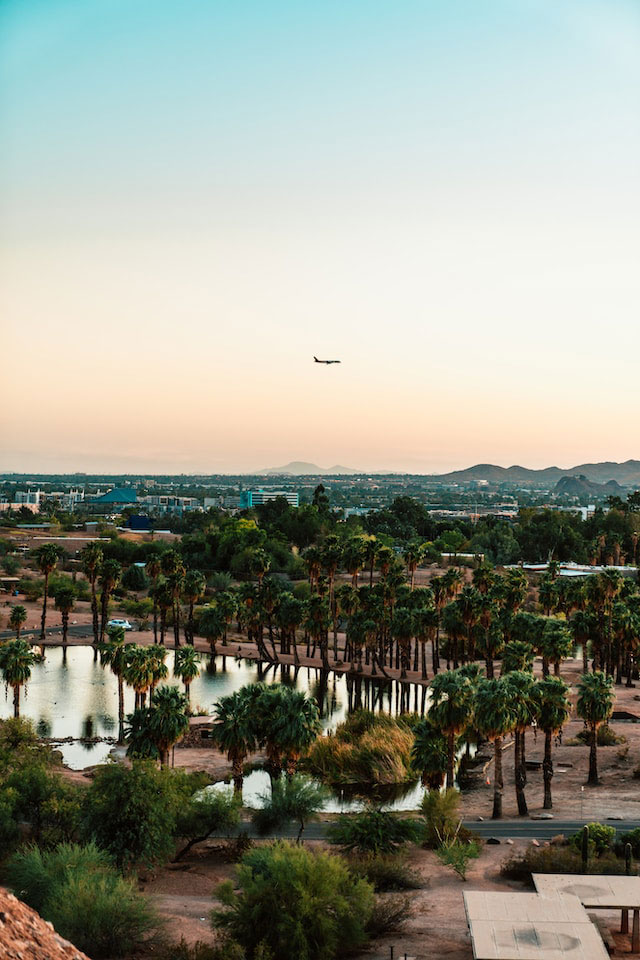 Cannabis Seed Strains Available in Scottsdale
Scottsdale's cannabis market offers an array of strains, with the following several strains gaining legendary status due to their well-rounded profiles:
Blue Dream is lauded for its high THC content of about 20%. This strain typically flowers in 9 to 10 weeks and is rich in myrcene and pinene terpenes, contributing to its particular flavor and aroma profile as well as its euphoric effects.
OG Kush, another popular choice, features a THC content that ranges from 18% to 24%. This strain is primarily composed of limonene and linalool terpenes. With an average flowering time of 8 weeks, it is relatively quicker to harvest compared to other strains.
Durban Poison offers a distinct experience as a pure sativa strain. With a flowering time of 12-14 weeks, it's a longer-term commitment for growers. The THC content can go up to 24%, providing a potent and uplifting effect.
Types of Cannabis Seeds
Marijuana seeds are the backbone of the cannabis ecosystem, and choosing the right weed seeds for your desert garden is imperative. Factors like speed of growth, ease of cultivation, and breeding are all important to consider!
Autoflower Marijuana Seeds
Autoflower seeds, which are sold by reputable seed banks like Growers Choice Seeds, have captured attention primarily because of how easy they are to cultivate. They are the novice grower's dream seed! Unlike feminized cannabis seeds that are photoperiods, autoflower plants transition into their flowering stage without requiring any alteration in light cycles, simplifying the cultivation process considerably.
Bruce Banner Auto is a favorite among autoflower strains, as it offers an outrageously high THC content of approximately 24% and is quite potent. Its quick flowering time, huge outdoor yield of about 800 grams per plant, and myrcene and pinene-rich terpene profile make it ideal for those seeking potency and speed. It is also widely chosen for its ability to make users feel euphoric, happy, and relaxed. Users can expect delicious flavors of sweet fruit, complimented by notes of diesel.
Blueberry Auto is another option, characterized by its indica-dominance, high CBD levels, and medicinal properties. This strain has been used to manage pain and ease symptoms of insomnia, so it is an excellent choice to use in the evening. Users can expect flavors of sweet blueberries that is reminiscent of a freshly baked pie!
Feminized Seeds
Feminized cannabis seeds are engineered to produce only female plants, thereby ensuring that the plants will produce juicy, resin-covered buds. Feminized weed seeds are the general go-to choice for experienced growers, as well as beginner marijuana growers, and are sold by trustworthy seed banks like Growers Choice and Pacific Seed Bank. In addition, Scottsdale offers several unique feminized strains, including Wautomelon OG, which is renowned for its high THC levels and rapid flowering time. Another worthy mention is Sour Pinot, known for its balanced THC-to-CBD ratio.
Regular Marijuana Seeds
Regular cannabis seeds offer a gamble in gender, yielding both male and female plants with a 50-75% feminization rate. Regular marijuana seeds are usually chosen by breeders looking to create new strains. Keep in mind that these seeds can be more difficult to cultivate than feminized and autoflower pot seeds. Bubble Gum is one such regular seed available in Scottsdale. Known for its longer flowering time and calming effects, its unique terpene profile, rich in myrcene and limonene, makes it distinct and delicious!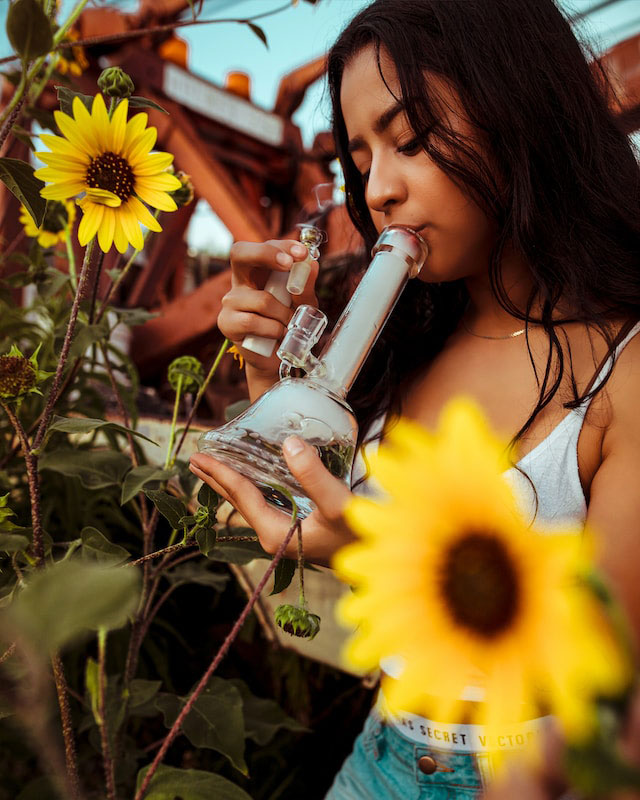 Marijuana Products Available in Scottsdale
The availability of exceptional cannabis products in Scottsdale is extensive, offering flowers, edibles, concentrates, and topicals to recreational and medicinal users. Flowers serve as the foundation of the cannabis industry, while edibles offer a different consumption experience, generally providing a more potent and longer-lasting effect. Concentrates, usually high in THC, are typically used for either dabbing or vaporization. Topicals are more localized treatments, often used for skin conditions or localized pain relief.
Social Equity and Scottsdale Community College
Scottsdale Community College has been progressive in embracing the cannabis wave by offering a Cannabis Education Program. Beyond mere product offerings, the program acts as a catalyst for social equity. It caters to workforce needs in the growing cannabis industry and creates a breeding ground for potential entrepreneurs. We're thrilled that this program exists and hope other states will follow suit in Arizona's progressive endeavor!
Mother Plant–Growing from a Single Female Plant for Beginner Growers
Utilizing a single female plant, or "mother plant," for cultivation offers several advantages. Not only does it ensure genetic consistency across harvests, but it also facilitates the cloning process, making it easier to expand a grow operation sustainably. Key elements for successfully growing a mother plant include regulated lighting schedules, appropriate nutrient intake, and routine maintenance.
Potential Medical Benefits of Cannabis
Medical cannabis plants are predominantly recognized for their role in chronic pain management, as well as mental health stabilization, but there are a range of medical conditions that have benefited from the influence of cannabis. CBD oil derived from hemp has also shown significant promise in various studies. These studies indicate its potential in preventing relapses and mitigating withdrawal symptoms in substance abuse cases. Moreover, hemp-derived products offer various benefits including anti-inflammatory properties.
DEA-Registered Researchers Allowing Access to Medical Marijuana
The research regarding cannabis has been significantly impacted by the DEA's decision in May 2021 to end its monopoly on cannabis cultivation for research. This has allowed for the licensing of four additional bulk marijuana manufacturers. These licensed entities can now legally obtain cannabis seeds from state-regulated markets, thereby expanding the scope and potential of cannabis research. It's good to see that certain states are moving forward in their progressive thought and actions, and we can only hope that Arizona's example will be replicated in areas where marijuana is still illegal!
The general consensus amongst Growers Choice customers is that our seeds are top-quality!
Top-notch cannabis seeds! They resulted in luscious plants that I am still enjoying.
 Our Most Popular Cannabis Strains