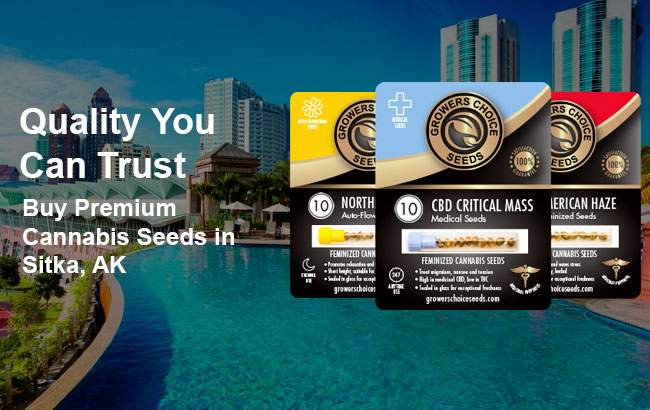 Want to start cultivating your own cannabis plants in Sitka? Don't know what the differences between regular, feminized, and autoflower cannabis seeds are, or what the best online seed bank to buy them from is? Want to know which strains can be grown outdoors in Sitka? Well, keep on reading, as all of these questions and more are addressed in the article below!
Marijuana Seeds Sitka, Alaska

Considered the most beautiful city in southeast Alaska, Sitka is located on Baranof Island in the heart of the Tongass National Forest, which is the world's largest temperate rainforest. Having originally and rightfully been inhabited by its rightful stewards of the Tlingit people over 10,000 years ago, this seaside city, which was later colonized by the Russians at the end of the 18th century and later sold by the Russian colonizers to U.S. colonizers in the mid-19th century, is both the first and oldest city in the State of Alaska.
With snow-capped mountains to the east and the Pacific Ocean to the west, Sitka, which was nicknamed "Paris of the Pacific" during the 19th century on account of the massive wealth that all the gold, shipping, logging, fishing, and fur trades brought to the area at that time, is currently home to just over 9,000 people. While its population is small, Sitka's size of more than 4,800 square miles, of which over 60% is land and approximately 40% is water, makes it the largest incorporated city in the entire U.S.
With an oceanic climate that features cool summers and cold winters, this stunning city, which is only accessible by air or by sea, has a frost-free outdoor growing season that tends to run from the second week of May until the second week of October, with June to September being its warm season where temps rarely exceed 60 degrees in its hottest month of August. Averaging some form of precipitation approximately 236 days per year and over 16 hours of daylight during the summer months, Sitka can be something of a challenge for both gardeners and outdoor cannabis cultivators.

As such, even though medical and adult-use, or recreational, cannabis possession, use, and cultivation are all legal in Alaska, and therefore Sitka, most at-home growers tend to choose to grow their marijuana plants either indoors, in a greenhouse, or, at the very least, will use a cold frame, row cover, or hoop house for any outdoor crops.
However, before going any further with things, let's first pause and make sure you're up to date on Alaska's recreational and medical cannabis laws.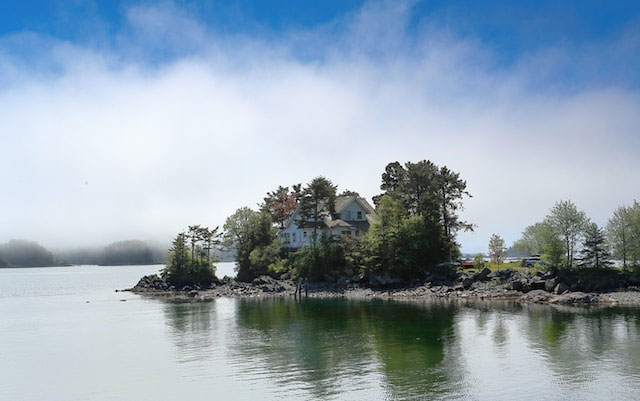 Medical and Recreational Cannabis Laws in Sikta, Alaska

Did you know that Alaska was one of the first states to legalize medical marijuana by doing so in 1998 and the third in the country to make adult-use, or recreational, cannabis legal in 2014?
While patients have been able to apply for a medical marijuana identification card for well over two decades, Alaska's initial medical marijuana laws never actually allowed for the establishment of medical cannabis dispensaries. So, when recreational weed laws officially went into effect in February 2015, a separate system for those with a medical marijuana identification card was never created, which means that medical cannabis patients in Sitka don't really experience any of the extra "perks" from their local dispensaries that most in the Lower 48 do.
Basically, the only big difference in Alaska's medical and recreational cannabis laws is the age requirement. Patients who wish to apply for a medical marijuana identification card must be 18 + or, if they are under 18, they must have a designated caregiver who is 21 years of age or older. Adult-use, or recreational, cannabis users need to be 21+.

Provided below are some of the other most important aspects of Alaska's cannabis laws you should be aware of.
Medical and Recreational Marijuana Laws in Sitka:
You can purchase and possess the following amounts of cannabis from a marijuana dispensary in Sitka:

1 ounce of usable marijuana.
7 grams of concentrated cannabis products, or 5.6 grams of THC content for special products like edibles, etc.


Medical and recreational users who are 21+ can grow up to 6 cannabis plants–three of which can be mature–at home.

Up to 12 marijuana plants, 6 of which can be mature cannabis plants, are allowed per household, and not per 21+ year-old resident.

You can only grow cannabis on your private property, and indoors or out, it must be out of public view and inaccessible to minors.

At-home indoor growers have to institute the appropriate measures to reduce any pungent odors emitting from their marijuana crops in their indoor growing space.

You cannot smoke, vape, or consume any form of marijuana or cannabis product in public or on federal lands.
Why Sitka Residents Buy Their Premium Cannabis Seeds from Online Seed Banks
Those in Sitka who do cannabis homegrows have been buying their favorite strains of cannabis from places like Growers Choice Seeds (GCS) for years now. Not only is the at-home cultivation of cannabis a much more economical choice in a place like Sitka, where the cost of cannabis is much higher in their state than in other places in the U.S., but perhaps one of the biggest reasons that they rely on GCS is because it has an extensive catalog of thousands of high-quality weed seeds for sale. GCS is able to do this because they have established relationships with thoroughly vetted top-notch breeders who take advantage of GCS' ability to reach out to a global audience who are seeking an extensive selection of premium feminized marijuana seeds.
Other reasons why Sitka cultivators opt for the high-quality strains of cannabis available via GCS are listed below:
Speedy and Discreet Shipping: Considering that Sitka is only accessible by air or sea, the fact that GCS provides speedy shipping and stealth packaging is something locals really appreciate.
Feminized Marijuana Seeds: GCS does not sell regular seeds because they have a 50/50 chance of producing male and female plants, and your average residential grower has little to no use for male plants, which breeders use as pollinators when creating new strains. This is also why GCS only sells feminized marijuana seeds that are either photoperiods or autoflowers as they have a 99% chance of producing bud-bearing female plants, which is exactly what at-home growers in Sitka want and need.
Competitive Prices: All of the weed seeds sold by GCS are priced at affordable rates. In addition, they have wholesale seeds for sale, and regular rotating sales on a diverse selection of cannabis strains that include new, rare, lesser-known, classic, and highly popular strains.
Germination Guarantee: Lastly, GCS is so confident in the quality of the feminized marijuana seeds that they sell that they guarantee that if 90% of your seeds don't germinate, they will replace the duds for free, with their only requirement being that you follow their pennies-cheap germination method.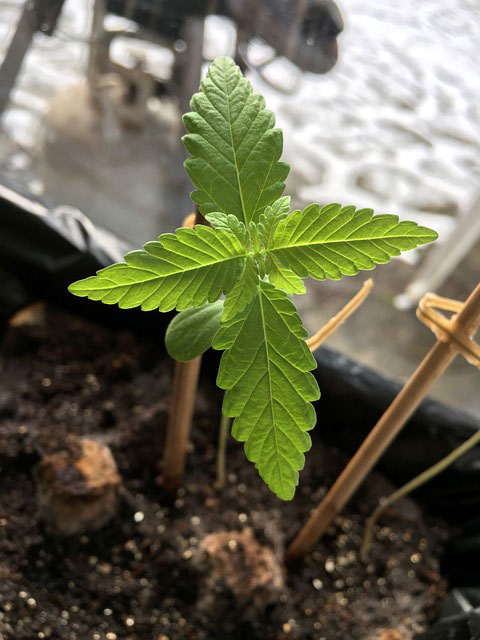 Feminized Marijuana Seeds vs. Autoflowering Cannabis Seeds

Feminized Seeds
Feminized photoperiod seeds are reliant on having their light/dark cycle manually adjusted from what is generally an 18/6 cycle to a 12/12 cycle in order for them to be able to transition from their vegetative stage to their flowering period.
Because Sitka has extended hours of daylight during the summer, sees high amounts of precipitation, and rarely gets above 60 degrees Fahrenheit in its warmest months, most cannabis growers there prefer to do indoor cultivation year-round where they can use a light timer. However, there are those who use a greenhouse, cold frame, row cover, or hoop house where they can provide their feminized strains with the hours of darkness they require, and where they can attempt to protect the damp ground enough so that the soil is able to dry out.

One of the benefits of doing indoor growing in Sitka is that at-home cultivators there aren't limited in their strain options, since they can easily create and control the growing environment to meet the temperature, humidity, and light cycle needs of their feminized strains.
As such, strains like Apple Fritter, Champagne Kush, and Diablo OG Kush that thrive in much warmer and/or dryer climates are popular amongst indoor growers in Sitka.
Autoflowering Seeds
Autoflowering seeds are feminized strains that have had ruderalis, a robust landrace strain from Central Asia, added to them. This addition of ruderalis makes it possible for autoflower plants to automatically flip to their flower stage without having their light/dark cycle changed. In addition, they have a reputation for usually producing faster-growing plants that are hardier and more compact than their feminized photoperiod counterparts.
While the hardiness of autoflowers and their non-reliance on having their light/dark cycles changed makes them easier to grow outside in Sitka, the majority of growers in the region still prefer to cultivate them indoors in large part because of how wet the soil is. While there are a few strains like Northern Lights and CBD-rich Dance World that can thrive in Sitka's cooler summers, most, like Jesus OG and Corleone Kush, do tend to require daytime temperatures that are at least in the 70s and above.
Quality is our priority
I learned the hard way when it comes to buying cannabis seeds a deal isn't always worth it. I'm not shopping anywhere else for seeds now that I've ordered with Growers Choice. So far, I've had two deliveries and each one showed up on time, the seeds were in excellent condition, no problems germinating, and the plants were great, solid, healthy. I'm really happy with the service, no more surprises, definitely worth every penny.
 Our Most Popular Cannabis Strains