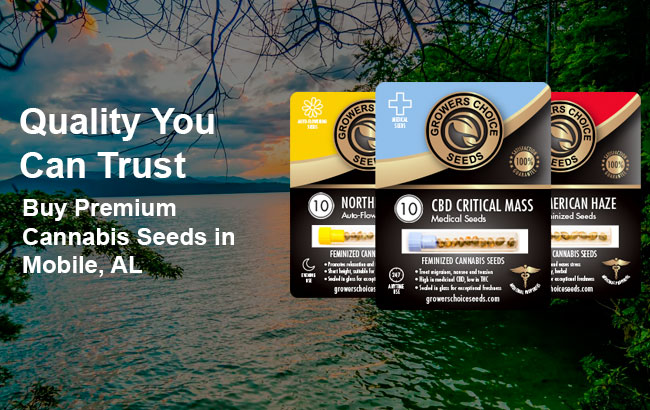 Although recreational marijuana is illegal in Mobile, Alabama, medical marijuana has been legal for the past few years. While the cannabis industry is limited in the southern city, customers can purchase a variety of seeds from online cannabis seed banks.
In Mobile, Alabama, you can enjoy plenty of Southern charm and hospitality, but you might want to hold up before you light up any of the most popular cannabis strains. It's been a pretty rocky history with cannabis in the city, but one thing is for certain, there are plenty of marijuana enthusiasts in the area and throughout the state. Through plenty of legal battles, residents fought to make medical marijuana legal in 2021. It wasn't an easy road since previous attempts had failed in 2012 and 2015, but persistence paid off.
No matter what the laws are surrounding using marijuana, you should know that you are allowed to legally purchase high-quality cannabis seeds. Even though that's great news, you can't legally grow them. Yes, it's a bummer, but even though you can't plant your cannabis seeds, you can still learn all about weed and all its wonderful characteristics!
Current Cannabis Laws
In 1931, Alabama banned marijuana for its citizens, following a wave of similar legislation passed by states across the United States. As attitudes toward cannabis began to change, so did lawmakers. In 2019, two separate bills sought to remove jail time for first-time offenders caught with small amounts of weed. However, they didn't gain much support, and weed possession was still a serious issue in the state.
As it stands now, possession of marijuana for personal use is classified as a Class A misdemeanor. Consequently, violators can face up to a year in jail and a fine of up to $6,000. A subsequent conviction results in a minimum of one year and one day in jail and a maximum of up to five years. If you're caught with marijuana for reasons other than personal use, you can expect a sentence of anywhere from 366 days to 10 years and a maximum fine of $15,000.
Selling marijuana is even more serious and could land you in a world of legal trouble. For example, it is a Class B felony and can result in a sentence of two to 20 years and a maximum fine of up to $30,000. Additionally, selling, distributing, or possessing medical marijuana without a license can also result in legal consequences.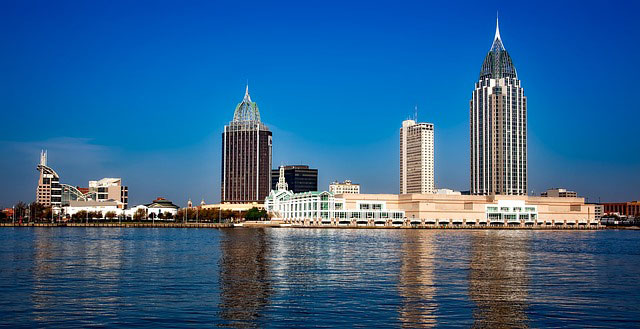 Types of Cannabis Seeds
With such a wide selection of marijuana strains, it should be no surprise that there is an extensive selection of high-quality cannabis seeds for sale. Over the years, the marijuana seed bank industry has grown to ensure there's basically some type of seed to meet every need. Whether you're a first-time grower or an experienced grower, prefer small or high yields, or want something that's super potent or milder, we're going to take you on a quick tutorial through some of the best seeds for purchase.
Regular Cannabis Seeds
Regular seeds are anything but regular thanks to their outstanding characteristics. One of their biggest draws is their ability for growers to breed them. What does that mean for cannabis growers? Basically, regular cannabis seeds can be used to create exciting, new strains by crossing the genders. Growers can pick their favorite male and female strains and cross them to create offspring with solid genetics. As a result, you have control over potency, terpene profiles, and even colors.
Additionally, regular seeds create healthy clones that cannabis growers can use to make a copy of a beloved plant with the same genetic makeup. These clones grow fast and the root cuttings will produce a high yield of plants. You also don't have to worry about germination rates since you get to skip that whole phase. Convenient, right? If all of that isn't enticing enough, regular seeds produce hardier, sturdier plants that can withstand fluctuations in weather and more, making them perfect for outdoor growing.
Feminized Seeds
For those who don't want to deal with male plants and have a preference for female plants, feminized cannabis seeds are the way to go. These female seeds are a top choice among cannabis enthusiasts who don't want to have to worry about what's going to pop up. Female cannabis plants are so sought-after since they're the ones that produce the premium marijuana that you can smoke. Additionally, with no male cannabis plants in sight, that means there's no chance of cross-pollination.
Feminized marijuana seeds are also easier to cultivate compared to say regular seeds. This makes them the perfect seeds for beginners since they don't require as much attention and work. With these marijuana plants, you can expect buds full of THC for larger doses of potency. Beginner growers will also love how feminized seeds grow quickly, making them more efficient. All of these factors combined together with their 99% chance of producing female plants, it's no wonder why feminized seeds are a favorite among commercial marijuana growers!
Auto-flowering Cannabis Seeds
Autoflowering seeds are popular feminized, fast-flowering seeds among growers of all skill levels. These types of seeds automatically flower and go from the vegetative to the flowering stage independent of the lighting schedule. That's super convenient for marijuana growers who don't want to have to think about how many hours of light versus darkness their budding cannabis plants need. Therefore, these cannabis seeds are a great option for beginners. Autoflower seeds make for great outdoor strains since lighting isn't such a priority.
Compared to other cannabis seeds, autoflowering marijuana seeds grow much faster, making them ready for harvest quicker than other types. With these plants growing shorter, they don't take up much space and can be easier to manage. Plus, these high-quality seeds are known to have higher levels of CBD, making them a perfectly relaxing strain!
High-Quality Seeds
Now, if you're into seed quality and don't want all the disadvantages that come with unreliable cheap seeds, there's an option for you. You'll want to go with high-quality seeds. These are the cannabis seeds that come only from reputable breeders to ensure you get only the finest characteristics. You can expect a germination guarantee and higher THC levels.
High-quality marijuana seeds are also known for their consistent growth characteristics to ensure you get only the best. With these cannabis seeds, you can also expect larger yields to get more of the premium marijuana that you deserve! If you're not sure where to purchase high-quality weed seeds, stick to a reputable seed bank, like Growers Choice Seeds, so you never go wrong.
Popular Strains
Since you now know all there is to know about the types of seeds available, you need to learn more about the popular strains they grow into in Mobile and across the United States. With a massive strain selection available, you can divide them into top choices like sativas, indicas, and hybrids. Each of these popular cannabis strains is categorized by the type of effects they produce. It all depends on what you're in the mood for when choosing among a wide variety of strains.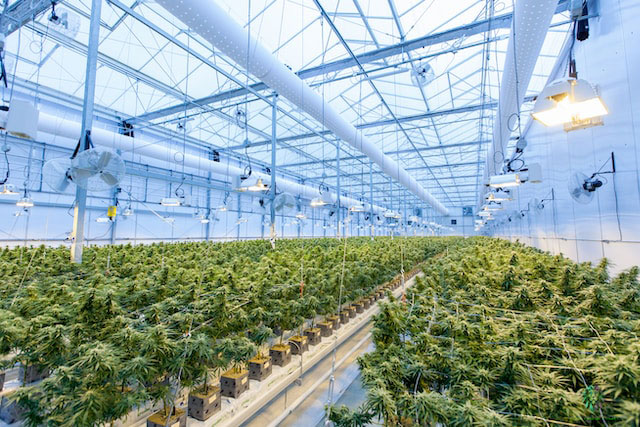 Sativa Strains
Do you need a boost? Do you want to feel uplifted? Do you need some energy? If any of these describe you, you can count on sativa strains to be your next best friend. These are the strains that are known to give you a nice cerebral buzz that you will feel in your head to provide you with mental clarity. These come in the form of high-THC seeds, so expect some potency! Some of the most popular strains are Durban Poison, White Widow, and Blue Dream.
Indica Strains
Have you ever heard of couch-lock? That's what you get when you choose the indica strain! You'll feel relaxed, sedated, mellow, and ready to chill. After a long day, this might be the strain you turn to to unwind. With high levels of CBD, indica strains are a great nighttime strain and are a favorite among those trying to alleviate aches and pains. Marijuana enthusiasts especially enjoy cannabis strains like Northern Lights and True OG.
Hybrid Strains
If you pick up hybrid seeds, you can expect them to have a good blend of both sativa and indica effects. Let's say you absolutely love indica but also want some sativa thrown into the mix. If that's the case, you can choose an indica-dominant hybrid. What about if you're the opposite? That's easy because you can go for a sativa-dominant hybrid. Once you know you're ready for a hybrid, you can enjoy Pink Runtz and Bruce Banner since they are top choices.
Choosing a Reliable Seed Bank
Since you can't go into a cannabis seed bank in Mobile and purchase your marijuana seeds, you can do something even better, visit an online seed bank! These types of seed banks not only have some of the most popular strains but also plenty of exclusive strains that you've probably always wanted to try but never had the opportunity to do so!
Because of all these reasons and then some, Grower's Choice is a top selection among marijuana enthusiasts. We offer one of the largest selection of seeds you will find anywhere at great prices. You'll also enjoy our fast shipping and receiving your high-quality cannabis seeds in discreet packaging. Grower's Choice is always the right choice!
Glowing reviews of Growers Choice cannabis seeds from our Mobile customers
These are easily the best seeds I've ever bought, cannabis-wise. I bought a few different types and I'm preserving some while I try out a batch of Mazar and Tangerine Dream. Fast shipping, healthy looking seeds, easy germination… all the points you're looking for.
 Our Most Popular Cannabis Strains