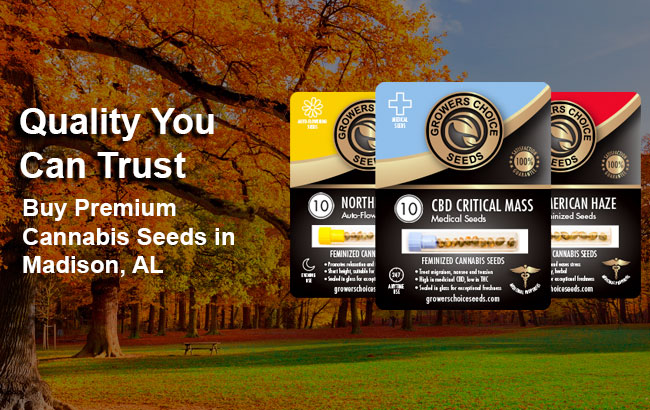 In Madison, Alabama, recreational marijuana is illegal while medicinal marijuana is allowed to treat certain medical conditions. While the road has been rocky regarding marijuana, cannabis enthusiasts continue to push and advocate for it. Here's what you need to know about cannabis laws in Madison and how you can purchase legal weed seeds.
Located near Alabama's northern border, Madison has historically been a small city, but since 1990, its population exploded. Besides its growth, Madison is also one of the wealthiest cities in the entire state, meaning residents have disposable income. But, before they try to spend that extra money on some premium cannabis, residents should realize that recreational weed is still illegal throughout the state.
Even though that's the case, residents with certain medical conditions can legally purchase and possess medical cannabis, but there are stringent laws in place. If you're not interested in fully-grown weed per se and are more into marijuana seeds, we're happy to report that you can legally purchase them in Madison. There's one caveat: don't germinate or plant them. Other than that, you're good to go!
Federal Regulations Surrounding Marijuana and Hemp Cultivation
Per the federal government, marijuana remains illegal at the federal level and has been classified as a Schedule I substance for almost a century. As a result, federal authorities regulate the plant, including its cultivation, sale, and possession. On the federal level, marijuana laws have largely remained untouched since the 1970s despite individual states, cities, and counties passing marijuana reform. Despite what the national government has on the books, the recreational use of marijuana has continued to rise, with more people embracing the benefits of marijuana.
In a move that some saw as a compromise, the U.S. government passed the 2018 Farm Bill, which legalized the cultivation, possession, and sale of hemp. Legally, hemp and marijuana are differentiated, which is why cannabis cultivation became legal but not marijuana. Once the bill passed, the market exploded with CBD products like CBD oil. While different states have different rules, as long as CBD oil is hemp-derived and not marijuana-derived, it is typically good to go, including in Madison.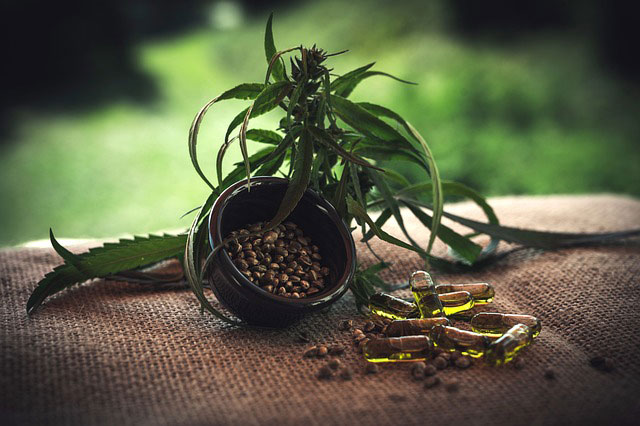 Recreational Marijuana in Madison
Although cannabis consumers were happy to get their hands on CBD cannabis products, they also wanted to be able to enjoy fresh cannabis, but that has been illegal since 1931. In the decades since, there have been attempts to legalize marijuana in Alabama, but they have all failed. However, many cities and counties across the country have successfully decriminalized marijuana. Unfortunately, that's not the case in Madison and other cities in Alabama.
In the Yellowhammer State, regardless of the amount of cannabis a person is caught with, they can face jail time and/or a fine. Possession of marijuana in the second degree for personal use can lead to a year in jail and a fine of up to $15,000. If you're caught in possession of weed and have previous convictions, that's a felony and can result in five years behind bars.
Medical Marijuana in Madison
While the marijuana industry, doctors, and citizens have long touted the benefits of marijuana, Alabama was opposed to allowing patients to access marijuana. Nonetheless, in 2015, a medical marijuana bill was introduced, but legislators failed to pass it. Six years later, the governor signed a bill that legalized medicinal cannabis for patients. Under the bill, qualifying conditions like panic disorder, sickle cell anemia, terminal illnesses, and chronic pain.
Before being able to purchase marijuana, patients must visit a doctor to get diagnosed with a qualifying condition. From there, they will be registered with the Alabama Medical Cannabis Commission and apply for a medical marijuana card. Once they have the card, patients can visit a licensed dispensary to purchase their products.
Types of Cannabis Seeds
Even if you're in Madison, Alabama, where marijuana laws are a little shaky, you can find solace in knowing you can purchase high-quality cannabis seeds. Because there are plenty to choose from, you need to be able to differentiate between them to make an informed decision. The most popular types are regular, feminized, and autoflowering seeds. Let's find your favorite!
Regular Seeds
To create novel strains customized to feature your preferred characteristics, regular seeds are the way to get there. These are the cannabis seeds that have a 50/50 chance of producing both female and male plants. Consequently, you can cross the seeds for new strains. The males create the pollen, and the females take the pollen to grow seeds for the next generation. Therefore, regular seeds are at the center of breeding and are a must for that sole purpose!
While regular seeds have plenty of advantages, the biggest disadvantage is you never know which gender is going to crop up. You'll have to keep an eye on your plants during the vegetation stage to see if they are male or female. Additionally, you might want to remove the males to prevent accidental pollination.
Auto-flowering Seeds
Don't be ashamed to admit you want simpler seeds to purchase, and if that's the case, reach for the auto-flowering cannabis seeds! These are one of the simplest types to grow since they require way less work on your behalf because they aren't a photoperiod strain. What does that mean? The seeds automatically flower regardless of their light cycle and transition from the vegetative to the flowering stage. Additionally, these seeds grow incredibly fast, so you can expect multiple harvests during a growing season.
Since autoflowering seeds are feminized, you don't have to weed out any male plants. Additionally, these cannabis plants tend to be shorter in nature.
Feminized Seeds
Are female plants the only ones you're interested in? Well, you're not alone, which is why many growers choose feminized seeds. These seeds have been cultivated to exclude all male genetics, preventing male plants from growing. The biggest advantage of these marijuana seeds is female plants are the ones that produce the bodacious buds you love to smoke.
Again, feminized seeds don't produce male plants, so that's not helpful if you want to take part in breeding. Additionally, some growers point to the fact that the genetics are unstable, so some plants can exhibit hermaphroditic traits over time.
Growing Techniques
There are plenty of variables that can affect the quality and quantity of your plants. Some of those factors include the climate, humidity, outdoor vs. indoor, and more. Additionally, the strains you choose, as well as the type of seeds, also have an impact on what you get. Depending on your skill level, you need to make the right choices that will give you the most success when growing your seeds.
Tips for Novice Growers
One of the best tips for novice growers is to choose a strain that's easier to grow. Fortunately, there are plenty, so you can do some research and find the right one for you. For example, you can specifically look for strains that produce heartier plants that are more resistant to things like mold, pests, and diseases. If you choose outdoor growing, you want to choose seeds that will thrive the best during the season you plant. With that in mind, consider the temperatures and relative humidity in your area.
On top of that, the seeds you choose will make a big difference. Beginner growers typically find autoflowering seeds are the easiest since they don't have to know anything about lighting cycles. Feminized seeds are also easier to grow and maintain since you don't have to worry about cross-pollination and removing male plants.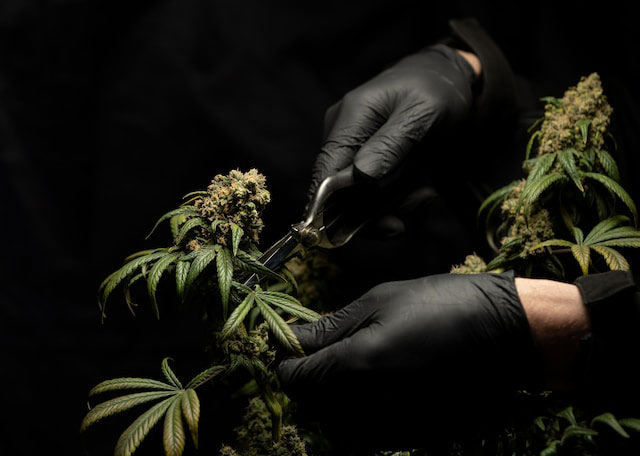 Expectations During the Flowering Stage
During the flowering stage, you'll see your plants going from their baby stage to adulthood. Aren't you proud? The plants will begin to develop buds. This is important because these are the parts of the marijuana that you will smoke once they're finished growing! You'll also notice resin production, which is full of terpenes and responsible for providing aroma and flavor. Here's another tip: it's easy to tell how much resin your plant will have by its noticeable color which can be white, golden yellow, or brown. Also, it has a texture that's sticky, so take a look and a touch!
Growers Choice Cannabis Seeds
Are you ready to purchase some quality seeds? Are you unsure of where to purchase them? Don't worry because the obvious choice is Growers Choice! Here, you can depend on a massive selection of some of the most premium seeds you'll find anywhere on the internet. Our extensive inventory features some of the most popular and best strains you can find and also some that you can't find anywhere else. Our process is simple, so go ahead, browse, add to your cart, and we'll take care of the rest!
Most Popular Strains in Madison
Willie Nelson Marijuana Seeds – the legend himself has inspired this slightly sativa-leaning hybrid that features an impressive 22% THC level to provide potency and long-lasting uplifting and creative effects
Do-Si-Dos Marijuana Seeds – a slightly indica-leaning hybrid strain that's well-balanced with high potency that's great for relaxing and soothing as well as stimulating and providing feelings of euphoria
Afghani Marijuana Seeds – a classic and favorite among cannabis enthusiasts, this pure indica strain is extremely relaxing and sedating that users can feel throughout their body to make them sleepy
Customers in Madison trust in Growers Choice
Was so happy my Growers Choice seeds got through since I've had dud orders with other seed companies. I almost gave up altogether! Glad a friend turned me onto these guys. Trust me, if you're going to take a chance on buying seeds online, Growers Choice is the real deal. Thank You!
 Our Most Popular Cannabis Strains