Buy cannabis seeds in Hopkinsville
Hopkinsville cannabis seeds are waiting for you at Growers Choice. With feminized auto-flowering, medical, and kush cannabis seeds and over 50 strains to choose from, we have something for everyone. We believe in the therapeutic benefits of cannabis and offer detailed explanations of each of our strains in order to help our customers find the cannabis seeds that are most suited for their lifestyle. Even better, our premium seeds are discreetly delivered directly to your door. Simply order online today using one of many safe payment options, including Visa, MasterCard, and Bitcoin, and your Growers Choice cannabis seeds will be in your hands in a matter of days.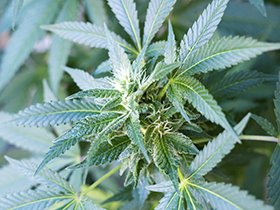 Are weed seeds legal in Hopkinsville?
As cannabis seeds are classified as adult novelty items, they are legal to purchase and own in Hopkinsville and all across the United States and Canada. While many states in the country are enacting laws to legalize medical marijuana use, and even recreational use in some places, Kentucky has been progressing a little more slowly. However, bipartisan efforts are underway to see that the state has a compassionate program in place so that residents no longer have to suffer from conditions and illnesses that can be treated by cannabis.
Best Hopkinsville cannabis seeds for nausea
Cannabis can be used to help alleviate the pain and discomfort of a number of medical conditions and symptoms. The levels of THC and CBD, as well as the balance of sativa and indica in the plants play a large role in determining the effects that each strain will have on the user. Strains each provide a very specific kind of effect, so doing some research before purchasing for a specific ailment is very important. Strains may also have very different effects by person, which is why it's important to always start out with small doses when trying a new strain. If you're looking for cannabis seeds to help manage nausea, we recommend considering one of the following strains:
Cannabis seeds for sale in Hopkinsville
There's no reason to delay ordering your Hopkinsville cannabis seeds from Growers Choice today. We offer flat-rate shipping on all orders, so you'll be paying the same whether you're ordering 5 seeds or 50. Additionally, all orders to the United States include tracking, so you have the peace of mind of knowing where your seeds are at all times. At Growers Choice, we're eager for our customers to experience how natural medicine can help them live happier, healthier lives.
Hopkinsville customers prefer Growers Choice
I'm so happy I gave Growers Choice a chance! I was a bit nervous about ordering online, but it was much easier and safer than I expected. My order showed up just when it was supposed to, and my seeds were nice and fresh. I can't wait to try out some new strains when I put in my next order!
Popular Cannabis Seeds