Where to buy cannabis seeds in Oklahoma City?
The residents of Oklahoma City take their history very seriously. Don't believe it? Head over to Frontier City, a western-themed amusement park, for a spell. What other state boasts a National Cowboy and Western Heritage Museum? When you're here, make sure to visit the Oklahoma City National Memorial, in honor of the 1995 Murrah building bombing. Or just spend the afternoon at the Myriad Botanical Gardens, or Will Rogers State Park, where you'll find the Lycan Conservatory, the Rose Garden, and the Butterfly Garden.
What are CBD cannabis seeds?
There are a number of compounds found in cannabis that provide medicinal effects, but many states and researchers tend to focus on CBD. Simply put, CBD cannabis seedd are those that have a higher percentage of CBD as opposed to THC, the compound responsible for the psychoactive high. Among the many clinical applications, CBD is most noted for its anti-epileptic, and analgesic properties, all of which it achieves without hallucinogenic classification. Both scientific study and anecdotal research have recognized cannabis' efficacy in treating a number of symptoms and conditions, particularly for those who have not found relief through conventional medicine.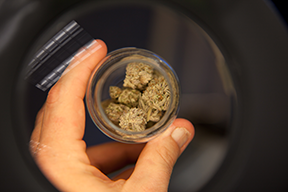 At Growers Choice, we offer three high-CBD cannabis seed strains.
Legal Cannabis Laws in Oklahoma City?
Oklahoma has medical CBD laws enacted. CBD, the short form of cannabidiol, is the compound found in cannabis that provides the potent medicinal effect without the heady high associated with THC. Although the research has finally started to catch up to what cannabis proponents have known for decades, the state continues to restrict medical CBD use to the treatment of following conditions:
Lennox-Gastaut syndrome
Dravet syndrome
Oklahoma does not have much for medical marijuana laws at this time, though there is hope for further reform in the future. Under the present laws, only registered patients under the age of 18 can use medical CBD oils in the treatment of these conditions: Lennox-Gastaut syndrome, and Dravet syndrome for which traditional methods of treatment have failed. Even though we firmly stand behind the medical benefits of cannabis, we still believe that it's best to get a doctor's recommendation or prescription. You need a medical card in Oklahoma in order to access cannabis. Most importantly, if you are currently partaking in any other sort of medicine, ask your doctor if it's alright to combine it with cannabis. It's likely that your doctor will recommend a low-THC, high-CBD strain if you experience any sort of bodily pain, anxious thinking, or chronic stress.
Unfortunately, beyond this, there are no legal cannabis laws in Oklahoma City.
Where many states are opening the doors to medical and even recreational cannabis, Oklahoma remains largely on the fence. In June, 2018, a state-wide vote will determine the future of cannabis in the Sooner State. A recent list of regulations just barely made it through Senate recently, which included limits on the number of businesses licensed to sell and cultivate medical cannabis.
Senate Bill 1120 also places the price determination of patient doses on the shoulders of the Oklahoma Board of Health. It does seem the potential new laws will allow for a few more medical conditions to be considered acceptable. In addition to seizure-causes diseases that have proven treatment-resistant, new laws would make medical cannabis available to those struggling with HIV/AIDS and multiple sclerosis.
What is the Vegetative Stage?
When you choose to start growing — or at least studying — a new kind of plant, it's great to have a solid understanding of the various stages the little guys are going to go through, so you know what to expect every step of the way. For that reason, we've stocked our Grow Advice section with lots of helpful articles like What is the Vegetative Stage. We'll give you a quick overview here: the vegetative stage is either the first stage of cannabis growth or the stage that begins after seedling level – depends who you ask. Either way, this is the stage during which your plants develop the height and strength they need to support all that delicious, healing bud they're going to develop in the next phase: the flowering stage!
Learn More:
When and How to Harvest Cannabis
Weed seeds for sale in Oklahoma City?
When in the market for weed seeds for sale in Oklahoma City, look no further than Growers Choice. As a reputed online dealer, we carry a curated selection of premium Oklahoma City cannabis seeds, each hand-picked and inspected to ensure their quality. Our best sellers include our CBD-rich strains CBD Blueberry and CBD Critical Mass, both of which are an excellent choice when seeking serious pain relief. And yes, it is legal to buy cannabis seeds, as ungerminated seeds are considered adult novelty souvenirs.
Popular Cannabis Seeds