Where to buy cannabis seeds in Oakland
Try growing cannabis in Oakland from our world class selection of seeds.
Cannabis and cannabis seeds in Oakland, California
Numerous cannabis dispensaries exist in and around the California city of Oakland. These stores offer a wide range of cannabis products – from flower, to edibles, to seeds – that can provide residents with natural medical treatments and recreational enjoyment.
Citizens of the area, who are seeking an easy way to wind down after their busy day, and tourists who
have just spent long hours wandering through Redwood National Park and Jack London Square, can find and purchase these holistic health products without much trouble.
How can I order cannabis seeds in Oakland?
Thanks to Growers Choice Seeds, it couldn't be easier order and receive cannabis seeds right from your own home. Our simple-to-navigate online store stocks 21 different cannabis strains designed to heighten your mood, enhance your creativity, ease your pain, and help you sleep, along with numerous other benefits.
We offer a straightforward, 3-step process for ordering your seeds. Simply select your strain, at the number of seeds you want to your cart (choose from 3, 5, 10, or 25-seed packs), and enter your shipping information. We charge a flat shipping rate in the US, and will prepare your delivery and have it heading your way in just a few days. We are located on the Pacific coast, so customers in Oakland should quickly receive their high-quality cannabis seeds.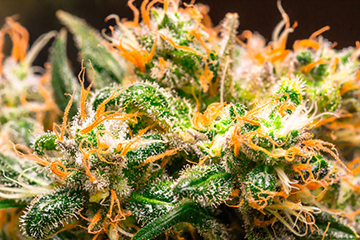 The legality of cannabis in Oakland
It is legal for residents of California to use cannabis products and plant cannabis seeds. Since Prop 64 was passed in November, 2016, people have the right to carry (or purchase) up to 28.5 grams of marijuana, regardless of whether or not they have a certified medical condition.
Because it is completely legal to cultivate up to six cannabis plants for your personal treatment, there is no risk in purchasing cannabis seeds from Growers Choice. Beyond the legal considerations, we offer a superior 90% germination guarantee – if your seeds don't germinate with our tried-and-true method, we will replace them free of charge.
Can cannabis and cannabis seeds make me feel better?
Cannabis seeds can be planted to produce medical plants that can alleviate many different symptoms. At Growers Choice, we carry strains like Blueberry, an auto-flowering plant that soothes muscle pain and battles stress, Tangerine Dream, which lets you stay active while relieving your pain, and high-CBD strains such as CBD Critical Mass, which offers benefits like relaxation and pain relief without any of the psychoactive effects for which cannabis is known.
Buying Cannabis Seeds Just Got A Whole Lot Easier
Quick, easy ordering, speedy delivery, prompt responses to my inquiries. Growers Choice has it all and I'm so glad I've found them.
Popular Cannabis Seeds