Buy cannabis seeds in Evanston
Growers Choice has high-quality Evanston cannabis seeds that are just a click away. Our easy online ordering systems allows you to choose from over 40 of the most popular cannabis seeds strains available, and our discreet delivery will have your order at your door within a few days. With flat rate shipping and the ability to track your order, Growers Choice is committed to not only providing a great product, but also offering a great customer experience. Our customerservice team is also available to discuss any feedback or inquiries you may have about our service or product.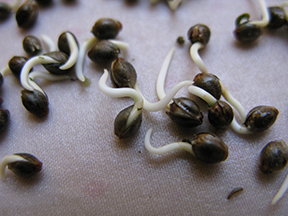 Are Evanston cannabis seeds legal?
Due to their classification as novelty collector's items, cannabis seeds are in fact legal to buy
and own in the United States and Canada. The state of Illinois also has an active medical
marijuana program that allows patients with qualifying conditions, including PTSD, and
the management of seizures. To become a medical marijuana patient, residents need a
physician to certify that they have a true relationship with the patient and that the patient has a
debilitating qualifying medical condition. The medical marijuana laws were first enacted in 2013
and have since evolved. Patients or their caregivers are allowed to possess two and a half
ounces per 14-day period.
Best weed seeds for seizures
As medical marijuana laws have reflected, cannabis can be an incredibly helpful medicine to
help alleviate a number of medical conditions and symptoms. The medicinal
component of cannabis is the cannabinoids present in the plant, the most well-known of which
are THC and CBD. Though THC does offer therapeutic benefits, most of the medical strains of
marijuana contain high levels of CBD, and Growers Choice is proud to offer a medical line of
seeds that are high in CBD and low in THC, which allows patients to receive all the medicinal
benefits of the strain without any of the psychoactive effects that are typically caused by THC.
We recommend this line of seeds to anyone who may be seeking relief from seizures:
Cannabis seeds for sale in Evanston
There's no reason to delay in ordering your Evanston cannabis seeds today. All of our seeds
are hand-picked, inspected, and tested by our team of medical and horticultural experts in order
to ensure quality, and every seed is packaged in air-tight, medical-grade vials to ensure
freshness through the delivery process and during storage. We're committed to offering our
customers peace of mind during the ordering process, which means providing safe and secure
payment options, including MasterCard, Visa, and Bitcoin. So if you're ready to start on your
journey toward a happier, healthier life with green medicine, then visit Growers Choice today!
Gardeners go for Growers Choice in Evanston
Growers Choice is the best! My friend recommended it to me and I was a little skeptical at first, but it exceeded all of my expectations. Ordering was easy and my seeds were delivered on time and in great shape. I'll definitely be ordering again!
Popular Cannabis Seeds