Buy cannabis seeds in Bloomington
Buying cannabis seeds in Bloomington is easier than you ever could've imagined with Growers Choice. Our high-quality cannabis seeds are delivered directly to your door and come with a 90% germination guarantee—that's the highest in the industry. With over 40 strains to choose from, our cannabis seeds are hand-picked, inspected, and tested by our trusted team of horticultural and medical experts. If you're having trouble choosing a strain, perhaps first you should narrow your choice down to either our regular, auto-flowering, or medical variety of premium cannabis seeds. There's no reason to delay any longer, order your Bloomington cannabis seeds online from Grower Choice today.
Can I legally buy weed seeds in Bloomington?
While weed seeds are legal to purchase across North America as they are considered a novelty item, people are still fighting for the right to use cannabis recreationally and even medically in most cases. Though an October 2016 poll showed that 73% of voters in Indiana support a medical marijuana program, progress is slow-going. However, progress is still occurring, with Indiana recently enacting a low-THC law for patients suffering from seizures relating to treatment-resistant epilepsy.
Are Bloomington cannabis seeds safe?
With studies over the past few years focusing on investigating the medical benefits of cannabis use and demystifying marijuana, it is becoming more clear that cannabis seeds are indeed safe. Though cannabis users may experience mild, short-term side-effects such as dry-mouth or dizziness, Bloomington cannabis seeds are a safe, natural and holistic way to manage many issues associated with medical issues. Though Indiana may be behind on the times in terms of legalizing marijuana use for medical purposes, studies have shown cannabis use to be an effective way to treat:
ADD/ADHD
Anxiety
Arthritis
Cancer
Chronic Pain
Depression
Epilepsy
Fibromyalgia
HIV/AIDS
Migraines
Muscle Spasms
Sleep Disorders
These are just a few of many issues that can be helped by the use of cannabis, and scientists continue to study the possibilities or marijuana. The compounds found in cannabis that offer therapeutic benefits are called cannabinoids, and though researchers have primarily focused on the two most prevalent cannabinoids—THC and CBD—there are at least 80 more varieties that have received little attention. If you're interested in learning more about THC and CBD and the many medical cannabis benefits, visit our blog.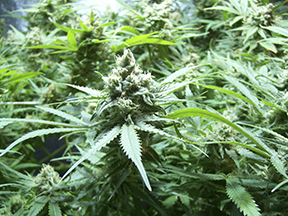 Cannabis seeds for sale in Bloomington
All your Bloomington cannabis seed needs can be met by Growers Choice. With a superior selection of cannabis strains and hand-picked seeds that are inspected and tested by our expert team, there's really no better solution than Growers Choice. Our online ordering system is easy to use, but if you have any questions, our customer service representatives are ready to lend a hand!
Growers Choice in Bloomington
Delivery was quick and the seeds were great. Growers Choice follow through on all their promises. The only difficult part is choosing which seeds you want—there are so many to choose from! Will definitely recommend Growers Choice to everyone I know.
Popular Cannabis Seeds