Buy Cannabis Seeds in Winnipeg
Looking to get cannabis seeds in Winnipeg? Grower's Choice has you covered. After 20 years of industry research, we are a trusted source for purchasing the world's finest cannabis seeds. We offer a vast array of seeds, including auto-flowering, feminized, and medical varieties. What's more, our fresh, premium strains can be delivered directly to your door, making your buying experience quick, easy, and discreet. Don't hesitate—order your Winnipeg cannabis seeds online from Grower's Choice!
Winnipeg Cannabis Laws
When it comes to legality, have no fear: cannabis seeds are legal to purchase all across North America. What's more, growing cannabis has been approved for medical purposes by Health Canada. At this time, the growing of cannabis for recreational use has not been regulated.
Cannabis for Cancer
Perhaps one of the best-known medical uses for cannabis is cancer treatment. Many people may be aware that marijuana is a useful treatment for many symptoms of cancer therapies like radiation and chemotherapy, but they might not realize there is evidence suggesting the plant can actually halt the progress of the disease. Yes, marijuana can minimize nausea and vomiting, address the neuopathic pain so many patients experience, and increase appetite in those whose hunger has taken a nose dive, but did you know cannabis might be able to increase the benefits of radiation, and even encourage autophagy or the death of cancer cells? All in all, this plant holds amazing promise in the constant goal of finally eradicating cancer.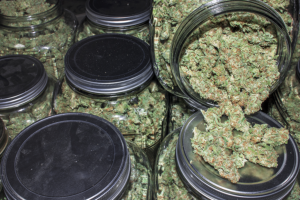 Quality Winnipeg Cannabis Seeds
At Grower's Choice, our customers are our top priority—and because of this, your safety is always in mind. As such, we provide only 100% fresh cannabis seeds with the best genetics available. Our seeds are also thoroughly inspected, hand-picked, and tested for quality before they are packaged, making them a purchase you can truly feel good about.
We also promise a 90% germination rate on our cannabis seeds—the highest in the industry. As the first step in the growth cycle of the cannabis plant, this process is incredibly important for fostering healthy, high-producing cannabis plants. With Grower's Choice, you can rest easy knowing that any non-viable seeds will be replaced right away. Learn more about our germination promise with our germination guide.
Top Weed Seeds for Pain
In recent years, the medicinal applications of cannabis have been thoroughly studied. During this time, researchers have found that certain weed seeds—specifically, those including a cannabinoid called CBD—are incredibly beneficial in the fight against pain.
CBD, or cannabidiol, does not produce any of THC's psychoactive effects. In fact, it holds the highest medicinal value of any part of the cannabis plant, making it an excellent partner in any healing journey. Science has found this cannabinoid to be effective not only in treating pain, but also inflammation, anxiety, stress, and depression.
If you suffer from chronic or recurring pain, get your body back in tip-top shape with these Grower's Choice strains:
To learn more about our medicinal, high-CBD seeds, check out our website.
Cannabis Seeds for Sale in Winnipeg
While it may prove difficult to find weed seeds in Winnipeg, you can count on us for fast, discreet delivery in both Canada and the U.S. So, pick your desired strain and fill up your cart with seeds—it's just that simple! With our speedy, easy-to-use service, Winnipeg cannabis seeds are no more than a click away.
Winnipeggers Choose Growers Choice
Grower's Choice's great selection and speedy shipping have made a repeat customer out of me. Their high-quality seeds and top-notch service are exactly what I want from a supplier!
Popular Cannabis Seeds