Quebec City cannabis seeds and CBD
Cannabidiol, or CBD, is the compound commonly used for epilepsy, pain relief, and anxiety. Unlike THC, CBD doesn't give the "high" feeling associated with cannabis. CBD cannabis strains generally come in two forms: CBD-rich and CBD-dominant. CBD-rich strains usually have equal amounts of CBD and THC, while CBD-dominant strains have high levels of CBD and very little THC. You can find out which Quebec City cannabis seeds have higher levels of CBD by reading the strain descriptions. You can also find the strains labeled with "CBD," so you can easily see them. As well, ordering online from Growers Choice means you have your seeds shipped to you!
Buy Cannabis Seeds in Quebec City
Not sure where to buy cannabis seeds in Quebec City? Take a look at our 40+ strains for you to choose from. Our team hand-picks and inspects our seeds before packaging them in medical-grade glass vials. As well, you can contact our customer service team with any questions and suggestions you have. Growers Choice puts you first.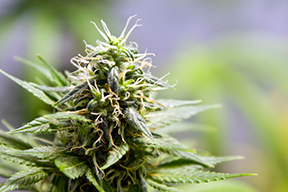 Is growing cannabis legal in Quebec City?
Growing cannabis is legal for medicinal use all across Canada. Health Canada has guidelines that you can check out if you are unsure that you qualify. Recreational cannabis is estimated to become legal in Canada by Canada Day in 2018; however, medicinal use is legal and varies depending on prescription.
Harvesting weed seeds
Are you ready to harvest your cannabis plants? After germinating your weed seeds and nurturing them into hearty plants, determining when to harvest is very important.
To know when to harvest, you will need to consider these factors:
Colour of the pistils
Colour of the trichomes
Time recommended for your strain
You can check the trichomes with a handheld microscope. They should be go from clear to opaque, and then amber. This means your plant have reached its maximum THC levels. You can tell it's time to check the trichomes when the pistils start to change colours. You may hear varying opinions about when to harvest, but you should stick to the recommended time for your strain and check the colouring of the pistils and trichomes to tell you when your plant is ready.
Cannabis seeds for sale in Quebec City
Get Quebec City cannabis seeds from the most trusted company in the industry—Growers Choice. We strive to offer a wide range of cannabis seeds with top-quality genetics. You can be sure that our seeds grow into premium cannabis strains for you to benefit from. Plus, we also have wholesale options for those who have the same dedication to quality and customer service. You won't need to look anywhere else for cannabis seeds, we've got you covered!
Quebec City gives two green thumbs up
Don't bother buying seeds from anywhere except Growers Choice. I bought seeds three times from other companies, and each time only a couple of the seeds germinated and then died shortly after. All of my seeds from Growers Choice germinated and turned into healthy plants.
Popular Cannabis Seeds