How to Buy Calgary Cannabis Seeds
Buying cannabis seeds online is easier than you think. Now that cannabis has been legalized across Canada, it's time to start growing your own cannabis plants at home. Order your Calgary cannabis seeds online today from Growers Choice Seeds, the number one marijuana seed bank in North America. We've fully stocked our online catalog with a huge selection of your favorite diesel, kush, and haze strains. Simply select the seeds that fit your needs, and check out online using our secure server. We use fast and efficient flat rate shipping to deliver your seeds right to your doorstep in as little as one week. Tracking is available on every order. Shop the selection of seeds available from Growers Choice Seeds to start growing today.
Are all cannabis seeds feminized?
Today, many breeders sell feminized Calgary cannabis seeds, though their quality may be in question. At Growers Choice, you can rest assured we're selling only the most reliable, carefully cultivated feminized cannabis seeds that won't give you hermaphroditic plants; instead, you'll grow and harvest only the finest, high-quality and potent cannabis you'd ever be able to find in a dispensary – right in your own home!
Buying feminized cannabis seeds is a choice that depends on your goals for your plants. If you plan to create your own seeds to further propagate your garden, then you want to have male plants within your females for pollination. If, however, you want to grow potent, healing buds or flowers, feminized cannabis seeds are the best choice for you, because you won't need to worry about weeding out male plants. This will save you time, money, and space.
Buy Feminized Cannabis Seeds In Calgary
At Grower's Choice, we've got over 40 strains of premium quality, fully feminized marijuana seeds for you to browse through. If you're new to growing, buying feminized seeds shortens the learning curve, making it easier to get a successful harvest. And when you buy feminized seeds from Grower's Choice, you're getting only the best, lab-tested, genetically-guaranteed seeds delivered straight to your door. Weed seeds can last for 3 years if kept properly. Ideally, seeds should be stored in a cool, dry, dark location. Your fridge is actually a great option! We ship your seeds to you in sealed medical-grade vials that will preserve your seeds safely and securely. Keeping your seeds in their original sealed vials are a great way to keep them viable until you are ready to begin the germination process and grow them.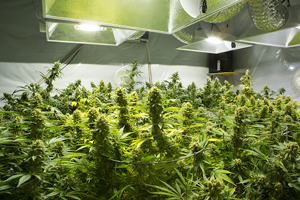 Where can I get Calgary weed seeds?
Order your Calgary weed seeds from Growers Choice. We will deliver them straight to your door with no surprises – our flat shipping rates and quality packaging leave nothing to be desired! Your chosen seeds will be carefully selected and packaged in medical-grade glass vials and boxed in unbranded outer packaging that ensures your privacy. Why take a chance with any other company? At Growers Choice, we keep all your personal information completely confidential, on a secure server, and delete your payment info once your payment has been processed.
Can I legally use cannabis in Calgary?
In Calgary and all of Canada, medical cannabis patients with cards issued by the ACMPR and a prescription from a physician can use cannabis to treat medical conditions like glaucoma, PTSD, and Multiple Sclerosis. Many people also turn to cannabis to treat insomnia, nausea, headaches, stress, and anxiety, after other, pharmaceutical medications fail them over and over again.
As long as you have a medical card, you can also plant your own cannabis seeds and cultivate home-grown, homeopathic cannabis right in your home. Always make sure you're clear on the rules of your region before trying to plant your cannabis seeds!
Do all cannabis strains smell?
Though, like any natural flora, cannabis plants do have some smell, there are strains you can pick that do not smell as strongly as others – specifically the strains that you've probably caught wind of when walking past a known home grow. The following are two good examples of low-odor cannabis strains, all of which are sold as premium cannabis seeds here at Growers Choice:
Of course, there are many ways you can mask the smell of your cannabis plants, if you are concerned about it bothering your neighbours or even your own family. And naturally, the fewer plants you grow, the less smell there will be!
Whatever your Calgary cannabis seed needs, look to Growers Choice for the best cannabis seeds in the business. We sell 21 feminized varieties, including 7 auto-flowering and 3 high-CBD strains. Get in touch if you have any questions, and Get Growing right away.
Common questions about cannabis seeds in 2021
The duration of your high depends on how you consume marijuana. If you prefer smoking marijuana, the high typically lasts between 2-4 hours. Mind you, there are many factors that contribute to your high, such as age, weight, tolerance, diet, exercise, and so on. Edibles are also a popular choice among marijuana users, and they last a much longer time (typically between 6-8 hours). Edibles are best reserved for laid-back weekends or when you have nothing to do for most of the day.
Get Calgary Cannabis Seeds from Us – Your Friends Do!
Ok – this company has been recommended to me by four different people, so I think it's time I got on the bandwagon. That many gardeners can't be wrong, right? I just placed my order and was so impressed with the selection, ease of ordering, and how quickly the rep got back to me when I asked a quick question. Can't wait to plant these seeds!
Popular Cannabis Seeds