Variety is the spice of life. Spice is one of the flavors associated with some strains of marijuana. It's also big in Dune, but now we are getting off-topic. Indeed, there are dozens of different strains of marijuana. Cannabis plants are not afraid of variety. Some of the variety is associated with flavor and aroma, of course. They can get pretty niche, but also some folks love going down those niche avenues. Frankly, what you think might be niche is actually quite popular. Arguably the most-popular strain we sell seeds for at Growers Choice is Diesel, which has a gasoline smell. Yes, some people love that. Another way in which marijuana provides variety? The way in which strains make you feel. Within the world of marijuana, you often hear about indica strains and sativa strains. What's this all about? What's the difference between sativa and indica? The sativa and indica difference is stronger than you might imagine, given that it's all cannabis. You may definitely prefer one type to the other, and knowing what the story is with sativas and indicas will help you with that.
Compare Our Premium Cannabis Seeds
Compare Our Cannabis Seed Strains
What's the physical sativa and indica difference?
If you get well-versed enough in marijuana, you may be able to tell the difference between sativa and indica visually. These are two different types of cannabis plants, and they have physical traits that are affiliated with them. Sativas grow tall and tend to remain more narrow. They also tend to naturally grow in warm-weather climates. Indicas, though, are the heartier plants. These plants are naturally found often in mountainous, colder areas, such as the Hindu Kush mountains. Yes, that's where Kush weed comes from, and as a result, most Kushes are indica, or at least indica dominant. We'll get into what that means later. While we're at it, though, purple weed strains are also usually indicas, as that color in nature comes from cold weather growing. Anyway, indicas grow shorter but thicker. They tend to be dense plants, but they also tend to be easier to grow and have a higher yield as a result. Of course, your primary concern is likely not being able to visually identify the sativa and indica differences. You want to know about the difference when it comes to how sativa and indica make you feel.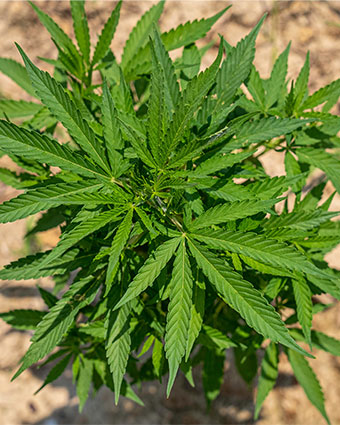 What's the primary sativa and indica difference?
There is a decidedly-different feel to smoking sativa versus smoking indica. Sativas are heady and energizing. You get more of a mental feeling to your marijuana experience when you use a sativa. Some get a euphoric feeling. Basically, everybody gets energized. Sativas tend to be better for social smokers as a result, or people who want to be productive. Like to be creative? Are you one of those people who prefer to use marijuana in creative times? Then you are probably in the market for a sativa. Indicas are on the flip side of this. They provide more of a body high, but also much more of a relaxing high. Indicas chill you out and mellow you. They are for a laidback smoking experience. Now, an indica makes it more likely you will find yourself disengaged, and perhaps even a little unmotivated. Indicas are associated with "couch lock" and sleeping. Of course, that's exactly what some people want. Now, that means there are different times of day to use sativas and indicas. Sativas are better for daytime use. Using sativa at night may keep you up. Indicas, on the other hand, are better to use at night as you get ready for bed. During the day, an indica can make it hard to be productive and may lead to an unexpected nap.
What's the medical sativa and indica difference?
Some use marijuana recreationally. Others use it for medical reasons. Again, there is a way here in which there is a difference between sativa and indica. Sativas are used more often for mental concerns, such as stress, anxiety, and depression. Indicas, meanwhile, is a body-high experience, and they are often used for physical issues as a result. We're talking about insomnia, chronic pain, nausea, and more. Now, if you are primarily interested in marijuana for medical reasons, we'd recommend a high-CBD medical strain. These strains are high in CBD but lower in THC, the psychoactive element of marijuana. As such, a medical strain makes you feel less high but gives you more medical benefits. Some of the high-CBD strains we sell seed for here at Growers Choice include:
Critical Mass
Shark
Dancehall
Moby Dick
ACDC
Do sativa and indica differences mean as much as they used to?
Pure sativas and indicas still exist, but they are increasingly rare. Here in the marijuana world, people like to tinker. There has been selective breeding and cross-breeding. That has led to a new type of marijuana called hybrid. Well, it's hardly new at this point. Even at the first Cannabis Cup over 30 years ago there were hybrid strains in the mix. They've just gotten more and more common as time has gone on. A hybrid is a mixture of sativa and indicas strains, sometimes more than two of them even. Some of these hybrids are indica dominant or sativa dominant. That means they are primarily indica or sativa with some of the other ones mixed in. Then, there are balanced hybrids. A hybrid strain doesn't dip as far into the extremes of a sativa or indica's sensations. Maybe you don't get as revved up by a sativa, which can keep paranoia at bay. Or, you can enjoy an indica's relaxing effect without falling asleep.

Which strains exemplify the sativa and indica difference?
As we said, pure indicas and sativas are less common, but we do still have seeds for strains that are sativa or indica. Critical Purple is a popular pure indica, and it also packs a punch. We're talking 27 percent THC. Just a little Critical Purple can get you super relaxed and help you fall asleep and get a refreshing nice of rest. On the flip side, we have the pure sativa of Durban Poison. It doesn't have as much THC, but it's still considered arguably the ultimate energizing strain. Plus, Durban Poison actually has moderate levels of CBD, rare for a non-medical strain. That can make this a nice choice for people who want medicinal benefits while also getting a solid high going. Try these two strains, and the sativa and indica differences will be clear.
Buy Cannabis Seeds Now: Some Of Our Best Seller