Who doesn't like to be the best? Who doesn't want to know the best way to do something? Sure, something you have a good way to do something, but then you get a trick of the trade of a hot tip. Suddenly, things have gotten even better. One day you see a new way to make scrambled eggs and it changes your breakfast from there on out. As you start to grow cannabis plants at home so that you can enjoy marijuana for your personal use, there are going to be tricks to learn. You will go from a beginner to an expert in time, presuming that you keep up with it. We hope that you do, since growing your own marijuana is rewarding and a great way to save money on your marijuana in the long run. Of course, that's only true if you are growing your plants successfully. With a little help from Growers Choice, you can make the most out of your cannabis, and your cannabis seeds. By getting your seeds from Growers Choice, you start on the right foot. Then the process of growing your plants starts, and it all begins with germination. That's why it is so important to know the best way to germinate cannabis seeds. Let us explain why!
Compare Our Premium Cannabis Seeds
Compare Our Cannabis Seed Strains
Why do I need to know the best way to germinate cannabis seeds?
What is germination? Basically, it's sprouting. Your seeds germinate when they split open and a sprout starts to form. This is the beginning of your cannabis plant. Sprouting your cannabis seeds is vital to the process of successfully growing marijuana. If your seed doesn't germinate, your plant won't grow. Truly, it is that simple. As such, successful germination is vital. It's that big first step to growing marijuana. Once your seed germinates and that sprout becomes visible, you know you are on your way to enjoying your favorite cannabis strain soon enough.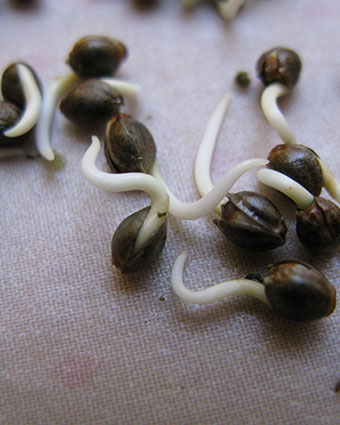 Are there options when it comes to the best way to germinate cannabis seeds?
There are different ways for the home grower of marijuana to germinate the cannabis seeds they have purchased. Some do it directly in the soil, though that requires using soil as your growing medium. Granted, most people do that, but not everybody. Others will germinate their seeds in water. However, there is one other way of germinating cannabis seeds that's quite popular and, to us, it is the best way to germinate cannabis seeds. It may not end up being the right method for you, but if you are new to growing marijuana and you want to know the best way to germinate cannabis seeds, this is the one we'd go with. In the end, as long as you have air, heat, and water, you can germinate seeds. This way just sticks out to us.
So what is your best way to germinate cannabis seeds?
Do you have two clean plates, some paper towels, and distilled water? Then you are good to go for the best method of germinating cannabis seeds! Take one plate. Dampen two or three paper towels. Note, we said damp, not wet. If they are dripping, wring them out. Place those paper towels on the plate. Put your seeds on the paper towels. Be sure they are spaced at least one inch from each other! Take a couple more paper towels and dampen them before putting them on top of the seeds. Next, take the other plate and put it on top of the other plate to create a dome over the seeds and the paper towels. Then, make sure to leave it somewhere warm. That means a temperature between 70 and 85 degrees Fahrenheit.
What's the next step in the best way to germinate cannabis seeds?
Every day, check on the seeds and on the paper towels. If they have gotten dry, dampen them again. You may see sprouting after three days, and your seeds should sprout within 10 days. If you make it two weeks and a seed hasn't sprouted, it likely won't. That seed is probably a dud, unfortunately. A cannabis seed has sprouted when you see the taproot. This will grow into your marijuana plant and is a sign of successful germination. It's important to keep the seed and the taproot clean when you move them to the growing medium. We recommend using sanitized tweezers to make that happen. You have to use care, but that's true of many plants. With a deft hand, your seeds and your sprouts will be totally fine.


How can Growers Choice help me with the best way to germinate cannabis seeds?
You provide yourself with paper towels, clean plates, and distilled water. Growers Choice provides you with high-quality seeds for your germination process. After all, without quality seeds, all the growing acumen in the world can only take you so far. Every one of our seeds is fully feminized, which means they are guaranteed to provide you with female marijuana plants, which are needed for THC-rich buds. They are also all lab tested and hand selected. Oh, and Growers Choice also provides you with a germination guarantee. What does that mean? At least 90 percent of the seeds in your order will germinate. If you properly use the best way to germinate cannabis seeds and fewer than 90 percent of them germinate, we will replace your seeds. You shouldn't be responsible for dud seeds. Are you ready to start growing your own marijuana? Are you ready to sprout those seeds? We hope you find this to be the best way to germinate cannabis seeds. Speaking of cannabis seeds, did you know that Growers Choice delivers? Yes, that's right. We will deliver you seeds – with a germination guarantee – for all our strains. There are Cannabis Cup winners, autoflowering seeds, high-CBD medical seeds, and so much more. With your germination plan in place, you can enjoy growing high-quality, popular strains such as:
Diesel
Critical Purple
Tangerine Dream
White Widow
Gorilla Glue
Buy Cannabis Seeds Now: Some Of Our Best Seller