For a long time, marijuana users did not enjoy a reputation of seriousness. The stereotype was of the goofy stoner, the pothead. Of course, times have changed. Now, people from all walks of life partake in marijuana. Well, they always did, but now they do it more openly. The therapeutic effects and health benefits of marijuana use are well known, and people are serious about their marijuana. "Pot" is not a dirty word. At Growers Choice Seeds, we take cannabis seriously. Our goal is to be the top source of pot seeds across the globe. If you are serious about marijuana, it makes sense to grow your own plants at home for personal use. Growers Choice Seeds provides the best pot seeds for the best pot strains. You don't need to hide away your marijuana usage. You can buy pot seeds and grow your own plants to enjoy unabashedly. And hey, if you want to sit around and listen to Pink Floyd, that's your business. Our business? The highest-quality pot seeds are possible.
Compare Our Premium Cannabis Seeds
Compare Our Cannabis Seed Strains
Why should I buy pot seeds to grow my own pot plants?
If you are a gardener, we probably don't need to twist your arm. The idea of growing your own marijuana at home fits right in line with your hobbies. You enjoy the process of growing your own plants, cultivating them, tending to them, and enjoying the fruits of your labor. Growing your own tomatoes and then harvesting them and eating them isn't all that different from growing your own marijuana and then harvesting the buds to smoke them. Other than, you know, tomatoes not making you high. Let's say you buy your tomatoes at the store, though. You aren't a gardener by nature. When you want pot, you don't buy pot seeds. You go to a dispensary and buy the buds from your favorite strain. Why make the change to growing your own pot? Why make the effort to grow plants from pot seeds at home? Well, for starters it's a good kind of effort. Compare growing plants too, say, sitting in traffic and then waiting in line at the dispensary. That's less relaxing and feels less productive. Ultimately, though, it comes down to dollars and sense. Simply put, growing your pot from pot seeds will save you money in the long run. Honestly, probably a lot of it. Seeds are way cheaper than buying marijuana from a dispensary, especially if you are able to grow your plants outdoors. Even with an indoor growing rig, though, you will save money soon enough.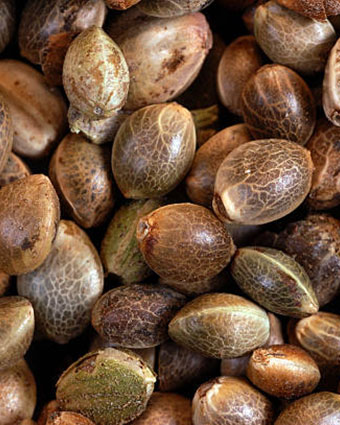 Is it hard to grow plants from pot seeds?
For the non-gardeners among our potential customers, fret not. Cannabis is one of the most durable plants out there. Marijuana is much easier to grow successfully than a lot of plants out there. They are practically on the level of succulents on the simplicity front. Naturally-occurring cannabis plants have thrived in the heat of Central America and in the cold of the Hindu Kush mountains. These are sturdy plants, so even if you don't have a green thumb, you can handle them. Plus, we have pot seeds that may be particularly worthwhile to you newbies out there. Growers Choice Seeds provide auto-flowering seeds for many of our most popular strains. What are auto-flowering pot seeds? Many marijuana plants are photoperiodic. That means they flower based on the cycle of light exposure they experience. Does that sound a little worrisome? Then go with an auto-flowering strain! Auto-flowering plants flower based on the age of the plant. They also tend to be even sturdier than your typical cannabis plants, and that's saying something. For newbies, auto-flowering pot seeds may be the way to go.
What makes Growers Choice's pot seeds stand out?
The difference in marijuana strains can be a bit easier to wrap your head around. Some are energizing, some are relaxing, and there is an assortment of aromas and tastes. Plus, different strains look different! Some are bigger and thicker plants. There are purple strains, strains covered in white trichomes, you name it. When you look at a couple of pot seeds, though, you might not be able to assess the difference. We assure you, though, that not all pot seeds are the same. For example, not every pot seed is fully feminized. Only fully-feminized pot seeds guarantee you female pot plants, which are the only ones with the THC-rich buds you smoke. Growers Choice Seeds only provides our customers with fully-feminized seeds. We also lab test and hand-select every seed for every order. Because Growers Choice Seeds give so much attention to our pot seeds, we can offer you a germination guarantee. If at least 90 percent of the pot seeds in your order don't sprout, we will replace them.
What are the best pot seeds for me to buy?
What kind of experience are you looking for? Do you like to be energized? Are you a wake-and-bake smoker? The heady high of a sativa is right for you. On the other hand, indicas are relaxing and you feel them more in your body. Of course, these days most strains are hybrids instead of pure indicas or pure sativas. We also offer high-CBD medical strains. These strains are relatively low in THC and comparatively high in CBD. That means less of a high, but more of the medical benefits of marijuana. Whatever you do, be sure you get pot seeds from a company you can trust. Growers Choice Seeds is that company. We will deliver high-quality pot seeds right to your door, from your first order to your 50th. We think you'll enjoy growing your own marijuana so much you will be an experienced hand in no time. If you have any questions, the team here at Growers Choice can answer any of your questions about pot seeds and pot strains. If you are interested in trying a new strain, here are a few of our most popular offerings. Maybe these are the pot seeds you are looking for:
Diesel
Tangerine Dream
White Widow
Gorilla Glue
Critical Purple

Buy Cannabis Seeds Now: Some Of Our Best Seller