Before the 2008 stoner comedy movie excited, a humble little strain took its name from a meteorological term and its parents, Hawaiian and Trainwreck. While meteorologists might hear Pineapple Express as indicative of a moisture current extending from Hawaii to North America, many people today will have images of Seth Rogan and James Franco come to their minds when they hear this strain's name spoken. Though the effects of
Pineapple Express marijuana
are much less frantic and intense than the movie might suggest, it still offers some beautifully fulfilling cerebral energy that can lead users to nervous or dizzying effects if taken in too high of a dosage. Regardless, when anyone decides to hop aboard the Pineapple Express, they'll be in for a profoundly satisfying, creative, and stress-free ride!
What are the medical benefits of the Pineapple Express strain?
Medicinally, the Pineapple Express strain is commonly prescribed to anyone experiencing difficulty balancing their stress levels. Its ability to calm the nerves without slowing the mind or body makes it a fantastic tool for removing mental weight throughout the day while maintaining productive energy levels. The Pineapple Express strain has also demonstrated its effectiveness in reducing symptoms of other mood disorders such as depression and anxiety. Physically, this strain will be great for relieving any type of debilitating and chronic pain while helping patients keep up with their day-to-day routine with more ease and enjoyment. The Pineapple Express strain can also be a good choice for anyone recovering from addiction or dealing with stress caused by traumatic experiences.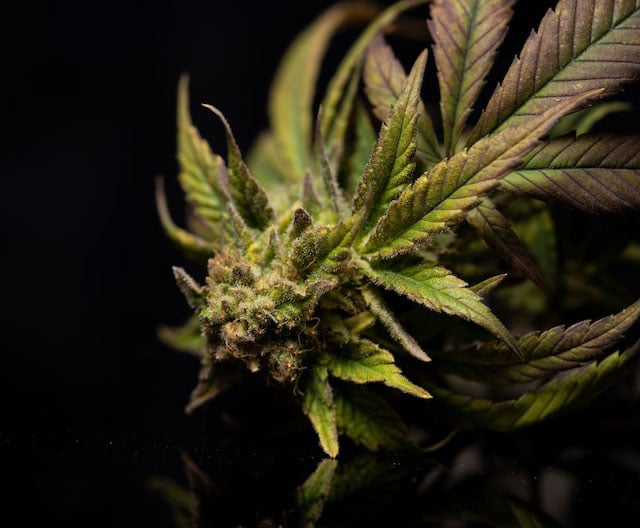 How can I expect to feel from the Pineapple Express strain?
The Pineapple Express strain has become a go-to for anyone with a busy mind, as it promotes focus and heightened clarity. It pairs well with creative work such as writing, painting, studying, music, and laid-back activities like reading, fishing, socializing, and yoga. It immediately hits users with an exceptional amount of joy and concentration, though without any heavy indica characteristics. Depending on the user, Pineapple Express marijuana might encourage introspective alone time and extreme productivity or motivate one to seek some close friends and enjoy life and their company. Whatever the case may be, those who use the Pineapple Express strain will not feel down in the least. For these reasons, it is a strong fighter against stress and symptoms of depression and anxiety. It will reduce muscle tension and promote relaxation without making users feel groggy, making it an amazing daytime strain. Because of its moderate THC content, Pineapple Express marijuana is unlikely to feel overpowering to users when taken in reasonable dosages. If you want to be happy, energized, and ready to enjoy the beauty in each moment, then hop aboard the Pineapple Express!
How do I grow Pineapple Express cannabis seeds?
Pineapple Express cannabis seeds are generally suitable for growers of any experience level, as they are pretty forgiving. This strain has a naturally high resistance to diseases and mold, which can help beginner growers attain the above-average yield that Pineapple Express can offer. When growing indoors, gardeners can increase their plant's yield and potency by "super cropping." This bush-style growing technique can be done by regularly topping the branches in the vegetative stage and installing lights with at least 600 watts. When growing indoors, the flowering stage will last about 7 to 9 weeks and provide a generous yield. When grown outdoors, Pineapple Express marijuana plants will appreciate a moderate to warm environment where temperatures remain between 70 and 85 degrees Fahrenheit. Harvest will likely come in the middle of October and provide slightly more buds than when grown inside.
What are the origins of the Pineapple Express Strain?
Many believe the name comes from the meteorological term of the same name. In weather terms, a pineapple express is a strong moisture current originating off the coast of Hawaii that extends across the Pacific towards the North American coast. Others believe its name came from its parents, Hawaiian and Trainwreck. Then, some likely believe the strain's name comes from the popular stoner comedy of the same title, though this is not the case as the Pineapple Express strain existed before the 2008 movie was released. What we do know is it is probably a combination of the first two and that it was created by blending two high-grade sativa hybrid strains, Hawaiian and Trainwreck. Hawaiian is a tropical-tasting sativa originating from Hawaii. It is 90% sativa and 10% indica, with a THC content of 25%, and offers a highly cerebral experience. Trainwreck is another 90/10 sativa hybrid with a slightly lower THC content. Its effects are intense, too, and very mood-enhancing. Trainwreck also has a distinct peppery taste. While the Pineapple Express strain was enjoyed before the Rogen and Franco movie came to prominence, it did experience a massive spike in popularity following its release.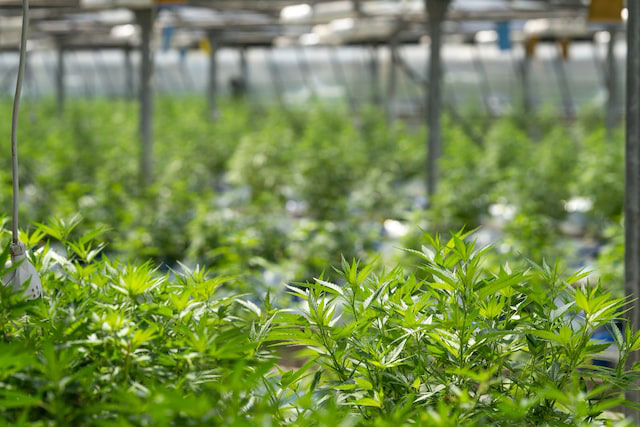 How can I best grow Pineapple Express cannabis plants indoors?
Growing the Pineapple Express strain indoors can be a delicious and fruitful endeavor. Even though it is a relatively easy strain to grow, there are a few things gardeners can do to help get the most out of their plants. The first thing is to pay attention to the temperature. Pineapple Express is a sturdy plant, which means it can tolerate a wide temperature range. However, in its vegetative stage, it's best to keep the room between 68 and 77 degrees Fahrenheit during light hours and drop it to between 60 and 70 degrees when the lights go off. During the flowering stage, Pineapple Express marijuana will love temperatures of 82 degrees. The amount of light is another big one; make sure your plants receive at least 18 hours during the vegetative stage. Foodwise, gardeners with a little more experience, seem to succeed by adding silica to their Pineapple Express plants to help them develop fatter buds. If you're doing this, be mindful as the silica will raise the pH of your soil, so make sure you are diluting the mixture and monitoring your soil! Another tip for growing Pineapple Express marijuana seeds is implementing and maintaining a light breeze on the plants to simulate the outdoors. This will encourage the plant to produce more substantial branches to support dense buds.
How does the Pineapple Express strain make users feel?
The Pineapple Express strain comes in at 60% sativa and 40% indica, which will fill users with a guaranteed sense of happiness at the beginning stages of the high. A noticeable euphoria will sweep through the mind, leaving a trail of joyousness and eagerness to tackle the day with enthusiasm. Users will experience a tremendous boost of energy, which, paired with its mood-enhancing properties, can be the perfect recipe for working on a creative task. Writers, musicians, and anyone needing deep concentration for their work will find this strain invaluable. Because of its indica genetics, users will feel a sense of relaxation, but in no way will it put them to sleep. Because of these characteristics, the Pineapple Express strain has become a favorite to use throughout the day, with its main effects being:
Increased energy
Improved mood
Stirring of creative thinking
Increased focus
Deep Relaxation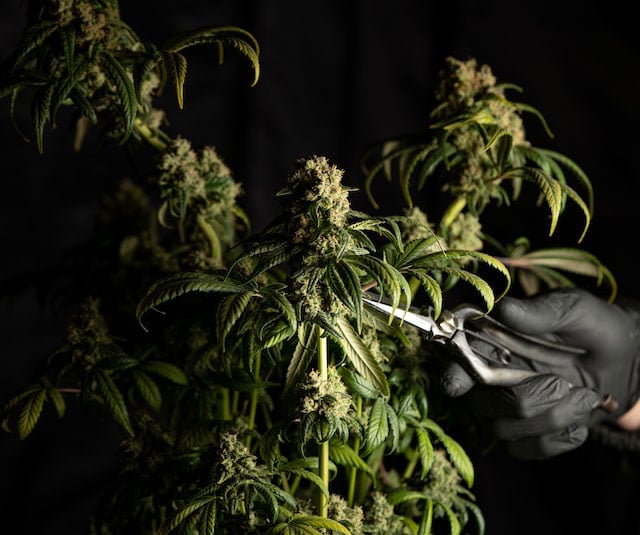 What does the Pineapple Express strain smell and taste like?
The Pineapple Express strain has a distinct pineapple scent, which might not come as a surprise. This fruity aroma is another reason why so many people love this strain. Be careful, though, as its tropical smell is quite pungent, so if you live somewhere where you need to be conscious of smells, be sure to take steps to accommodate this strain's heavy fragrance. Tastewise, the Pineapple Express strain is mouth-watering. Users will notice sweet pineapples clinging to their tongues along with notes of cedar and pine, making for a unique, tropical experience. Many people can taste a sugary aftertaste reminiscent of fresh mangoes and a peppery flare, which would come from its parent strain, Trainwreck. While there are many delicious strains on the market, the Pineapple Express strain maintains its status as one of the tastiest.
Does Pineapple Express come with any adverse effects?
As the Pineapple Express strain isn't overly potent, it doesn't carry many negative side effects, unlike its reputation. Minor dry mouth and eyes are typical, along with slight dehydration. It can be wise to drink lots of water before, during, and after using Pineapple Express to reduce dehydration. It's also wise to keep some eye drops nearby to ease any discomfort caused by dry eyes. There have been reports of users feeling dizzy and nervous, though these are quite rare and usually only occur after taking too much. Paranoia and anxiety may result from overindulging, but these cases aren't common enough to cause any worry.
Buy Cannabis Seeds Now: Some Of Our Best Seller